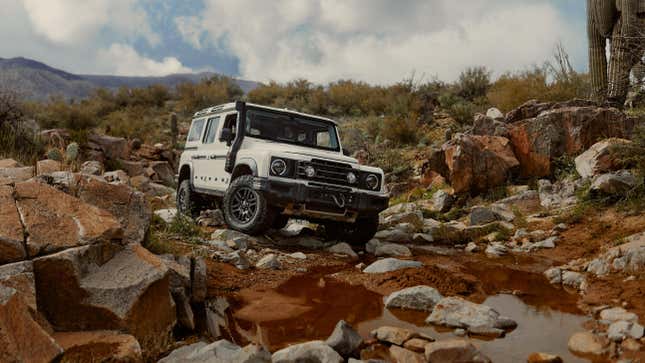 The Land Rover Defender may have let down some. Those wanting the rugged, jungle ready SUV of days gone by may have been shocked to see it morph into a luxury mall crawler. And vehicles like the Jeep Wrangler and Ford Bronco may be too common for this type of buyer. So what are you left with? The Ineos Grenadier. After what seems like forever, it's finally coming to the U.S. with a starting price of $71,500.
Ineos will offer the Grenadier in one body style, what the company describes as a five-door "station wagon." Three trims will be available: base, Trialmaster and Fieldmaster. Power for all trims will come from a BMW-sourced I6 engine. They'll be tough and trail ready as well, featuring a box section ladder frame construction, a full-time four-wheel drive system, solid beam axles and "up to three locking differentials."
Base Grenadiers will be devoid of any options, ready to be customized. Buyers will be able to choose from an array of options and accessories to make their Grenadier special. Even though they're base vehicles, Ineos says they'll have comfortable interiors with modern amenities.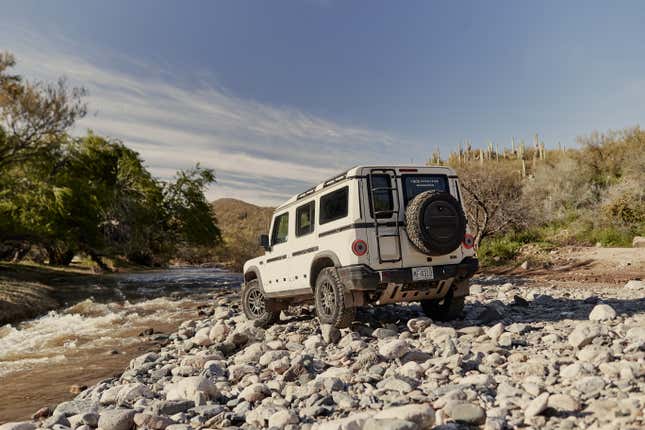 Buyers wanting a bit more can choose from the preconfigured Trialmaster and Fieldmaster trims, both of which start at $79,190.
Those wanting a vehicle that'll be able to get them to that trail or campground without any problem will want the Grenadier Fieldmaster. Named after the Belstaff Fieldmaster Jacket, it's a blend of comfort, convenience and ruggedness. Features include heated leather seating, carpeted floor mats and Safari Windows.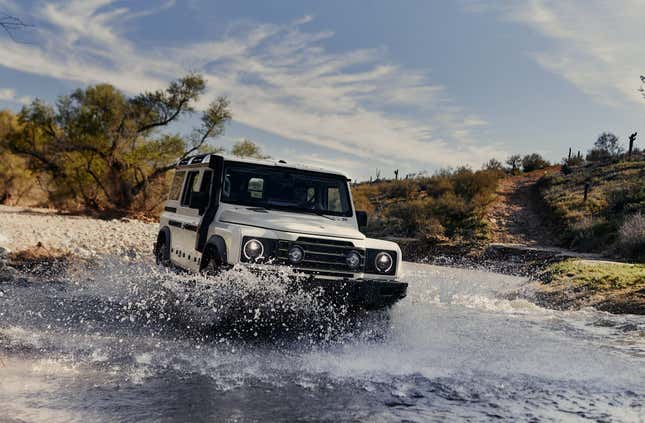 If you want to truly get out there and do some off-roading, you're going to want the Grenadier Trialmaster. You could probably traverse the Amazon rainforest in this thing. The Trialmaster comes standard with the Rough Pack, which gives the Grenadier beefier BFGoodrich All-Terrain T/A KO2 tires and electronically locking front and rear diffs. That's in addition to a raised air intake, an aux battery and exterior storage in the form of utility belts.
And if anything goes wrong, Ineos has designed the Grenadier to be fixed quickly and easily. Ineos claims that everything is built to last without any unnecessary electronics, and you'll have full support from Ineos with a five year, 60,000 mile warranty; a three year warranties for the paint and accessories; and a 12 year anti rust warranty. Those that want to wrench on their Grenadier will have access to interactive, 3D manuals and technical support from Ineos.

The Ineos Grenadier pricing is interesting. While technically not a direct competitor to the Land Rover Defender, the Grenadier was compared to previous generations of the British off-roader. While the base Grenadier costs slightly more than the S and X trims of the Defender 90, 110 and 130, it's cheaper than every single Defender trim after that. The Fieldmaster and Trialmaster trims have pricing that's more than the base and less than some of the upper Defender trims as well; it's more in the middle of pricing on the Defender 130, sitting between the $77,100 Defender S and $81,300 Defender X-Dynamic SE.
If you're ready to open your wallet to Ineos for a Grenadier, you'll have to wait a bit. Preordering opens May 31 for the U.S. and Canada. Those orders will be finalized by new dealers. Ineos will announce the locations of these dealers this August. Deliveries for the U.S. will start at the end of 2023 with Canadian deliveries commencing in Q1 2024.