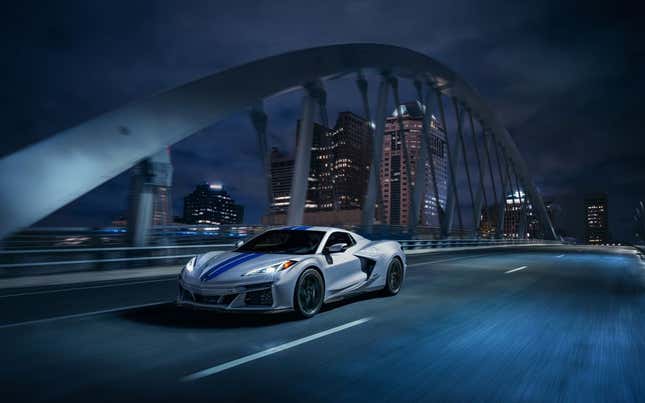 Chevrolet was a bit behind the rest of the world in moving its tentpole sports car to a mid-engine platform. Once the Corvette had caught up however, the engineers set their sights on pushing the envelope even farther. Lately, hybrid sports cars have been a bit thin on the ground, limited largely to seven-figure hypercars and Acura's NSX. Will Corvette be the high-power hybrid to find wider-spread market success?
Tomorrow I'm flying to Denver, Colorado to find out just what the all-wheel drive hybrid Corvette is made of. It seems like a car of contradictions from the outside, making use of the Z06's widebody and track-ready carbon ceramic brakes, but making do with grip-strained standard all-season tires. The company website promotes the E-AWD as being ready to "take on all conditions" and "designed for year-round performance".
Whatever the case, this hybrid machine pushes electric power to the front wheels for a total of 655 horsepower. That's enough shove to give the E-Ray a 2.5-second 0-60 time, and a quarter mile sprint in the ten second range, which is brutally fast no matter how you shake it. There are only a handful of cars on the market today that are quicker, and [with the exception of the Mustang GT500] all of them are more expensive. The Corvette E-Ray starts at $102,900.
So here's your chance to sound off in the comments to let me know what you want to learn about the Corvette E-Ray driving experience. I'll get time with the car on the street and on the race track, so hopefully it'll be a solid learning experience for all of us. Do you want to know what it's like to drive a Corvette in front-wheel drive all-electric mode for a few miles at a time? I know I want to know what that's like.