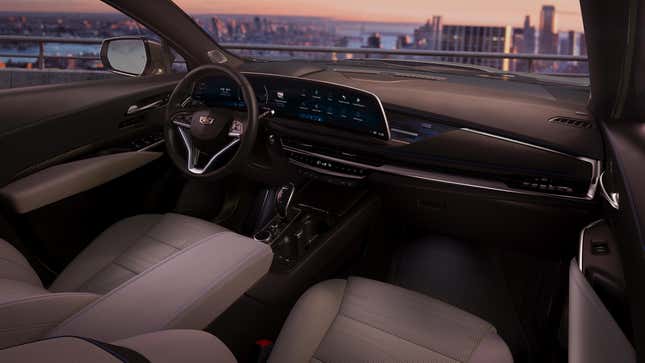 In Jalopnik's original review of the Cadillac XT4 from some years back, our old friend Kristen Lee lamented the "big, droopy slab of dashboard" jutting out from just under the car's modestly sized infotainment display. That's the first thing you probably won't notice sitting inside the newly updated 2024 model, which the automaker revealed Tuesday. The XT4 has seen a rather significant midcycle refresh — one that leaves it feeling like it actually belongs to the same family as the Lyriq. From the inside, anyway.

From the outside, the XT4 looks about the way it always has, with a handful of touches to bring it a little more in line with Cadillac's current design language. Those include headlight projectors that have been detached from the daytime running lights and inset lower in the front fascia, just like every car has now, in addition to a slight change in the positioning of the reflectors around back. Frankly I'd be hard pressed to tell a post-2024 example apart from a pre-2024 one on the road.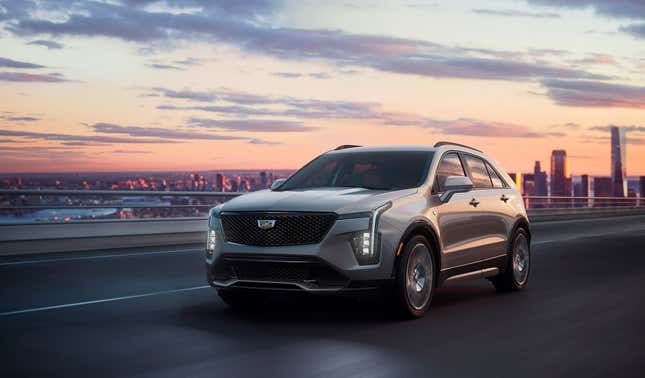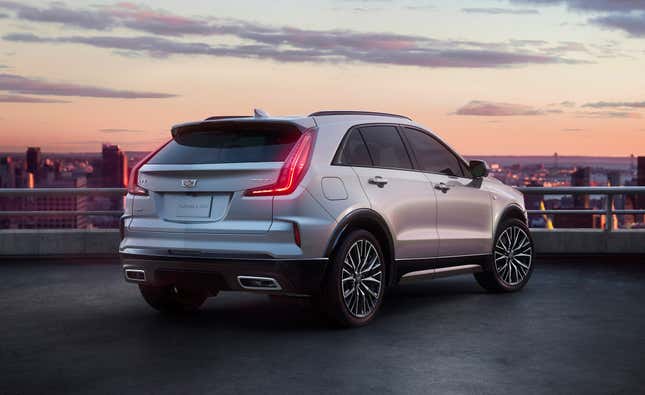 When it comes to the interior though, Cadillac has brought the XT4 into a new era. What used to be a tiny center-stack infotainment panel is now a 33-inch-diagonal curving plate of screen, extending from the instrument cluster past the row of climate buttons below. Overall the layout is very similar to the Lyriq's, even if the materials, switchgear and some of the details — like the Casio calculator LCD readout for temperatures — aren't quite as nice as what you'll find in Caddy's big EV.

Nevertheless, all this still amounts to an improvement for the entry-level nameplate. The cabin boasts not only a modern look but modern smarts as well, thanks to a new 5G Wi-Fi hotspot capability as well as an update to Google's Android Automotive software platform, like the latest SUVs and large pickups from Chevy and GMC have. There's also a new AKG Studio 13-speaker audio system available for all trims.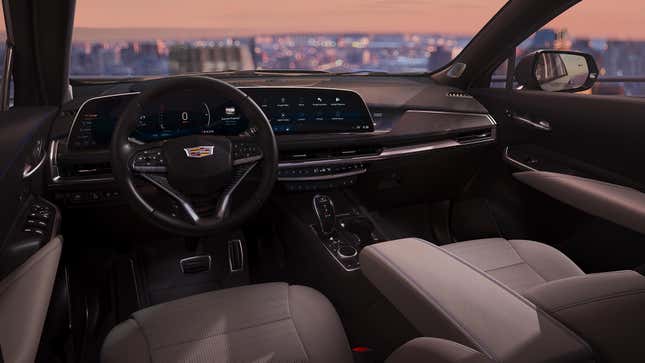 Those are the most noteworthy updates for the XT4. Under the hood nothing's changed; all buyers still receive the same 235-horspower, 2.0-liter turbocharged four-cylinder routed through a nine-speed automatic transmission. Serviceable for the sake of efficiency, but hardly soul stirring. All the soul's gone to the interior, it turns out. Cadillac says the 2024 XT4 should hit showrooms this summer. Information on pricing is still to come.