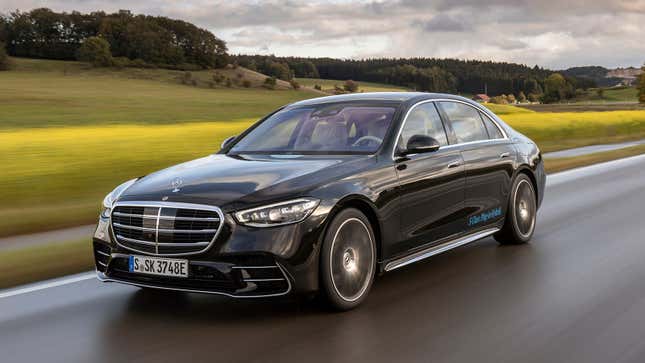 So you dig the Mercedes-Benz S-Class, but you don't so much dig the 21 MPG city, 30 MPG highway EPA rating on the base-model car with the 3.0-liter turbo inline-six. Fret not, because Mercedes has just announced a plug-in hybrid variant of its flagship full-size sedan that promises up to 60 miles of all-electric range — for the penny-pinching S-Class driver. It's called the S580e, and it starts at $122,550.
Obviously, anyone buying an S-Class probably isn't especially concerned about fuel prices — this hybrid exists to nudge Merc's corporate average fuel economy in the right direction, and provide an air of responsible efficiency to Stuttgart's technological pioneer. The S-Class PHEV will command just $8,050 more than the entry-level S500, or $1,450 less than the V8-equipped S580. Both are already mild gas-electric hybrids, but that's a fair middle ground that allows customers at the top level to tailor their experience for maximum efficiency or maximum performance.
That's not to say the S580e is slow. It claims a sum total of 510 horsepower between its 367-hp inline-six and 148 hp electric motor. Mercedes notes that the electric motor's peak 354 lb-ft of torque is available right from the start, helping the big sedan to an impressive 0-60 time of 5.1 seconds.
Top speed in electric-only mode is 87 mph. Couple that with the projected 60 miles of pure-EV range — at least under Europe's rather generous WLTP cycle — and this is a plug-in hybrid you might actually be able to use as a true electric car in more circumstances than you might expect. With a DC fast charger, the battery can speed through that critical 20-to-80-percent state-of-charge in just 20 minutes.
The S580e can be ordered now, and Mercedes expects it to hit showrooms before the second half of the year. EPA range and efficiency numbers haven't been published yet, but you can expect those in due time.