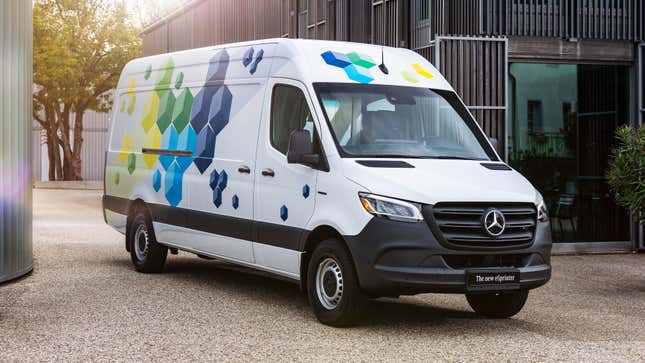 Mercedes-Benz didn't exactly keep secret that it's been developing an electric version of the popular Sprinter van. Late last year, the German automaker announced that an eSprinter prototype had successfully driven from the Mercedes-Benz Museum in Stuttgart to the Munich Airport and back, a distance of 295 miles, on a single charge. Today, the production version of the Mercedes-Benz eSprinter has officially been revealed.
The 2024 Mercedes-Benz GLC Coupe Is Bigger and Sleeker
The 2023 Mercedes-Benz eSprinter uses a modular design and puts all the high-voltage components in the front section, which Mercedes says allows it to offer a variety of wheelbase and roof-height options without having to change the drivetrain package. There's also a battery module between the axles and a motor module at the rear.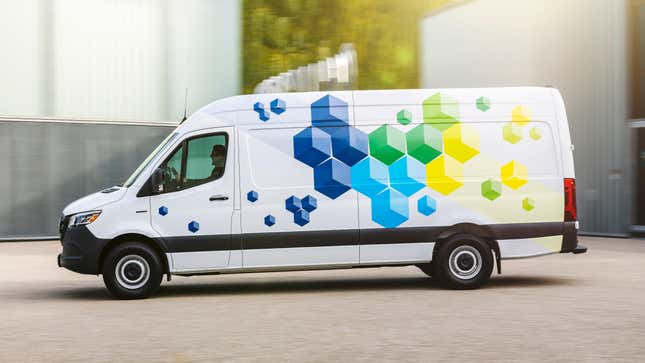 When the eSprinter arrives in the U.S. in the second half of this year, it will initially be available in a single form: Long wheelbase, high roof, rear-wheel drive and biggest battery, which has a usable capacity of 113 kWh. In that configuration, it will have 488 cubic feet of cargo capacity and a GVWR of 4.25 tons. Storage is essentially identical to the combustion-powered Sprinters, while the GVWR is a few hundred pounds lower.
And while the battery range has yet to be tested by the EPA, on the European testing cycle, this configuration of eSprinter can go an estimated 311 miles in the city and 249 miles on the highway. That range isn't going to dethrone Lucid, but it should still be enough for a lot of commercial needs.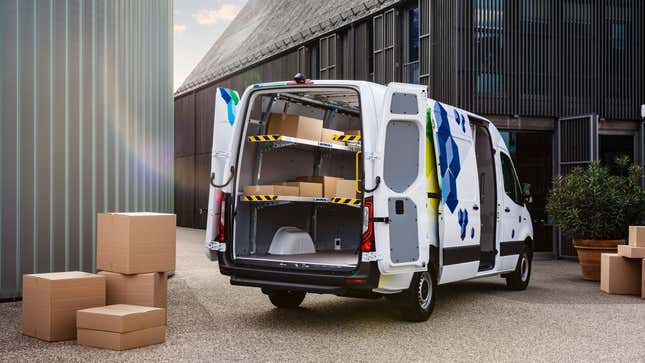 Power comes from a motor that can be configured for two levels of power: either 134 hp or 201 hp. Torque, meanwhile, comes in at 295 lb-ft. So you definitely won't be drag racing a Lucid, either. But tradespeople and delivery drivers probably won't mind. Hitting 60 mph in two seconds flat would probably just make a mess in the back that they'd have to clean up later.
A comparable diesel-powered Sprinter makes 170 hp and 295 lb-ft of torque, while the gas version makes 188 hp and 258 lb-ft. The high-output diesel option increases power to 211 hp and 332 lb-ft, so your powertrain options on the eSprinter are more or less in line with the rest of the lineup.
The eSprinter is capable of charging on both alternating and direct current, and it can charge at up to 115 kW on a fast charger. With the large battery, Mercedes says charging from 10 to 80 percent will take about 42 minutes. So it's not setting any new records, but it's a cargo van. It needs to be practical and somewhat affordable, not necessarily world-beating.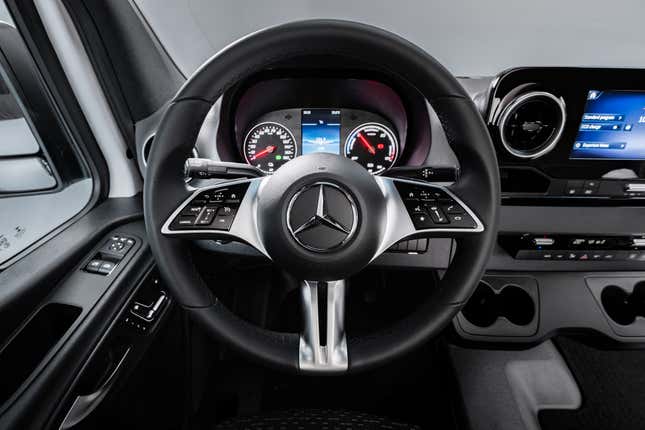 Inside, drivers get Mercedes' latest infotainment system including a feature called Navigation with "Electric Intelligence" that calculates range in real time while taking into account factors such as traffic and elevation changes along the route. It can also suggest when and where to charge based on whether you prefer to get to the destination as quickly as possible or arrive with the battery charged to a certain level.
Unfortunately, Mercedes didn't say anything about pricing in today's announcement, so if you're interested in the eSprinter, you'll probably have to wait a while to find out how much one will actually cost.