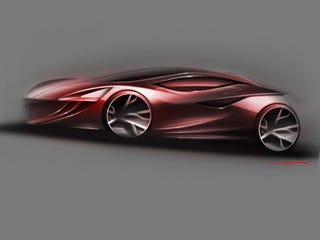 Mallory McMorrow will be living the dream at the LA Auto Show as a full-scale model of her 2018 Mazda3 concept will be carved out of clay, LIVE! This is all part of the "Mazda Design Challenge," which invited contestants to describe and draw their ideal 2018 Mazda3. The finalists were paired with Mazda designers to have their concept sketched professionally before being put to a vote on Facebook. In addition to seeing her model formed out of the clay, she'll get $1,000 in cash, a trip to the auto show and a Mazda3 to cruise around in while in L.A. Pics of her design and the press release below:
Mazda Designers And Contest Winner To Build Concept Car
For the first time ever in the automotive industry, Mazda's designers and a special guest will sculpt a clay model concept car live on stage during the Greater Los Angeles Auto Show as part of a culmination of the "Mazda Design Challenge." Mazda sought out designers to help create the 2018 MAZDA3, Mazda's best-selling car globally, by hosting a contest on Facebook.com.
Facebook members across the United States competed by submitting their design ideas. The winner of the competition, Mallory McMorrow, an industrial design student from the University of Notre Dame, will work with Franz von Holzhausen, director of design, Mazda North American Operations (MNAO), and his team, to bring the concept to life in the Mazda booth. Work on the model will begin on the first media day, November 14, and the final concept will be unveiled on Saturday, November 24, at 3:00 pm.
To enter, contestants submitted a 150-word description of their vision of the 2018 MAZDA3 and an optional sketch drawing. The Mazda Design team then judged each entry, choosing 10 semi-finalists. Five finalists were chosen by the Facebook community. Each of the five finalists were paired with a Mazda designer to hone their concept, which was then judged and voted on in a second round by fellow Facebook members.
"The Mazda Design Challenge brought in a flood of cool, unique design ideas. The winning design concept is a fresh new way to look at the design of a vehicle," said von Holzhausen. "This competition was a tremendous success, and this entire process was really beneficial to my team and me to understand what design means to our target buyers. Now the hard part comes - to see if we can actually build a full concept car on the show stand in 10 days and in full view of show goers."
In addition, Mazda will showcase the new 2008 CX-9 crossover SUV and three-row, six-passenger MAZDA5 multi-activity vehicle, along with the 40th Anniversary RX-8 and the first rotary vehicle that started it all, the 1967 Cosmo Sport. [Mazda via PaddockTalk]