I'll go straight out and say this: the current Volkswagen Jetta GLI has one big problem, and it's called the Golf GTI.
The Ford Taurus Is Reborn — But Only For the Middle East
Like the black sheep in the family, Volkswagen's compact sports sedan only wishes it was as competent and versatile as its beloved hatchback sister. But with solid new contenders from Honda and even Hyundai now, compact sport sedans seem to be doing alright at the moment! As long as automakers can convince people to buy them amid all this crossover mania.
Sporty little Jetta, now's the time to show the entire world that you still got it.
(Full disclosure: Volkswagen Canada dusted off a GLI it had lying in its garage, washed it, filled her up with gas and threw me the keys for a week.)
G/O Media may get a commission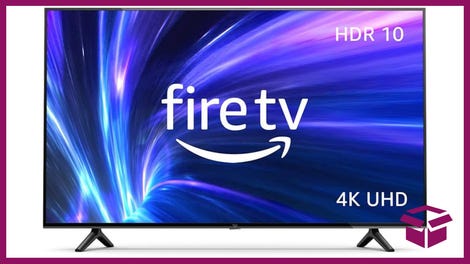 42% Off
Amazon Fire TV 50" 4K Smart TV
What Is It?
Originally introduced as a sedan alternative to the Golf, aimed specifically at North Americans who love cars with trunks, the Jetta grew rather successfully alongside the Golf over six generations, and in some cases, even outselling its hatchback brethren.
But just before this current generation Jetta was launched way back in 2012, Volkswagen had proclaimed that it was aiming at becoming the world's largest automaker. To achieve this, it meant cutting back on production costs for their little sedan in order to better compete against the Toyota Corolla, Honda Civic, and Nissan Sentra. The Jetta suffered from this—the multi-link rear suspension was replaced with a torsion beam setup, which significantly impacted the car's handling.
Volkswagen learned a viable lesson with the Jetta: don't take the VW faithful for granted. After many complaints from both customers and automotive journalists that the car had lost its nerve, Volkswagen urgently face-lifted the Jetta in 2015 by throwing the Golf's independent rear suspension back into it, reworking its interior and exterior, and developing an all-new 1.4-liter turbo specifically for the car.
It's still old, though. The current Jetta doesn't yet use Volkswagen's magic carpet new MQB platform, the one that also underpins several Audi vehicles as well as the current Golf.

Luckily the GLI always had the better performance parts, notably an independent rear suspension. It also got the same 2.0-liter turbocharged four as in the GTI, as well as Volkwagen's Porsche-like six-speed dual-clutch automatic.
Since the current Golf GTI is arguably the best hot hatch currently available, it would only make sense for the GLI to be an impeccable sports sedan as well.
Why Does It Matter?
There are plenty of small fun cars to choose from now. There's the new Hyundai Elantra Sport. The Ford Fiesta and Focus ST are still around and kicking ass, and Nissan now sells a hardcore version of its lamentable Sentra, the Nismo.
Also, Honda's about to elbow-drop the entire segment with an all-new Civic Si coupe and sedan.
You may think the Golf GTI would be enough to take them all on. It kinda is. But America prefers sedans over hatchbacks unless those hatchbacks get a couple inches of ride height and are called "crossovers." We still bought 142,061 Jettas last year. So if there's a small car in Volkswagen's lineup that deserves a hot version, it's definitely the Jetta.
And, just between you and me, in a world of soul-sucking crossover domination, the simple fact that Volkswagen offers not one, but two pocket rockets in its lineup of cars is seriously cool. I'm not complaining.
Solid Performance
To be fair, the GLI's performance proposition is still attractive. Power is claimed at 210 horsepower and 207 lb-ft of torque, 51 lb-ft less than the hot Golf though. Volkswagen claims a 0-60 time of 6.6 seconds, significantly slower than its sister, but still in the same ballpark as the Elantra Sport, Sentra Nismo, and Focus ST.
Your GLI can either be equipped with a six-speed manual, or Volkswagen's excellent six-speed dual-clutch (DSG) automatic.
Unlike the GTI, however, which gets an optional Performance package that adds more power and a fancy electronic limited slip differential, the GLI gets none of that stuff. While the GTI is qualified as a separate vehicle from the Golf in Volkswagen's lineup, the GLI is the Jetta's top trim level. So there's only one GLI available, and it's the one you see here.
To distinguish a GLI from a standard Jetta, Volkswagen adds a set of very pretty 18-inch Mallory wheels, a reworked front fascia with the signature GLI red grille trim, a more aggressive front bumper, darkened headlights, a subtle decklid spoiler, GLI badging, and a slightly lowered, sportier stance.
My tester was painted in the White Silver paint job, which has a subtle shade of baby blue in it. I gotta say, the standard ho-hum Jetta isn't much of a looker. But dressed up this way, the GLI is very attractive, properly German and also well stanced, looking almost like an Audi. It's a clean and understated car the GLI, just the way I like my sport compact cars.
GTI Sedan?
Volkswagen went through great lengths to make this feels like a GTI, even if it doesn't share the same platform. And it works, mostly. If you don't spend a lot of time driving a lot of different cars, except for maybe a noticeable drop in torque, you might even have a hard time finding an appreciable difference between the two.
One thing that remains constant between each car is the excellent 2.0-liter turbo. It's a punchy and silky smooth little mill, one which offers a solid wave of torque all the way to redline once boost is kicking hard. The lower torque figures in the GLI do make it feel somewhat slower. It simply takes more work to get the Jetta to actually get up and go, you sorta need to manhandle it.

But that doesn't stop the GLI from being immensely fun. Stomp the accelerator from a standstill, and thanks to a traction control system that can be completely turned off now, those front tires instantly start spinning as you grasp the steering wheel to control torque steer. Fun? Damn right. Efficient? Not exactly.
That's the first indication this isn't the same wonderfully tuned chassis as in the Golf, or that the GLI's suspension wasn't developed by a Porsche engineer. The GTI would have spun its wheels alright, but would also have tugged forward while doing so. The GLI just squats there and spins when giving it too much power upon takeoff.
Granted, my GLI had winters on. But so did the GTI when I reviewed it. Trust me when I say this: the GTI handles its power much better than the GLI does.
As for the DSG gearbox, it remains quick, precise, and, well fun to operate. You can either leave it in automatic and let it do all the work for you or go ahead and shift for yourself using the steering-wheel-mounted paddle shifters. Unfortunately, the system in the GLI is geared more toward efficiency than the GTI's, so shifting speed feels somewhat diluted in comparison. It is, however, excellent for daily driving.
But frankly, you'll be happier if you get your GLI with a stick.
Disappointments
The fake Soundaktor engine sound remains one of my biggest gripes with recent Volkswagen performance vehicles. But in the GLI, it's the weirdest one I've experienced so far. They've tried to tone it down for the Jetta, to make it sound more mature - I guess - but it ends up sounding like a Subaru Boxer engine humping Volkswagen's five-cylinder.
Urgh, this car sounds totally wrong.
Then there's the fact that although Volkswagen completely overhauled the Jetta's interior during the last update, material quality is still not quite up there compared to the Golf. Door inserts and some dashboard components are still plastic intensive.
Also, tire roll and wind noise are considerably louder in the GLI compared to its overachieving sister. Finally, the entire car remains Volkswagen rock solid, but you do sense that this is an aging platform with occasional unwanted chassis quibbles when driving over the hard stuff. In some cases, I actually missed that Hyundai Elantra Sport.
Casual Driving
On the road, the GLI remains compliant, comfortable, and buttoned down. The DSG automatic gearbox proves to be a charm when left on its own to do all the shifting when stuck in heavy traffic, and those leather seats remain one of the most comfortable in the class.
This Jetta also comes standard with enjoyable creature comforts such as heated seats, a sunroof, Android Auto/Apple Carplay compatibility, and a dual-zone automatic climate control. It's a compact sedan, meaning the rear seat and trunk space are acceptable for the occasional family-haulin' duties. My only two gripes for daily driving are a somewhat cramped rear seat compared to the Elantra, and the fact that the GLI requires premium gas to achieve its claimed power and torque figures.
Aggressive Driving
It really is a driver's car, this racy Jetta, much more than the Elantra Sport, but it still lacks some of the GTI's near perfect poise and balance over changing surfaces. It's a bit of a mouthful sometimes, but for an aging platform though, it's still up to the task.
Volkswagen gave the GLI softer front springs and dampers and a substantially firmer rear to adapt to the Jetta's 2.9-inch longer wheelbase and added heft. The end result is noticeably more body roll in the twisties, and less feedback from the front. The lack of an LSD differential does mean the GLI will tug forward when power is applied upon corner exit, unlike the GTI which somehow soaks it all up. But this is still far more manageable than in the Elantra Sport.
The car simply doesn't give enough feedback to the driver, so you're never as confident as in a GTI. This is the inevitable outcome of almost an entire decade in chassis development.
Overall though, you can still drive the GLI like a hero. The steering is perfectly weighted for an electric system, and there's still the usual sense of a rock-solid German construction overall. That being said, everything feels somewhat dialed back and diluted in the Jetta compared to the Golf, but maybe this was done on purpose by VW to give it a more Grand Tourer feel?
Value
The Jetta GLI's Achilles heel really is its price. Somehow, it kicks off at $2,000 more than a five-door GTI, and unfortunately doesn't feel any superior. It's also far less practical, being a sedan.
Luckily, it does come totally loaded at $27,895, with Volkswagen's latest semi-autonomous tech such as adaptive cruise control, lane keep assist and a collision mitigation system. But since these features can be had in a Honda Civic for far cheaper now, it's not enough to justify the somewhat high sales price.
The GLI is also uncomfortably close to a Mercedes-Benz CLA and Audi A3 in terms of pricing, two cars that both look and feel far more premium than the hot Jetta, and offer an all-wheel drive option.
Finally, after sampling that solid Elantra Sport, it's hard to justify paying almost $7,000 extra for the VW. Here in Canada there's a $10k difference between the two, which doesn't really make sense. The Jetta GLI is a great little sports sedan alright, don't get me wrong, but unfortunately, it's too expensive for a car built on a decade old chassis. You also get a hell of a lot more, from power to all-wheel drive, in a Subaru WRX for about the same amount of money.
Verdict
As far as delivering a GTI sedan, Volkswagen has sorta hit the mark considering what they had to work with for the GLI. Most people will never really notice the difference between the two, because at the end of the day they do feel very close in the areas that matter.
But if we were to really dig deeper, we'd quickly realize how much better the GTI really is in every category, and not really that much more expensive. Finally, the arrival of equally competent small sedans that offer a lot of performance and athleticism for far more affordable prices, such as the Elantra Sport, Focus ST or the upcoming Civic Si, which definitely looks promising if we base ourselves on the solid Civic LX, Volkswagen's hot sedan is somewhat outplayed by the segment at the moment.
Let's hope the next Jetta, expected early next year, and presumably built on the same platform as the Golf, will stop being the black sheep of the VW family and finally shine over its sister.
---
William Clavey is an automotive journalist from Montréal, Québec, Canada. He runs claveyscorner.com

2017 Volkswagen Jetta 1.4T S Manual Specs
Engine type
Intercooled Turbo Regular Unleaded I-4
Transmission/Drive
Manual w/OD