About a decade after the introduction of the original Honda Ridgeline, we're going to get a second generation of the trucklet. The face, hood, roof, bed, and profile of this Honda Baja racer are basically what's going to be on the production version, so take it all in.
Obviously, the tube-frame, twin turbo V6 and deep-travel desert racing suspension will not be making their way to Honda dealerships. But the shape and look is pretty much all there, according to the company.
The 3.5 liter engine makes "upwards of 550 horsepower" and apparently is vaguely based on the production Ridgeline powerplant, as in it's got the same block, cylinder heads, and crankshaft.
Honda Performance Development president Art St. Cyr says "While this race truck is unique and different from the production Ridgeline, it does a nice job of expressing not only our styling direction but also the fact that the Ridgeline, for all its unique qualities, has been and will continue to be a pickup with true truck capability."
G/O Media may get a commission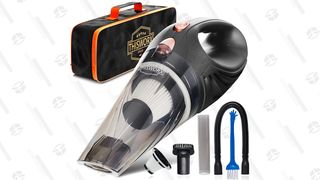 Save 50%
ThisWorx Car Vacuum Cleaner
Honda will be running in the Baja 1000, which they last attempted in 2012 with a similarly-equivalent "Pilot." They ended up finishing in just under 30 hours.
Like the original, the next-gen Ridgeline is being cooked up in North America and will be built in Alabama. It's pretty much a 2017 Pilot in the front, but based on this racer concept it looks a little meatier in the back than just a CUV with the rear glass removed.
The Ridgeline gets dumped on for being a poser truck, but if you're clamoring for something "small and efficient with a cargo bed" I have a feeling this will be a pretty solid platform.

All that said, let's look at the sweetass race-spec only bits:
Unveiling this as a race-truck first and not the other way around was a great idea. Now when the civilian version comes out you'll see a little bit of the racer in it, which is way cooler than seeing your parent's car with stripes and shocks later.
Images via Honda
---
Contact the author at andrew@jalopnik.com.