When I informed Patrick George that I would be driving around in a 2017 Honda CR-V over the holidays, his immediate reaction was: "We should review it. Everyone's buying those damn things."

(Full disclosure: Honda Canada called me to offer me a chance to spend some time behind the wheel of their all-new CR-V over the holidays because they like seeing me exiting cars like a BAMF.)
He's right. Ever since it was introduced in 1997 (20 years already?), Honda has sold almost 4 million CR-Vs. In America, it's currently the best-selling SUV. And in Canada, the CR-V has remained within the top 3 best sellers throughout 2016, along with the Toyota RAV4 and Ford Escape.

Fine, so people are buying a shitload of CR-Vs. Even more alarming is the sheer number of crossovers that North American humans are buying, period. In fact, sport utility vehicle sales have officially surpassed car sales, making them our preferred mode of transportation.

And that sucks for me, personally. When I wanted to become an automotive journalist, it wasn't to review big blocky vehicular contraptions with high centers of gravity, all-wheel drive, and soul-sucking CVT transmissions. It was to review sports cars in the likes of Porsche, Ferrari, and BMW.
G/O Media may get a commission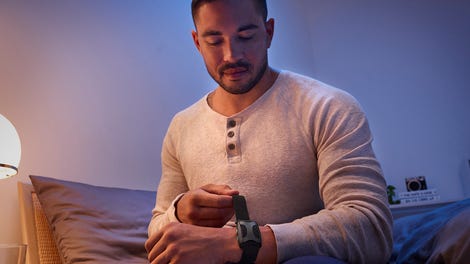 But this CR-V sadly reflects the reality of our current vehicular landscape, and after spending a lot of time driving it through pretty much all variations of Canada's winter, I must confess, I'm starting to understand the appeal of these things.
Remixing a Classic Hit
If you're already building a best-selling utility vehicle, how do you improve it? Thankfully, Honda understands why the CR-V is such a massive sales success and hasn't taken away the endearing traits that have made it the go-to utility vehicle for North-American families. In fact, for the 2017 CR-V, Honda took all of its lovable traits; versatility, competency, reliability, and affability, and cranked them all to up 11.
Love it or hate it, Honda is really going at it full swing with its cybernetic, almost transformer-like design language. But unlike the Civic, which remains a hard car to get my head around, the CR-V's mash-up of straight edges, blocky proportions, and overabundance of chrome actually add up to make it a much more coherent vehicle than the one it replaces. There are fancy LED headlights up front, and the classic upward tail lights that have been a CR-V design trait ever since its inception remain.
It's also a lot larger in every single possible stinkin' way. Riding on the ginormous new Civic platform (yes, Civic, not Accord), this new, significantly bloated CR-V now leans more toward larger Honda Pilot territory with a lengthened wheelbase of 104.7 in (up 1.2 in), making for a total length of 180 in (up 1.2 in). This CR-V is also wider at 73 in (up 1.4 in), and taller at 66.5 in (up 1.4 in).

But it doesn't seem all that bigger the moment you set your eyes on it. That's because Honda has purposely loaded the CR-V's styling with intersecting lines that trick the human eye into believing it's smaller than it actually is. It almost even pulls off looking rugged.
Except for the wheels.
Honda: wheels. Wheels make a car and, I'm sorry, but those are just plain awful.

It's Now Turbo, Yo!
Since the CR-V has always been little more than a fortified Honda Civic with an all-wheel-drive system, the 2017 model sticks to the same winning formula, meaning it inherits many of the new Civic's class-leading drivetrain and chassis components. The new Civic is a good car, so it follows this is too.
The most significant change is, of course, the all-new 1.5L turbocharged four cylinder shared with the current Civic. For the CR-V, it's been cranked up to 190 horsepower and 179 lb-ft of torque; that's 16 hp and 17 lb-ft more than in the Civic, but for the CR-V, Honda has slightly lowered the compression ratio from 10.6:1 to 10.3:1 for increased mid-range punch.
The term "punch" really is the best way to describe this engine's character. Being myself a huge fan of past Honda VTEC systems due to their willingness to rev and wail to their stratospheric redlines, I was skeptical about how Honda would muster this inevitable turbocharged route; one which is plaguing the auto industry with boringly flat torque curves and muffled exhaust notes - and for no reason at all, as we just recently discovered.

That said, Honda's 1.5T continues to impress with its abundance of low-end twist, seamless and linear acceleration, and a big fat powerband that remains constant between 2000 and 5000 rpm. And we're just beginning to see Honda tinker with this engine. From just a 1.5-liter turbo four, it's impressive.

For those wondering: the 2.4-liter (K24), naturally aspirated VTEC engine is still available in base CR-V's. It remains unchanged at 184 HP and 177 lb-ft of torque.

The Ski-Doo Theory
The fat torque curve generated by that 1.5T engine means the CVT automatic transmission that's bolted onto it is given a huge sandbox of grunt to play with. Most enthusiasts collectively agree that CVT transmissions are like the plague for automobiles; sucking the life out of an engine, eliminating all fun factor, and whirring like the soulless machines they are.
But Honda's CVT is actually good. Very good. And since many of you still don't believe me when I say a CVT transmission can actually be fun to use, let me explain by using the snowmobile as a comparison; a very Canadian contraption used to carry Canadians around during the winter months.

And since I'm from the Québec region of the Eastern Townships, home of the BRP Ski-Doo, I've decided to call this the Ski-Doo Theory.

You see, a Ski-Doo also uses a CVT transmission. A more simplified one. If you've ever ridden a Ski-Doo, you know all about how it doesn't instantly accelerate the moment you squeeze your thumb down that throttle trigger. There's a delay. A Ski-Doo never gets off the line very quickly. Instead, there's a progressive forward motion that comes after the time you've given it throttle. It's very similar to turbo lag, but a lot more constant, and reliable.
Most importantly, it's kind of fun, because once you've understood how the delay works, and that a simple stab at the throttle will later give you an abundance of forward thrust, you can play around with it. It becomes flexible and addictive, and like pulling a stone through a sling shot, you can always prepare your next move.

And since a turbo engine typically has turbo-lag, the combination with that transmission, which actually simulates step-gear changes at the appropriate time, is one of the most unique automotive experiences I've ever come across. What this drivetrain lacks in instant throttle response, it makes up for in predictability and a steady power delivery that always pops up at the exact same precise moment. There are no unpleasant surprises with this CVT / turbo combo. It's flexible, eager, linear, and reliable.

In other words, it's Honda ingenuity at its best.

Fluid-Filled Suspension Bushings and a Volume Knob
Using the same Mac-Pherson strut front and multi-link rear suspension setup as the Civic, complete with stabilizer bars fitted with bonded bushing mounts and bushings that are themselves filled with fluid, the CR-V is as smooth as a cloud on the road. Road vibration and noise are quasi-nonexistent, making for a serene driving experience with body control that's on par with most European luxury vehicles.
The CR-V was also fitted with an all-new variable ratio electric power steering and other cool technological things such as Straight Driving Assist and Agile Handling Assist. All of this technical mumbo-jumbo, according to Honda, enhances steering feel, performance, and comfort; all while reducing steering effort when driving on a sloped or crowned road.
It all actually works. The CR-V is easy to drive, fantastically simple to park, steering is sharp and responsive, and while this is by no means a sporty vehicle, it's comfortable and smooth for long rides through the countryside.
Those seats, especially in Touring trim, not only look seriously attractive, but are supportive, and make you want to drive this crossover forever.
The rest of the 2017 Honda CR-V's interior is attractive too, but remains utilitarian, practical, and intelligently packaged. Touring adds fake wood trim, which feels tacky when you touch it, but looks great. As with the Civic, there's a gigantic storage bin between the front seats that will engulf full-size water bottles and bags of chips whilst offering two USB connections for your smart phone.

The infotainment interface, now presented through what looks like an elegant tablet protruding from the dashboard, remains a total disaster! Honda's system is plagued with unintuitive controls and a dated, laggy interface, where basic commands, such as changing radio stations while using the navigation system are literally impossible to achieve.

I'm happy to announce that Honda has finally brought back the volume knob – a quintessential tool for shutting up the radio when you're ordering your Tim Hortons.
The entire gauge cluster, or should I say, information cluster, has also been re-tinkered with. Honda has now completely eliminated gauges, period. RPMs are now represented by a virtual horizontal bar, very similar to the speedometer found in a late 1980s Buick.
The CR-V's speedometer is now totally digital, and there's a variety of gimmicky, but neat information displayed underneath it such as how the AWD system is operating, fuel economy statistics, turbo boost, and a driver alertness system that will actually notice if you're falling asleep. Good job, Honda. Now get that infotainment system sorted out.
But Does it Even Crossover?
Of course, what crossover buyers want to know is how this redesigned CR-V stacks up against all other compact crossovers. That may in fact be all they care about. This is a very aggressive segment, so if your crossover can't carry your crap and your kids with frugality and safety, it isn't even worth considering. Fun and style don't even seem to enter into it.
Thanks to clever Honda packaging, the 2017 CR-V, with its rear seats folded flat, triggered by a conveniently placed handle in the trunk, will give way to 76 cubic feet of space. This officially makes the 2017 Honda CR-V the best stuff-hauler in the segment.

And as for safety, all CR-V's come fitted with Honda's award-winning reinforced ACE body structure. Higher trim levels come standard with all the latest semi-autonomous tech such as adaptive cruise control with lane keep assist, blind spot monitoring, cross-traffic monitoring, all possible versions of traction and stability control systems (for a crossover), and a collision mitigation system with automatic braking.

Although these are great selling points for families, the reality is that when the weather gets bad; and during the holidays in Québec, the weather got seriously bad with freezing rain on Boxing Day followed by a massive snowstorm on New Year's Eve, the CR-V's sensors got all jammed up from being covered by snow and ice. This prevented any of its safety systems from actually working, and turning the gauge cluster into a Christmas tree.

Doesn't bode well for the future of autonomous cars, does it?

Another frustrating aspect of the CR-V's safety systems is the vehicle's refusal to completely turn off stability and traction control. (You know, for your track days.)
In the snow, I was eager to test out its all-wheel-drive capabilities, and while the CR-V always managed to crawl its way out of snow banks, when came time for me to have some good old fashion fun with it, the rear ABS system kept kicking in the moment it would sense lateral movements, instantly bringing the CR-V back to a straight line.

Infuriating? Very. But also ultimately boring.

Then again, considering that the CR-V's target clientele probably won't take part in massive power slides with their kids sitting in the back, it's best that this NSX-derived technology be applied at keeping families safe.

Prices for a 2017 Honda CR-V begin at $24,045 for a base 2WD LX model. AWD versions start at $25,345, with the range-topping Touring trim you see here going for $32,395. That's not exactly cheap for a Honda.

But the bottom line is that the 2017 Honda CR-V is already ramping up to being a sales home run. Honda has definitely cranked everything up a notch with this one, which makes it actually hard to review critically. Except for a crappy infotainment system, I simply can't find any glaring flaws. Indeed, there's a reason everyone's buying these things. It's just freakin' good.
Now, if this kind of engineering know-how is expected from the upcoming Civic Si and Type R, I have a feeling I'll have one heck of a year reviewing Hondas.

---
Engine: 1.5-liter turbocharged inline four
Power: 190HP at 5,600 RPM / 179 lb-ft at 2,000 RPM
Transmission: Continuously variable automatic
0-60 Time: 7.6 seconds (claimed)
Top Speed: 124 MPH (claimed)
Drivetrain: All-wheel drive
Curb Weight: 3,508 pounds
Seating: 5 people
MPG: 27 City / 33 Highway (from EPA)
MSRP: $24,045 base 2WD, $32,395 for Touring AWD
---
William Clavey is an automotive journalist from Montréal, Québec, Canada. He runs claveyscorner.com, and does some collaborative writing over at rightfootdown.com.
2017 Honda CR-V LX 2WD Specs
Engine type
Regular Unleaded I-4
Transmission/Drive
CVT w/OD