The 2017 GMC Sierra HD really only gets one fresh feature, but it's a biggie. The truck's new 6.6-liter Duramax turbo diesel V8 has a massive claimed output of 445 horsepower and 910 lb-ft of torque. It feels good to drive, too. But this truck's real value proposition isn't under the hood, it's in the details.

GMC is the auto industry's grandest and possibly most successful experiment in brand engineering. GMC trucks are virtually mechanically identical to Chevrolets. Chevy's Colorado becomes the GMC Canyon, the Silverado becomes the Sierra and similar redecorations are applied between the two brands' SUVs, crossovers and cargo vans. The main differences are aesthetics, and also marketing.
his New Hood Scoop On The 2017 GMC Sierra HD Does A Neat Trick
It kills me to take a word from the company's own tagline, but GMC trucks are designed to feel more "professional." The look is essentially achieved with simple exterior lines and high-quality interior surfaces. And it totally works.

If the Sierra Denali looked any more the business it'd sit you down in front of a PowerPoint deck and talk your ear off about synergy.
G/O Media may get a commission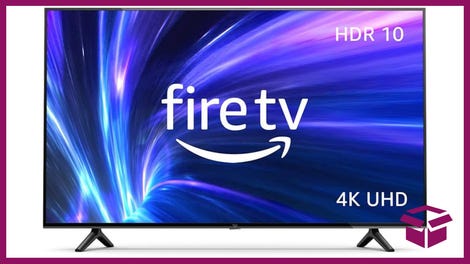 42% Off
Amazon Fire TV 50" 4K Smart TV
"A GMC customer holds themselves and others to a high standard," a representative from the company explained with, actually, a PowerPoint presentation. I think we were supposed to imagine that a GMC guy would spend his weekend drawing up plans for a new shed, carefully selecting each piece of repurposed farmhouse wood to build it with, then measuring twice and cutting once, whereas I guess a Chevy guy would pick up some particle board from Home Depot and end up getting too blasted on Yuengling to be allowed near a saw by Sunday afternoon.
So does this concept manifest itself in the actual drive experience? It does, in subtle strength, and really nice haptic feedback from pretty much everything you can put your hands on.
What Is It? 
The GMC Sierra HD 2500 (three-quarter ton) and 3500 (one-ton) are GM's entrants to the most capable class of pickup trucks available to consumers. Those "weights" I just listed refer to the minimum the trucks are rated to carry in their cargo beds, though the max gets even higher in some configurations.

When you see absurd power, payload and towing capacity claims in truck commercials on TV, those numbers are generally attributed to heavy duty series trucks like these. The Sierra HDs are built for bragging rights, heavy work and, yes, style.
GMC still sells basic work trucks too, but the company's marketing reps told me the bulk of its business is plush Denali-trim luxury rigs. Denalis feature tidy stitching in the dashboard, a slicker color skin on the infotainment operating system and a chrome grille so monolithic it might have you feeling like you could play chicken with a freight train and win.
These are at, minimum, $55,000 trucks. And apparently, most leave dealerships with a diesel engine, which is about an $8,000 option on its own.
Why Does It Matter?
Pickup trucks are consistently some of the best-selling vehicles in America. They represent a massive chunk of what Ford, General Motors and Fiat Chrysler Automobiles (the "Big Three") sell every year and ergo, what a whole lot of us drive.

The Sierra Denali HD is GM's most capable, luxurious and expensive player into this fiercely competitive segment.
Standout Features
The 2017 6.6-liter Duramax V8 turbo diesel shares very little with the 2016 6.6-liter Duramax V8 turbo diesel, beyond its displacement and basic shape. The new diesel engine, called the L5P, has new cylinder heads, pistons and pins, exhaust, fuel system, crankshaft, connecting rods, turbocharger, and cooling plumbing, all of which make for a combined output of 445 horsepower and 910 lb-ft of torque, GM claims.

That's a sizeable bump from last year's engine, the LML, which was rated at 397 HP and 765 lb-ft of torque. GMC says only ten percent of that engine's parts carried over to the L5P, giving the new one improved exhaust braking power, about two fewer decibels of idle noise and a 35 percent reduction in emissions on top of the power increase.
On the road it certainly is quiet, even under load. Throttle response didn't feel as snappy as Ford's 6.7-liter Power Stroke to me, and sitting so high off the ground eliminates any sensation of speed. But the Sierra pulled ahead steadily whether it was empty, had 1,500 pounds in the bed or 7,000 pounds on a trailer during my shakedown cruise.
The Denali details I've already mentioned, like extra stitching in the trim, plush seats and choice materials swathing the interior, are not new for 2017 but they're still the reason I'd lean toward this over a heavy duty rival from Ford or Ram. The Denali's interior design looks cohesive, quietly stern and robust to the touch. If anything makes you buy the line GMC is selling, I suppose it's all that.
Then there's the grille. I reckon you can't really improve on a crisp, perfect rectangle even if the gleam is a little aggressive here. I guess that's the idea. But to me, this shape is the perfect "classic truck" callback that never really gets old.

Disappointments
Ford is still kicking GM's ass on heavy duty tech features. While the Blue Oval introduced a 360-degree camera system, trailer-guiding visualizations and active electronic steering modulation for its heavy duty Super Duty series last year, the GMC just has blind-spot and bed monitoring cameras. And their resolution is pretty weak.

As for pulling power, the "best-in-class" claims don't matter much at the three-quarter ton level. Each of the Big Three's heavy duty trucks are pretty close: the Sierra 2500 is rated to pull 18,100 pounds, the Ford F-250 is rated to 18,600 pounds and the Ram 2500 tops out at 17,980 pounds. And of course those numbers only apply "when properly equipped," with a fifth-wheel or gooseneck trailer.
But once you step up to the GMC 3500, Ram 3500 and Ford F-350, the GM product gets left in the dust: the other two trucks are rated to tow around 30,000 pounds while the GM is hanging out around 23,000.
GMC's new Duramax has the most horsepower, though! By... five. Oh well. Once you've crested the 900 lb-ft of torque figure, how much more juice do you really need?
Casual Driving
It's hard to imagine a better front row seat to America's wide-open highways than the climate-controlled throne behind the wheel of a Sierra Denali. The quiet running ambiance, unfussy interior design and diesel engine calmly marching against elevation changes and cargo loads really inspires confidence. And thoughts like, "I should have been a trucker."

The truck has road-crown correction software built into the steering system, an engineer explained to me, which automatically compensates when the road is peaked and pushes your truck to the side. I didn't really notice it, which apparently is the point.
Aggressive Driving
Even empty, the Duramax Sierra doesn't feel "fast", but it accelerates competently whether it's carrying a couple snowmobiles or not. A camper trailer on a gooseneck hitch pulls against the truck a little, but not enough to make you sweat.

Off-road I think you'd have a little more trouble. Despite the existence of a sweet-looking "All-Terrain X" trim level, with some extra skid plates and slightly softer shocks, the truck is still pretty low and about a mile long. The diesel exhaust fluid tank would be the first thing to get torn off, too.
Who's it for?
You should think about buying a Sierra Denali 2500 or 3500 if towing or extreme payload haulage is a significant part of your truck's duties, and you're going to spend large chunks of time behind the wheel. Competitive equestrians or car racers come to mind.

Otherwise, it makes a lot more sense to step down to a half-ton truck which can be ordered with just as many luxury features but a more compliant road ride.
If you "just have to have a diesel," go for a Canyon Duramax, Ram EcoDiesel or upcoming F-150 Power Stroke. Those trucks will be more efficiency-oriented anyway.
Value
The GMC Sierra Denali is worth buying if you care about design, and once you're attracted to a vehicle because of how it's decorated, value becomes hard to quantify. What's "looking cooler" worth to you?

Heavy duty truck prices are all over the map, since some are built as ultra-basic utilitarian beaters while others are the jewel of some weekend warrior's garage. A 2017 GMC Sierra four-door short-box 4WD diesel rings up at $47,476, but a Denali in the same architecture is $63,496. Of course you're getting much more than chrome with that leap– the Denali has nicer seats and more toys. And interestingly the 2017 Chevy Silverado 2500 High Country, the Chevy Trucks luxury trim, rings up at $67,410 in that same configuration.
You can get a basic diesel-powered GMC Sierra for about $41,000 or heap $20,000 worth of bling on it. The work truck is priced on par with the competition, but the Denali experience comes with a heavy tax.
Verdict
Thanks to styling and a few key choice elements, GMC Denali trucks really do feel precise and deliberate. The calm and capable drive feels appropriately matched to the look, and the truck's a very relaxing place to sit while you're pulling heavy weight over a massive distance.
As it stands the Ford Super Duty has the best tech features, Ram has flamboyance and a legendary Cummins engine, but the GMC Sierra Denali has sophistication. All of them can pull and haul more mass than most people will ever need to mess with.

---
Engine: 6.6-liter Duramax V8 turbo diesel
Power: 445 HP at 2,800 RPM / 910 lb-ft at 1,600 RPM
Transmission: Allison A1000 six-speed automatic
0-60 Time: Yes
Top Speed: 98 MPH (Electronically limited)
Drivetrain: RWD, 4WD with low-range
Curb Weight: 5,741 lbs to 6,689 lbs, 6,532 lbs as tested.
Seating: 2 to 6 people depending on configuration
MPG: (Not disclosed by automaker or EPA)
MSRP: $32,946 base; $60,520 for 2500 Denali 4WD Crew Cab as tested.