The Nissan Maxima has traditionally been the result of the Japanese company's desire to stuff an unusually large engine in an unusually large car. And the new 2016 Nissan Maxima isn't much different. In fact, it's improved over the older car in literally some ways. But it might not be enough for our tastes.

Let's get the hard facts out of the way first. It's now got 300 horsepower from Nissan's V6, a bump of 10 horses over the last Maxima. It's 2.2 inches longer and 1.3 inches lower than the last car, and 82 pounds lighter. It has a .295 drag coefficient, down from .33 on the last one. It also has what Nissan is calling a "performance-oriented" CVT, whatever that is.
Oh, and there's Bose active noise cancellation, though pushing a button will bring more engine noise into the cabin.
G/O Media may get a commission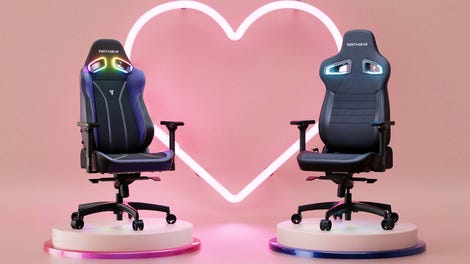 Up to $150 off
Vertagear Gaming Chairs
(Nissan didn't say if that's because the louder engine noise is coming from the speakers, but what do you think?)
It'll get 30 MPG on the highway... it'll start at $32,410... .... ... and it laps the Willow Springs race track faster than the BMW 328i... a.... car... with... 60... less horsssseeeepowerrrrgrrgrkael;;glkr;;klr;
I'M AWAKE. I'M AWAKE. I'M AWAKE. Definitely didn't fall asleep just now, thanks to the Maxima introducing a driver attention alert system that watches for when your feeling drowsy, much like on a Mercedes S-Class. Which is genuinely a great thing.
But in all seriousness, it's not Nissan-Renault CEO Carlos Ghosn spitting out bizarre lap time comparisons, or drag coefficients, or exact measurements of body length that are making us pass out. It's what the idea of the Maxima has become that's doing it.
When the Maxima was launched, it was overpowered compared to a lot of other four-door family sedans. It wasn't spectacularly heavy, either, and was a sprightly hauler that was plenty of fun for the 17-year-old that eventually ended up driving it when their parents upgraded to an Infinti J30. That kid, in their mom's Maxima, could smoke any poor sap who tried to show them up in their mom's Camry.
And it's not like the Camry and the Maxima are directly comparable now. But the gap is much, much smaller. The Camry now can come with 268 horsepower from a V6 if you want it, seats with some semblance of side bolstering and fake suede, and paddle shifters with a rev-matching automatic.
Again – I'm not saying that these cars are in the exact same class. The Camry is more of a Nissan Altima competitor. But it wouldn't be the height of absurdity to cross-shop a V6 Camry and the Maxima.
Yes, you can get quilted, two-tone, leather on the Maxima. Yes, those paddle shifters are almost absurdly large. But those paddles are on a CVT, and 300 horsepower isn't what it used to be.
But at the end of the day, it now has the Maxima's traditional abbreviation for 4-Door Sports Car on the shifter for the CVT.
And if you constantly have to remind drivers that they're at the wheel of a sports car, are they really driving a sports car anymore?
I guess what I'm saying is, I wish the new Nissan Maxima was a little more Maxima.
We haven't driven it yet, so maybe we're wrong. We'll let you know as soon as we do.
The 2016 Nissan Maxima goes on sale in June.