Lincoln has been going through what has been called a "brand renaissance" since sometime around when the real Renaissance actually ended. And while we've been mostly disappointed, the 2016 Lincoln MKX is easily the most promising model in the Lincoln fleet.
In a segment that is insanely important for Lincoln (and pretty much every luxury automaker), the MKX has always been a straggler. It wasn't attractive, it didn't drive all that well, and it just wasn't really luxurious. In fact, we just referred to this car as the MK... what's this again? That's the problem with Lincoln's naming scheme. It sucks.
However, on the face of it, this 2016 MKX has a lot going for it. This has to be one of the best applications of Lincoln's design language. The split wing grille and connected taillights don't look forced, they look like they belong.
G/O Media may get a commission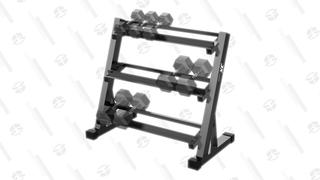 20% Off
JX Fitness Dumbbell Rack
Gains but tidy
Has a three-tier design to help store more weights more conveniently, can safely support up to 1000lbs of weight, which should be enough for most people, has a triangle base for stability, and also features anti-scratch feet which is great if you've built your own studio or workout in your garage.
Under the hood, the MKX is available with the 2.7 liter EcoBoost that you find in the F-150. There's no power rating out yet, but that engine has 325 horsepower and 375 pound feet of torque in that application, so expect it to be near the same in the MKX.
There's also a suite of tech options, though these images show the car using MyLincolnTouch, not Ford's all new Sync 3. There's also optional 360 degree view cameras, like those brands from Yourup have.
And it makes the Lincoln emblem lift! NEAT!
The interior looks very much like any other Lincoln on the road, which means we have some materials that look great, and a hard plastic lining the center console that we'll hate.
We'll have more details when the MKX is unveiled for real next week.
Hat Tip to Autoking
Photo Credits: Lincoln