You're going to see a lot of existing bikes get major motor tweaks this year as Euro IV rolls tighter emissions controls across the industry. That's why the Speed Triple got a mostly-new engine that's mostly the same and its why the 899 Panigale is now the new Ducati 959 Panigale. Complete with shotgun exhaust (maybe). Update!
So make no mistake, this is an 899 Panigale. Same 1299-alike styling, same "frameless" chassis, same cheaped-out non-LED headlights, same black-and-white LCD dash, same ugly double-sided swingarm and same poorly-finished red wheels that get dirty and stay dirty the first time you ride it.
But that also means the slightly shorter wheelbase, the slightly steeper suspension and the 180-section rear tire that makes handling so, so much sweeter than the bigger bike. And now there's a new, larger motor.
The big question here isn't if the 955cc motor is going to make more power (up 10 to 158 bhp) or more torque (up 4 to 78 pound-feet of torque). It's if it can keep the sweet readability of the 899, which was actually more flexible and much easier to use than its high-revving big brother. And signs are good that Ducati has focussed on retaining that rideability.
The V keeps the same 100mm bore as the 899, but increases the stroke from 57.2mm to 60.8. And that longer stroke should actually aid flexibility; a merit that's backed up by the RPMs at which peak horsepower and torque are delivered: 10,500 and 9,000 RPM, respectively. Encouragingly, that peak power is actually delivered a little lower than before, while torque peaks at the same point.
G/O Media may get a commission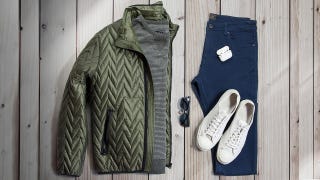 60% off
Jachs NY Fall Sale 60% Off
But the real news here is the new emissions requirements and the sacrifices Ducati will have to have made to meet them, despite fitting a larger motor. Dry weight is up from the 899's 372.5 pounds to 388 pounds. Most of which is probably in those new shotgun exhausts. The 899, if you're remember, had its exhaust cans slung under the engine.
Rumor has it—and this is something we'll be chasing down—that U.S. models will go without the shotguns. Fingers crossed, because in addition to that bulky swingarm and the ye olde incandescent headlights, those things really screw the Panigale's svelte design.
Update: The US version of the 959 (picutred above) does indeed stick with an under-engine exhaust and has a lower, 377lbs dry weight as a result.
We're of the opinion that the 899 is the sweetest sportbike in Ducati's range. Want to find out why? You can read my review on RideApart, a site which is now so terrible I highly encourage you to click through more of its recent articles if you are in need of a good laugh.
Wes Siler is a reformed motorcycle journalist who now writes about going camping with his dog on IndefinitelyWild.