Lexus really sells the "sportiness" of their new NX crossover, but once in the car you can dial that song down with a little switch on the dash. The aggressive design is good for some psychosomatic HP to the ol' "butt dyno," but the ass-hauling you'll do in an NX is mostly in your imagination. And that's ok.
(Disclosure: Lexus wanted my colleague Damon to have a look at the new NX, but he didn't have his passport in order so they were kind enough to fly me all the way from New York to Vancouver, put me up in an absurdly nice Four Seasons hotel at the Whistler ski resort, and stuff me full of food I can't afford for a couple days.)
The 2015 Lexus NX will be available as as a 200t or F-Sport model with a 2 liter turbocharged engine, or as a 300h hybrid variant that Lexus says will get up to 35 MPG. Each version will come in FWD or AWD.
G/O Media may get a commission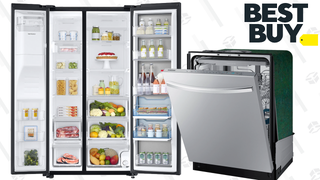 Up to 50% off
Best Buy - Samsung Major Appliance Sale
Real Quick Run Down
• It's prettier in person
• It's not fast, and when it is it torque-steers like whoa.
• Interior is very comfortable; great seats and steering wheel but tight in the back
• Digital gauge cluster is well executed, but the touchpad infotainment interface feels a little half-assed
• Great response on paddle shifters
• Cool toys like digital boost gauge and g-meter are fun
Is This A Dolled-Up RAV4?
No. Lexus NX Cheif Engineer Takeaki Kato, who gave us the 2.0 MR2 turbo, second-gen IS and current-gen RX, told me that while the platform of the NX is shared with the RAV4 it's a "completely different vehicle."
Specifically, 90% of the NX's parts were engineered independently of the RAV4. Even the manufacturing process is unique. The result is that while the suspension geometry and front floor are the same between both vehicles, the NX is 20% stiffer with a 0.34 coefficient of drag. The driving experience is meant to simulate a sport sedan, just with some extra cargo space. So, a tall sport wagon.
Exterior
For years you heckled Lexus about their design; "it's too safe, too boring."
So they came up with the "spindle grille" which we promptly (and accurately) dubbed "predator face." Well, that made the Lexus design guys and gals so mad they rage-scribbled all over their drafting table, and whatever exec was standing over their shoulder was all "hey, we can sell this." At least that's how I like to imagine the NX was born. The reality, we're told, is that the project took some 2,000 engineers five years to bang out.
For whatever my subjective opinion on styling is worth to you I'll offer this; the NX looks a lot cooler in real life than it does in photos. The small crossover segment is so crowded, and it's not going to thin out any time soon... why not offer one that looks like a Gundam suit? Nissan seems to have done well with their cyborg-hypnotoad looking Juke, and they're prepping a luxury variant of that for the near future.
Interior
If cars were spaceships, and the NX is certainly trying to invite that comparison, the interior feels more Serenity than Starship Enterprise. It's futuristic; but in a way that's a little rugged, and somehow sort of dated. Buttons are robust, slabs of plastic look tough enough to absorb a few laser blasts. In that sense it reminded me a bit of the original IS sedan, and I can still see the appeal of the style.
The digitally rendered gauges are the crown jewel of the NX cockpit. The clocks are physically there, but the faces can be cycled through different modes. For example, in the Hybrid you can switch the tachometer between RPMs and a power output/usage dial. Both look like they're painted on the panel. A triumph.
The seats strike a really nice balance between bolstering and comfortable, and the steering wheel's a sexy, chunky three-spoke that feels good in your grip. While I was assured that "even tall people would have plenty of room" in the back; I'm here to tell you that with a 6' person in front of you, the back seat is pretty snug.
Technology
An optional Heads Up Display is configurable between different views of speed, RPM, and has navigation input. Graphics and colors are extremely clear, but you can't run the whole car from it like you can in a BMW.
A small-yet-high-rez screen between the gauges can be toggled to a digital boost gauge or a real-time g-meter; always fun to be distracted by.
The infotainment system is a little slow and clunky. It's operated through a laptop-style touchpad in the center console, which let the designers set the screen a little further from fingers. But while some screens use a free-range "cursor," others you have to cycle through: so you're not always swiping "up and left" to hit an icon that's up-and-left, which I found frustrating.
Adaptive cruise control works well; bringing the NX to a stop about a car length behind the next vehicle at a stop light (you won't make any friends with this in NYC). The crossover also has a next-gen "lane departure warning system" which actually nudges the steering wheel back into your lane if the vehicle reckons you're drifting off course.
So it's the ultimate drunk driving-mobile? NO. Don't do that. Anyway the feature is far from reliable enough to safely drive the car on its own, but I did find it worked very consistently. The wheel movement isn't offensive or strong enough to throw you off course, but between the bump and the beeping it's paired with I think this tech has the power to protect a few people from themselves in drowsy-driving situations.
The "Engine Volume Knob"
Lexus-branded allen bolts? Nice touch.
I figured a few of you would scroll straight here. So in the non-Hybrid Lexus NX, there's an innocuous little knob near the driver's right knee. It's labeled "ASC," for "Active Sound Control." In Sport mode, which supposedly tightens suspension and makes throttle response more aggressive, you can dial the knob up and down to add a bit of "bbrrrmmmm" to your driving experience.
The noise comes from a dedicated speaker inside; you're not actually activating some extra exhaust valve or anything.
If you leave the knob alone the NX has a fine, subdued "vvrrrmmmm" to it. Start dialing it up and you get a layer of garbled growl on top of that which I didn't particularly care for. My questions are; why have a knob and not a button? Who's going to set that thing half-way?
And I know Lexus isn't the first company to augment their engine's note with stereo input, but if you're going to do that, why not have it max out at the sound of an Aston Martin V12 or something?
Powertrain
Toyota's first turbo in a long time is a 2-liter four banger designated 8AR-FTS. Making 235 horsepower and 258 lb-ft of torque, it sounds good and produces "adequate" performance but even an advanced cam timing system can't shake turbo lag off a line.
The six-speed gearbox feels responsive, but I had trouble noticing the more aggressive differential ratio in the F-Sport.
The hybrid setup is quieter and even feels stronger at low speed. The P314 continuously-variable transmission in the NX is intentionally less "smooth" than some other CVTs I've driven, in the spirt of replicating the "sport sedan experience." It even has a sport mode that lets you manually "shift" it through ratios. Coulda fooled me.
Driving
So how do you evaluate a car's "sportiness" on a public road with a few mild turns and pretty busy traffic? You mash the throttle up to the speed limit from stop lights. By that measure the Hybrid is the ballsiest of the lineup, as the only variant I could get a tire chirp out of.
The turbo NX, which uses a proprietary snail from Toyota, has a VVT-i variable cam-timing setup to mitigate turbo lag but the boosted version of this car is not in a hurry to get off the line. The claimed 7-something to 60 MPH started sounding optimistic after a few experiments.
The crossover is meant to come into its own in the twisties, and all variants felt plenty planted. It's stiff, no doubt, but an enthusiastic boot in the throttle is answered with a surprising amount of torque steer.
On the constraints of public roads, I wasn't blown away by the performance of the turbo over the hybrid. Since anyone who buys this will always be confined to similar conditions we tested it in (highway cruising and a resort parking lot) I'd say the hybrid is the way to go, but the folks at Lexus reckon less than 10% of all NXes sold in America will be battery versions. Well what the hell do I know!
Outward visibility felt fine, because thankfully you don't need these hilariously tiny windows to see out of.
Utility
Towing max is something like 2,000 pounds and you're definitely not taking an NX off-road, but cargo space is generous thanks to double wishbone rear suspension. That keeps a strut bar from hogging cargo space.
The cargo cover has a dedicated slot under the rear carpet in which it can be stowed. That's worth mentioning because it's awesome- cargo covers do a lot for the feng shui and tidiness of a wagon or SUV's interior, and people are always losing them which drives me nuts. Make a special stowage slot for the thing and everybody wins, good job Lexus.
Value
Free mirror! Seriously; this mirror is a detachable part of the center console. Check yo' self.
Lexus has yet to release any price information on the NX, but it sounded like they want to come in just below their German rivals (Audi Q3, BMW X3, and mostly the Mercedes-Benz GLK). I'd expect a starting price in the mid $30k's, on up to mid $40's for a decked-out F-Sport with option-packages at $3,000, $5,000, and maybe around $7,000 for everything.
The NX is apparently an "Entry Luxury" SUV on Lexus' scale that goes "Entry Lux - Near Lux - Mid Lux - Prestige Lux." It goes on sale in over eighty world markets, and Lexus execs think more than half of NX buyers will be new to the Lexus brand. They're looking to sell 3,000 a month, keeping extra capacity on tap if demand turns out to be stronger than that.
In Summary
The wild shape of the NX oversells the "sport" a bit. But if the price is right (and you can handle the styling) it's a pleasant vehicle to ride in and fits four-plus-stuff well enough, making it a solid option in the luxury miniature-SUV/crossover segment. You won't be blowing the doors off your neighbor's baby Bimmer, but you'll get better gas mileage at lower revs anyway.
Specifications
2015 Lexus NX (200t, F-Sport, 300h)
MSRP: Estimated $35,000-$45,000
Dimensions
Wheelbase: 104.7"
Length: 182.3"
Width: 73.6" plus 10" of mirrors
Height: 64.8"
Engines
(Gas) DOHC 16-valve with Dual VVT-iW, 2.0 liter twin-scroll turbocharged in-line 4-cylinder with intercooler
Output: 235 hp @ 4,800-5,600 rpm / 258 lb.-ft. @ 1,650-4,000 rpm
Transmission: 6-speed Multi-Mode Automatic Transmission
Estimated Fuel Economy: 21/28/24 (AWD) 22/28/24 (FWD)
(Hybrid) DOHC 16-valve Dual VVT-i, 2.5 liter in-line 4-cylinder with Atkinson cycle plus series/parallel hybrid system with gas engine, high-voltage battery and electric motors
Output: 154 hp @ 5,700 rpm / 152 lb.-ft. @ 4,400 rpm plus 194 hp from electric system
Transmission: Electronically Controlled Continuously Variable Transmission (ECVT); planetary gear unit for gear reduction and power splitting, electronic all-or front wheel-drive control system
Estimated Fuel Economy: 33/30/32 (AWD) 35/31/33 (FWD)
Ground Clearance: 6.7"
Approach Angle: 28.7º (16.8º on F-Sport)
Departure Angle: 24.6º
Images: Andrew Collins