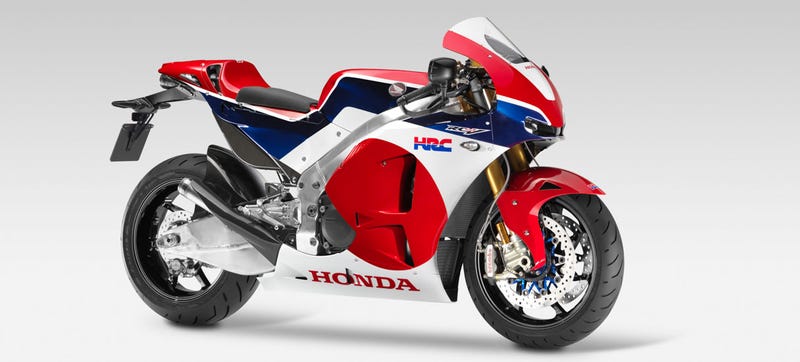 Honda calls this a "prototype," but it really is their RC213V MotoGP racer with a license plate and a headlight. That's insane, and it's ready for production.

Like the 2015 Honda Africa Twin, Honda is issuing virtually no official details on the RC213V-S, only saying:
Developed by Honda Racing Corporation (HRC) and Honda Motor, the RC213V-S is a road-going prototype of the RC213V winning MotoGP Championship. Inspired by, and developed with input from many legendary GP riders, the RC213V-S Prototype is set to be the ultimate road-going motorcycle.
Lucikly, that's all you really need to know, because this really is just an RC213V with road legal bits. Our Honda insider tells us that the bike is equipped with a 1,000cc V4 complete with the same bore and stroke as the racer — 81x48.5mm.
As a sign of how serious this motorcycle is, those remote-reservoir forks are SBK-level Ohlins FGR items. How fancy are they? Well if you tried to buy them yourself, they'd cost you $13,000. Yes, that comma is in the right place.
One of the most interesting features are the small headlights mounted inside the RC213V's distinctive "mouth" air intake. Apparently, these pop out for track use.
Elsewhere, we see a frame and swingarm that are near-as-dammit identical to the race version, with the same going for the carbon subframe and its underseat fuel tank. Even the exhaust pipes (now carrying larger silencers) are an identical arrangement.
The RC213V-S is being shown at EICMA today in both a traditional Honda tricolor and in bare carbon. Our insider tells us this is how it will be sold. You'll need to apply your own "93" stickers.
One final detail? "If you put Marquez on it, he'll be able to lap close to the open bikes," our source tells us.
And, like the Africa Twin, this isn't a prototype or concept, it's a production bike. Expect to see full specs and an eye watering price announced soon.
Sorry 2015 Yamaha R1 M, but you only managed to be the "closest to a MotoGP bike on the street" for a single day.