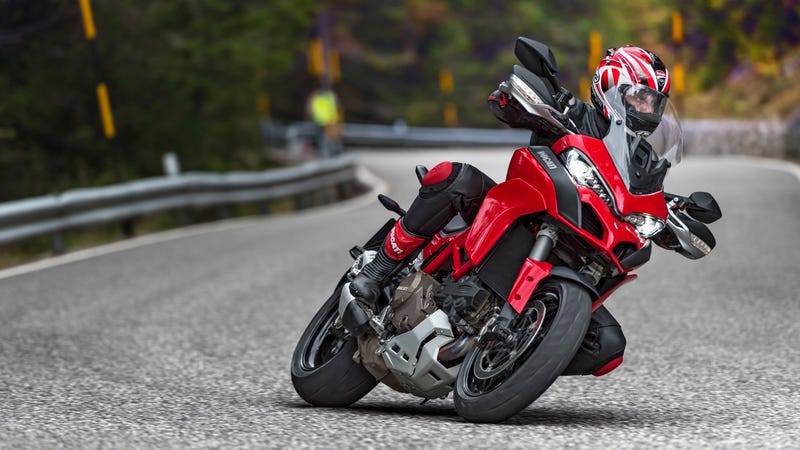 If I'm honest, I'd take this new Ducati Multistrada over the just-announced 1299 Panigale in a heartbeat. I love sports bikes as much as the next leather-clad Power Ranger, but the dual – no, quad – purpose Duc has got a lot going for it. Except for that beak. Damn. And we thought Acura took the cake for worst schnoz.
Awkward mandible aside, the new Multistrada is the Ducati equivalent of a Swiss Army knife. It does it all – touring, twisties, town, and trail – but trying to be all things to all riders means it's also a rolling compromise. But that's okay, because what it lacks in focus it makes up for in options, toys, and tweakability. Oh, and that new Desmodronic Variable Timing engine.
The latest iteration of the venerable Testastretta 1,198cc V-Twin is packing Ducati's first implementation of VVT, along with dual-spark ignition and reworked fuel injection. The new mill is less of an upgrade and more of a complete rework, and puts out 160 horsepower at 9,500 RPM and just over 100 pound-feet of twist from 7,500 revs, and does it 2,000 RPM earlier in the rev band, while also returning better fuel economy.
Like its predecessors – and the new 1299 – electronics play a massive role in the Multistrada's character, with a new Inertia Measurement Unit that keeps tabs on lean angles and fore and aft movements, and uses that info to manipulate the traction control, ride-by-wire (with four modes), and new wheelie control. It also plugs into the new Bosch Cornering ABS, which prevents wheel locking when the bike is mid-corner, and the revised Skyhook adaptable suspension on the Multistrada S.
There's also a new electronic cruise control system (ECC) and the Bluetooth-connected Ducati Multimedia System (DMS), that links up with your iPhone or Android device, downloads ride info, keep tabs on settings, and uploads it to a network of likeminded riders. The new TFT dash allows riders to tweak both suspension and ride modes (sport, touring, urban, and enduro) on-the-fly.
The hardware on the standard version is inverted 48mm forks, with a pair of 320mm discs. The S version gets Sachs damper, 10mm larger front discs and Brembo calipers all around.
To cast the largest net possible, Ducati is offering four packages for different riders. There's the Touring kit, which includes heated grips, panniers, and a center stand; the Sport pack gets a Termignoni exhaust, carbon fiber mudguard, and billet bits for the brake and clutch reservoirs; the Urban setup includes a top box and tank bag with a lock, a window for a phone, and a USB plug; and finally the Enduro package which gets another set of lights, off-road pegs, a larger kickstand, and a smattering of bars and plates to protect the engine and radiator. Ducati claims you can outfit your Multistrada with any or all of these packages, which would probably cost about as much as a new Scrambler.
Topping off that new nose is a set of set of full-LED headlamps with corner-lighting, pivoting as the rider turns the bars into a bend. That's something BMW offered in the past, and further proof that Ducati is trying to keep up with the Joneses from both Bimmer and KTM. Sales start early next year, although pricing hasn't been announced.