With the unveiling of the 2015 Chevrolet Corvette Z06, General Motors has done something magical. And that something magical is a loud, yellow, at least 625 horsepower middle finger to every other performance car on the market. USA. USA.
If you aren't in love with the new Z06, I don't know how I can help change your mind. Even GM's Mark Reuss called it "the big nasty," and I think that's totally apt. Let's start off with how it looks. You have extra aero bits all over the car to help make the already slippery Corvette Stingray produce some actual, tangible downforce.
And none of this aero work is subdued either. If you like flying under the radar, don't buy a Z06 since it has the stealth qualities of the Empire State Building. And all of those looks aren't just posing. This isn't a 1995 Civic with a body kit.
G/O Media may get a commission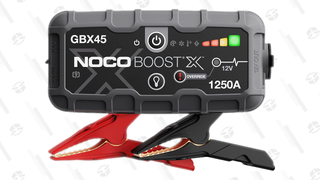 13% Off
Noco Boost X GBX75 Jump Starter
Under the hood, you have Chevrolet's new LT4 V8. Yes, unlike the LS7, this one is supercharged, and that is a bit of a disappointment. What isn't a disappointment is the power that is being put down. With 625+ horsepower and 635+ pound feet of torque (more.. and less... than what GM themselves predicted), the new Z06 will rocket to 60 in faster than you can imagine, but we're not sure how fast. No figures have been released just yet.
There will be some serious numbers (GM says the new Z06 was immediately faster around their Milford Proving Ground than the old ZR1), but it isn't even the real reason for the Z06. The Z06 isn't a top speed machine or an acceleration machine, it's meant to be the track day super weapon that will embarrass just about anything on the track, depending on your trim level.
For the first time, the Z06 will have three trim levels with differing levels of aero excellence, including an adjustable wicker in the rear wing. That makes for the Corvette with the most downforce not only of any car that GM has ever made, but any car GM has ever tested. The top trim will be the mack daddy Z07, with every little bit and piece you could ever want from a top track monster Corvette, including carbon ceramic brakes. The new Z06 is also 60 percent stiffer than the last car, which means this one will be the first ever Z06 with a removable roof panel.
However, there's a bone to pick. For the first time, the Z06 will have two transmission options. And one of those transmissions is a new eight speed torque converter automatic that will shift gears super fast. That is great for a track car because it'll be even faster. It'll also be more accessible to people that want a higher performance Corvette.
Why should the track Corvette be more accessible? Yes, I understand, lap times can be king for a lot of people (I'm one of those people). I also understand that selling more of them is just good for business. But I always felt that owning the Z06 wasn't about just owning a faster Corvette. It was about joining a club. People who "get it" get the Z06. Not poseurs. Not people who just want a fast car.
I had hoped that the Z06 would have the option of a dual clutch trans. It suits what the car is and would be a great match. The issue with adding an automatic is that the tuning needs to be spot on. It needs to be better than the ZF box that is now ubiquitous in the market. If they accomplish that, then it'll be a success and I have no real ground for complaint. I love the ZF box and hope this one is just as good.
I can still complain on moral grounds though. And I hope that Z06 buyers speak with the options list and buy the hell out of ones with a manual trans. It's the spirit of the Z06. It needs to live on and never die. Production will start later this year, with initial deliveries at the start of 2015.
Other than that, epic car. Cannot wait to drive it. And drive it fucking hard.