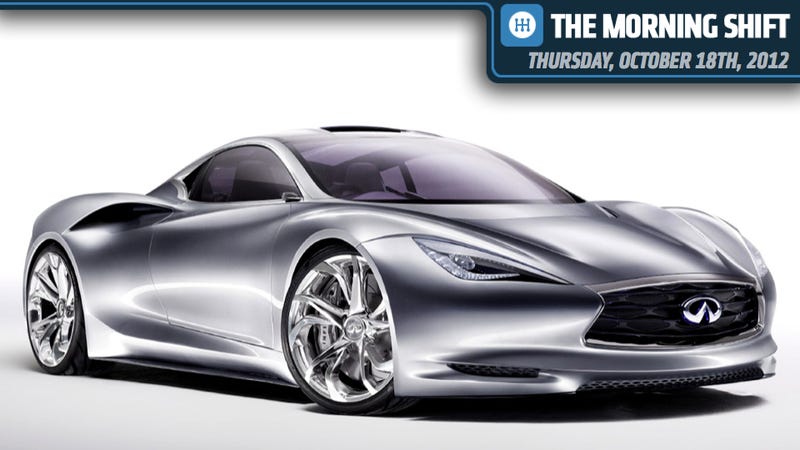 The Morning Shift
All your daily car news in one convenient place. Isn't your time more important?
This is the Morning Shift, our one-stop daily roundup of all the auto news that's actually important — all in one place at 9:00 AM. Or, you could spend all day waiting for other sites to parcel it out to you one story at a time. Isn't your time more important?
---
1st Gear: Nissan Says You Won't Need A Steering Wheel
Reuters reports that Nissan is rolling out steer-by-wire technology that could make the steering wheel obsolete in about a year. We've seen this technology on concept vehicles, and of course, some jetliners use fly-by-wire technology, but Nissan plans to introduce it on some of its Infiniti models, bringing it to the mass market. Steer-by-wire means that cars could eventually be driven by joysticks and be programmed to avoid crashes. Traditionally, the steering wheel of a car and the tires are linked mechanically, giving the driver direct feedback about steering from the tires on the road. Under steer-by-wire, inputs made by the driver through the steering system are transmitted to a computerized engine control unit, which instructs an actuator how to move the tires.
The cars will also have a backup clutch that will link the steering wheel and tires mechanically in the event of any problems, but Nissan hopes this won't always be needed. Assuming the system works well, Nissan envisions that the steering wheel in its traditional driver's position just won't be necessary. "We are thinking about the essentials — what kind of a tool should cars be for humans? By controlling its hands and feet, as well as the eyes and the brain, cars are on its way to becoming an extension of robots," said Tetsuya Iijima, a Nissan engineer.
---
2nd Gear: Ford Recalls Fiestas To Reprogram The Airbags
Reuters also says Ford is recalling 262,000 Fiestas from the 2011 to 2013 model years to reprogram the passenger side curtain airbags. The cars were originally programmed so that the side curtain bags wouldn't go off if no one was sitting in the passenger seat. But, Ford didn't explain that in the owner's manual, according to NHTSA. So, Ford will reprogram a computer module on the Fiestas. About 154,604 are in the U.S., with the rest in Canada, Mexico and South America.
---
3rd Gear: 2015 BMW 5-Series Spotted In Munich
MotorAuthority has spy shots of the next BMW 5-series, which it spotted driving in traffic in Munich, BMW's home town. The biggest changes seem to be new bumpers and headlights. Says MotorAuthority, "Up front we can see the LED daytime running lights of the headlights feature a squarer design than the units on the current model, while at the rear the taillights feature more pronounced reflectors. The rear bumper and integrated exhaust tips also appear to be adopting a look similar to what we saw on the latest 2013 BMW 7-Series." It's too early to tell if there will be any mechanical changes on the 5-series, however. Motor Authority thinks the car will be revealed in late 2013 or early 2014.
---
4th Gear: Smart Guys Can't Make Batteries
Bloomberg has a sharp analysis of some of the big problems that led to A123's bankruptcy filing the other day. Here's one of them: the government-funded company, founded by a 26 year old out of the Massachusetts Institute of Technology, made many mistakes that caused Fisker to recall hundreds of $103,000 cars. "Already ailing because the market for electric cars was developing more slowly than the company had projected, A123 said two days before Christmas in 2011 that it found a flaw in the batteries it supplied to Fisker," the Bloomberg story says.
A123 wanted to sell a controlling stake to a Chinese investor, but the deal was opposed by Congressional Republicans. It now plans to sell itself to Johnson Controls as part of the bankruptcy, which will put it in the hands of a much more experienced company. But as the Bloomberg story points out, the A123 journey has been a tortured trip that points out how hard it is to turn technology into a proven product.
---
Reverse: The Lightbulb Goes Out
On this day in 1931, Thomas Alva Edison died. He was one of Henry Ford's closest friends (Ford actually got his start at Detroit Edison), and you can visit his Menlo Park, N.J. laboratory at Greenfield Village in Dearborn, Mich. Edison invented so many things that made modern day automobiles and car production possible, starting with electricity, and including the powerplant, the alkaline battery and the first electric railroad. He also encouraged Ford to investigate developing electric vehicles. Edison is a fascinating American historic figure, so give him a salute as you use one of his inventions today. [History]
Neutral
In keeping with our new discussion system, here's a place for you to own the floor. We're asking each day what you think about an issue that comes up in TMS.
Today, we'd like to know: are you ready to give up the steering wheel? Do you trust steer-by-wire systems, or do you think a car needs to be mechanical? Remember there's no right answer or wrong answer. It's Neutral.
Show us your tips!
Got tips for our editors? Want to anonymously dish some dirt on a competitor? Know something about a secret car? Email us at tips@jalopnik.com.
Lost in our new layout?
Click here for the Opposite Lock or Tips forums. Want a more "blog-like" look? Click the button up top next to "Top Stories."
Get more Jalopnik!
Want even more Jalopnik? Want to know which of your friends read us? "Like" us on Facebook, follow us on Twitter, and subscribe to our newsletter.