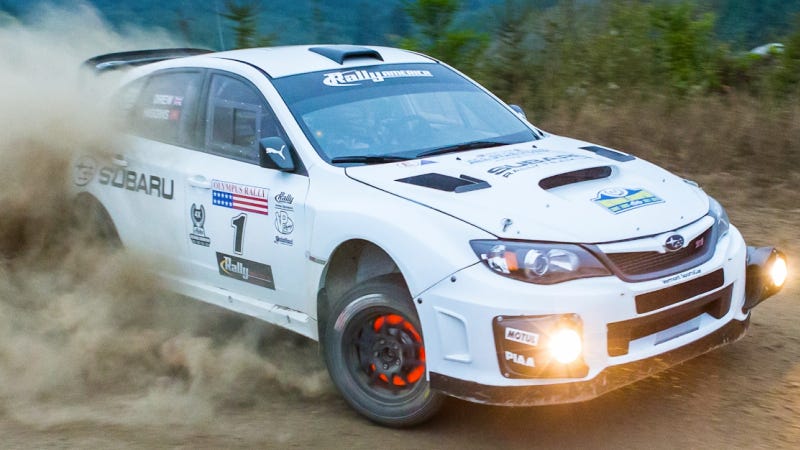 Williston, VT (October 2, 2013) — Rally America officials are proud to release the eight-round Rally America National Championship calendar for the 2014 season and continue the tradition of bringing the nation's best rally talent to the nation's best rally racing events.
Rally America returns all of last year's seven rally events for 2014, and for the second consecutive year will extend the championship season with an additional Rally America National Invitational only event to be announced at a later date. The championship increased from six to seven rounds in 2013, and will become an eight-round championship in 2014. More information will be posted on www.rally-america.com in the coming weeks.
Once again America's premiere rally championship begins with the winter favorite Sno*Drift Rally on January 24-25th, 2014 in Atlanta, MI. The Ojibwe Forests Rally and the Lake Superior Performance Rally will mark their second year as a national championship round after operating as regional events from 2010-2012.
"I am pleased to have all the 2013 events returning as part of the Rally America National Championship in 2014," said Bill Fogg, Sr., Rally America CEO. "We're also excited to announce the first Rally America National Invitational to be the eighth round of this year's series."
2014 RALLY AMERICA NATIONAL CHAMPIONSHIP
| | | |
| --- | --- | --- |
| Sno*Drift Rally | January 24-25 | Atlanta, Michigan |
| Rally in the 100 Acre Wood | February 21-22 | Salem, Missouri |
| Oregon Trail Rally | May 2-4 | Portland, Oregon |
| Susquehannock Trail Performance Rally | June 6-7 | Wellsboro, Pennsylvania |
| Rally America National Invitational | June 28 | TBA |
| New England Forest Rally | July 18-19 | Newry, Maine |
| Ojibwe Forests Rally | August 22-23 | Detroit Lakes, Minnesota |
| Lake Superior Performance Rally | October 17-18 | Houghton, Michigan |
This year's mandatory events are the Sno*Drift Rally, Rally in the 100 Acre Wood and Susquehannock Trail Performance Rally. Rally America introduced mandatory events in 2013, which required national teams to compete at three specified events in order for their standings points to count.
Rally America is proudly supported by Subaru of America, Ford Racing, VP Racing Fuels, Honda Development Research, GrimmSpeed, Exedy Racing Clutches and Teleblend.
Source: Rally America