Two days after we showed it to you, Mercedes-Benz gave us all the details about it's newest E-Class. We said the car's redesigned front and S-Class shaped profile looks dull, and thought that the sedan's backside could bore even a hardcore Lexus fan, while they refer to it as "emotionally appealing".
But that isn't important.
The big news in that from now on, the E-Class will come with a fancy clock in the middle of the dash where the hazard button used to be in the previous model. And while it's not as nice as the one Maserati is using, it is still a nice touch in a rather sterile office environment.
Not that you know what matters, let me tell you about the rest, because there is some German-engineering involved as well. You can have your new Benz's headlamps packed with LEDs, which means you will probably see the road. The E-Class features an intelligent system built around the upgraded Stereo Multi-Purpose Camera, which is behind the windscreen in the vicinity of the rear-view mirror. While you drive, algorithms perform an evaluation of the three-dimensional visual information provided by the camera, meaning that the car will not only prevent accidents, but also help you park your full sized Benz.
You can get the new E with a range of various and sundry engines, ranging from a wee little four banger with 184 horses up to a V6 diesel with 252 horses and 457 pound feet. Yes, these are Euro Market engines, so we'd expect to also have a gas V6 option and maybe even a V8 here in America. Of course, there is also the de riguer hybrid model.
G/O Media may get a commission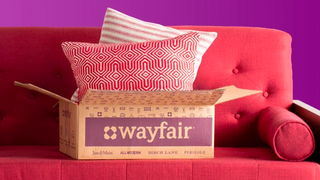 Big deals
Wayfair Surplus Sale
If you go for the AMG sport packs, your classic hood ornament will turn into a giant black star in the middle of the grill. On the plus side, it will also make the E-Class handle better, thanks to the optional lowered sports suspension. The wagon comes with air suspension to make sure it can take whatever you put in the back. A six-speed manual will be offered instead of the seven-speed auto automatic, meaning that the best E-Class will be a diesel wagon with a stick.
Yeah... don't start thinking that's coming to America.