If there was ever a modern car that was defined by its marketing campaign, it's the 2014 Kia Soul. You can't go anywhere in the boxy little hatchback without someone mentioning those hamsters. Thankfully, there's more to this car than cute TV commercials.
For 2014, the Soul — an undeniable sales hit for Kia in recent years — has undergone a thorough reworking. Its chassis is stiffer, its interior is nicer, and its features list is more extensive.
All in all, it's a pretty good value in the segment it's in. But is it any good to actually drive?
(Full disclosure: Kia needed me to drive their redesigned Soul so badly that they dropped it off with a full tank of gas in front of my house for a whole week. Much to my disappointment, it was not delivered by a team of hamsters.)
G/O Media may get a commission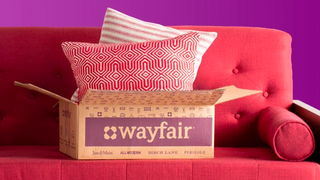 Big deals
Wayfair Surplus Sale
In their press materials, Kia repeatedly refers to the Soul as "iconic." That's some grade-A automaker bullshit right there. Audrey Hepburn is iconic. Steve McQueen's Mustang from Bullitt is iconic. The Kia Soul? Not so much. But that certainly doesn't mean it's deficient as a car.
Kia also calls the 2014 Soul "all new" in its ads, but what it really is is a heavily refreshed version of the car that debuted in 2010. That's not a bad thing, though. When you have a car that's moving as many as 12,000 copies off dealer lots per month, it's bad to mess with the formula too much. Remember how Scion screwed up the second generation xB? Kia has thoughtfully avoided that.
The "new" Soul has a longer wheelbase and is wider and slightly shorter than the old car — and carries quite a few design elements from the Kia Track'ster Concept of 2012 — but it's the same box people have come to love, just better.
Sadly, what the Soul doesn't get from the Track'ster is a 250 horsepower turbocharged engine, a six-speed manual and all-wheel drive. I wish! To be very clear, the Soul isn't a performance car. If it was, they'd have, like, dancing mongooses inside instead of dancing hamsters.
In the week I had with a fully loaded Soul ! (No, I'm not yelling at you; the ! is the name for the top trim Soul, seriously!) I found it to be a nice, capable, well-equipped small car with some funky styling thrown in for good measure. I think at least a few hapless D.C. residents assumed it was a cab at first thanks to its in-your-face yellow color. No, I didn't give them rides around town, because I'm much more antisocial than Jason is.
It has its downsides, including a relatively unexciting driving experience, and fuel economy that isn't as strong as other small cars. The Soul is rated at 23 mpg in the city and 31 mpg on the highway, which is solidly middle-of-the-pack these days. I averaged about 20 mpg in mostly-city driving.
But overall, the Soul is a good machine, and one that I'd recommend to people who need something affordable, practical, and don't want to settle for something completely dull.
Exterior: 7/10
I may catch a bunch of hell for this, but I like the way the Soul looks. No, it's not beautiful in the traditional sense, but it's fun and different. It stands out in a unique way without being really offensive to the eyes the way, say, a Nissan Juke is. They come in ostentatious colors, too, like Alien Green, Solar Yellow, and Latte Brown.
The new car sports revised front and rear ends as well as new headlamps and taillamps. It also keeps the Soul's signature sloping roof. I have to say I dig those 18 inch wheels that came with my tester as well.
Interior: 6/10
The first Soul I ever drove was an airport rental car. I actually thought it was pretty decent inside for an economy car. The new one is much better, thanks to an all-new steering wheel, glossy black plastic trim, an eight inch touch screen, soft leather seats, a push button starter, and big, easy-to-read gauges.
Also a plus: a solid amount of rear legroom in the backseats and a respectable amount of hatch space. Put the rear seats down and you've got loads of room for Home Depot or Costco runs, which is probably important to the folks who are shopping for cars like this.
But even on a fully loaded Soul ! like the one I had — how many Soul buyers will really opt for leather? — it never feels quite like a true premium car, just a very nice economy car. There are still quite a few cheap-feeling plastics in places. Overall, though, it's not bad for what it is.
Acceleration: 5/10
Speed in the Soul comes from one of two direct injected four-cylinder motors: a 1.6-liter engine with 130 horsepower in the base model car, or a 2.0-liter mill with 164 horsepower in the two higher trims. Mine came with the latter. It has a decent amount of around-town and highway acceleration, but it certainly isn't fast.
Most sources put the zero to 60 mph time in the 8 second range. Clearly, acceleration is one thing that didn't carry over from the Track'ster.
Braking: 5/10
What can I say about the Soul's brakes? They're pretty standard for an economy car. They stop just fine, but never feel especially confident or grabby. Pedal travel feels a bit on the long side, too. The brakes aren't bad, but they don't stand out either.
Ride 6/10
The ride quality is pretty good, overall. Driving it around D.C. for a few days, it didn't beat me up nearly as bad as my Mini Cooper S does (few cars are that bad) but it never totally isolates you from bumps and potholes, either. It's comfortable.
Handling 6/10
The Soul has MacPherson struts up front and a torsion beam rear axle in the back. It's a relatively soft suspension, and it has plenty of body roll to offer. Despite a 29 percent stiffer chassis over the old car, it doesn't really inspire much confidence in the way of handling.
The Soul uses an electric steering rack called "FlexSteer" with three settings: Normal, Comfort and Sport. Putting it in Sport tightens the steering significantly and makes it feel considerably more direct. I kept it in this mode most of the time I had the car, not because I was autocrossing it, but because I liked the extra degree of control it offered. In that setting, the steering was surprisingly good.
As much as I complain about electric power steering systems, they are getting better, even on lower-end cars like this Kia.
Gearbox 5/10
The base model Soul has a six-speed manual standard, but the upper two trims come with a six-speed automatic gearbox instead. As with other performance-related aspects of the car, it doesn't really stand out in any way.
It has a manual shift option (but no paddles), although shifts up and down are neither fast nor direct. What I'd really love is the option of a stick shift with the larger engine. That would spice things up quite a bit.
Audio 7/10
My tester came with the optional 10-speaker Infinity Audio System, and I rather liked it a lot. Whether I was listening to music on my iPhone via Bluetooth or satellite radio, it gave a nice, crisp, clear sound with plenty of bass. As far as audio systems on affordable cars go, I feel like this is one of the better ones. Also, the door speakers have hoops of neon light around them that flash in accordance with the beat. Neat!
As for the engine note, it's nothing to write home about. It's mostly quiet around town, but buzzy and unrefined when you get on it. It's certainly not what I would consider an inspiring sound. Still, not enough to detract from what's a better than average sound system in a cheap car.
Toys 7/10
Toys! The Soul has them. As I mentioned earlier, this ! model was pretty loaded, and it came with a surprising amount of stuff. Rear backup camera, heated and cooled seats, panoramic sunroof, a proximity key, automatic climate control, navigation, HID headlamps, and a heated steering wheel.
Kia's UVO infotainment system is a mixed bag. The maps are clear and easy to read, and the system itself is quicker and more responsive than most, but the menu layouts aren't terribly intuitive. That last part isn't aggravating as some, but it could be a little more user-friendly.
Value 7/10
Now, this part may shock some of you: my fully-loaded Soul ! tester stickered in at a whopping $26,195. You may be saying "That's just too much to pay for a Kia Soul," and I'd agree with you.
Even with all this equipment — and you do get a lot here when you check all the boxes — that price puts you well into territory occupied by better cars. For something roomy and practical, the Mazda CX-5 springs to mind, and for a fun hatchback, this can't hold a candle to a GTI or a Focus ST.
But the good news is that no one will really ever spend that much on a Soul. (I hope not, anyway.) The base model Soul starts at just $14,700, and the mid-level + trim starts at $18,200. In terms of bang for your buck, I think this car works best when it's kept under $20,000 or so.
Get a mid-level Soul with a reasonable amount of options and you have yourself a quirky-looking, roomy, solid little car that also has a 10-year warranty. There's few reasons not to recommend the Soul to people, unless they're looking for more of an enthusiast thrill behind the wheel. Those hamsters might be on to something.
61/100
Engine: 2.0-liter inline four
Power: 164 HP at 6,200 RPM/ 151 LB-FT at 4,000 RPM
Transmission: Six-Speed Automatic
0-60 Time: 8.5 seconds (estimated)
Top Speed: Not listed
Drivetrain: Front-Wheel Drive
Curb Weight: 2,879 pounds
Seating: 5 people
MPG: 23 City/31 Highway
MSRP: $14,700 (As tested $26,195)
2014 Kia Soul 5dr Wgn Man Base Specs
Engine type
Regular Unleaded I-4
Transmission/Drive
Manual w/OD