Jaguar's one-upped its already elegant and well-sorted XFR sports sedan, to create the sharper, more aggressive and very limited-production Jaguar XFR-S. But does the S stand for aweSome, or just window dreSsing? We found out.
(Full disclosure: Jaguar wanted us to drive the XFR-S so bad, they flew me to Seattle for a long, winding stint in both the XFR-S and XJR (more to come on that), which included a few laps at The Ridge Motorsports Park, a technical private track in Shelton, Washington, and a lift back to Seattle on a De Havilland DHC-3 Otter seaplane. No wheels, good.)
When you've got a good chassis, there's a moral obligation to keep adding power until you wring maximum enjoyment from it. If we were a truly enlightened civilization, we'd make this a law, and insist on the inverse as well: A gorgeous engine demands a chassis well-sorted enough for its every rev to be explored fully. Combine both maxims into an engineering brief, and you've got the recipe for a very special car.
The Jaguar XFR-S is cut from that brief. It matches Jaguar's sublime supercharged five-liter V8 with the XF's sturdy and communicative running gear, which has been recast to slay corners. The combination of those two components — engine and chassis — is a reboot of the old chocolate and peanut-butter thing, but in the case of the XFR-S, also infused with Cumari peppers. They're spicy, see, but they won't burn your eyelids off if you're lax in handling them.
Put simply, the XFR-S is quick, it wraps itself around an apex predictably, it tops its class in steering feel and assuredness, and it never met a corner — fast or slow — it didn't dig its fangs into and devour. It's also got a clean design that, while familiar, is anything but awkward, and at some angles a real, old school charmer.
G/O Media may get a commission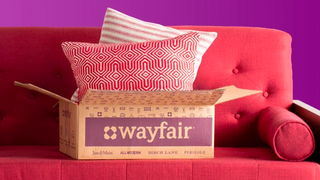 Big deals
Wayfair Surplus Sale
Could it feel a bit more special? Well, perhaps. But we'll get to that.
Positioning-wise, the XFR-S is the latest product to wear Jaguar's R-S badge, which denotes the highest road performance profile within the company's line. First came the XKR-S, for which engineers took Jag's GT car and gave it the agility of a peregrine falcon. Now they've done the same with their midsized XF, a luxury sedan that — both in base form and as the hotted-up XFR — has earned major points within its very competitive class for ride, handling and steering feel.
Could the XFR-S sound more feral? Could it feel even more hyper alert? Yes. That would be my preference, though Jaguar is undoubtedly leaving room between R-S models and the even more severe GTs, the first (and currently only) of which — the XKR-S GT — showed up at the New York Auto Show this past year.
Ultimately, although the XFR-S offers no power or performance-numbers advantage over others in its class — technology-heavy bruisers from Mercedes-Benz's AMG and BMW's M, with Audi's RS cars now creeping up — it has a real shot at being the best, most enjoyable tarted-up sports sedan around. Where these rival cars continue to blossom in complexity, the XFR-S wears its simplicity as a badge of honor. A badge that, if you're willing to pay for it, offers its own brand of specialness.
Exterior: 7/10
There's no doubting. The baseline Jaguar XF is attractive, and wears its sophistication on a very elegantly tailored sleeve.
Still, having spawned (or launched simultaneously with) a range of sedans that could be an afterimage of the XF — from Buick Lacrosse to Kia Optima to Tesla Model S — the XF's design has from a distance become troublingly indistinct.
Move closer, however, and you'll find enough seductive details within those wind-tunnel-tested arcs to preserve chief designer Ian Callum's bona fides. While familiar, the XF is a design that distinguishes itself through intimacy. The torch song, "The Nearness of You," should be its theme music.
Nonetheless, while it's likely the average XF buyer will continue fielding questions from onlookers about range anxiety (Why, none, thank you very much!), buyers of the XFR-S won't.
As such, one can appreciate the add-ons that make the XFR-S stand out like a gasoline fire from the base XF: the optional wing (or standard lip spoiler); 20" "Varuna" forged alloys; deeper front bumper with larger intakes; vertical vanes and carbon fiber splitter and diffuser, and wider stance from the fat, bespoke Pirelli P Zeros.
Of course, it's no problem for me if the XFR-S shares a first-glance similarity with one of Australia's muscle coupes from Ford or Holden. But among Jaguar buyers, the large, busy, $3,500 wing may be polarizing — and whether or not one chooses it will mainly affect one's wallet. The XFR-S enjoys 68% less lift at full clip compared to the XFR, with wing or without.
Interior: 8/10
The interior largely carries over from the XFR, including dash layout and gauges, and that rotary gear knob. But look past the R-S logos embossed on the seats, and there's also a ton more Alcantara, along with body-color stitching on the leather upholstery and some surprisingly cool woven carbon-fiber leather trimmings. The seats are plenty supportive for an average-sized hack like myself, even in high G-load situations. Still, the interior design is due for an upgrade, if only to slot in a larger nav screen to keep up with market demand.
Acceleration: 8/10
Jaaaaaaaaaaaaaaaag! Not the quickest to 60 mph by number (4.4 apparently), but indeed plenty fast enough to tangle heartily with the 4,300-lb competition. Once underway, acceleration is even more brutal. Sixty to 100 arrives in a mere eye blink, and it's most noticeably more thrusty than the XFR in the mid to higher rev ranges, pulling hard and deliciously linear, accompanied by a deep, roaring outcry.
Braking: 8/10
Step right up. Plenty of brakes to go around, even after pummeling the tires hard for a few hours. Pedal feel is accurate and progressive, if not as bitey as I'd like.
Ride: 9/10
Having only two settings — dynamic and not — has apparently forced engineers to get the baseline tuning right from the start. There's no flaccid "comfort" or spine-cracking "race" modes to fall back on, and so the work of making the XFR-S feel firm but not overly compliant goes to the active dampers. Who would have thought having fewer choices was the right, er, choice.
In dynamic mode, the dampers firm up by increment — making the XFR-S feel slightly more wired but hardly less comfortable on the road — enables quicker shifts, adds a pinch more heft to the steering and the normally long throttle gives way to a more aggressive map. In either mode, the XFR-S is surprisingly un-harsh over rough surfaces, without sacrificing body control.
Handling: 9/10
Let's first tick off the suspension changes from the XFR: Stiffer springs, new front and rear suspension knuckles — same as the XKR-S — and front wheel bearings, revised power-assist steering valve from the F-Type, new rear subframe to allow changes in geometry, and stiffer bushings. It's all packaged for greater responsiveness and stability under track-like loads.
But it's all just so many spare parts until we're out on the tarmac of The Ridge, where the XFR-S flowers. A little trail-braking as a corner folds up, not just to harness the laws of physics, but also to charge the sensors and wake up the active diff to rotate the car cleanly. The front tires dig in and stay planted. Back on the gas early and the dynamic mode's more lenient traction-control scheme provides a hint of tail fade, which reels back in on command, and we're out.
The body comports itself superbly, and the steering, which feels slightly heavier than the XF's, is aces. When pushed hard, the XF-S's helm loads up — loan me an adverb. How about... — "meatily" and feeds a surprising amount of road surface and traction information back to even the lightest finger touch on the wheel. This is how a hopped-up sports sedan should behave. Simple, (mostly) mechanical and intuitive.
Gearbox: 9/10
All hail the ZF eight-speed autobox… yet again. Having all those ratios mean the first five can be closely huddled for epic translation of power to motion, while sixth is free to take 1:1 duty and seventh and eighth, gas sipping overdrives. (That means no gas guzzler tax for this guy.)
In normal drive mode, the automatic experience in the XFR-S is a silky, as is the ZF box's MO. But in sport mode, the box's Jaguar software, re-tuned for the XFR-S, adds an edifying clunk to shifts when driven hard — accompanied by a deep overrun pop that sounds like a bowling ball slamming into wet cement. Of course there's no manual available.
In automatic mode, however, the sensors and algorithms that tailor upshifting and downshifting to driving style — double-downshifting during heavy braking before a sharp corner, for example — don't seem quite as accurate as competing dual-clutch systems, though more seat time would allow a more thorough sussing out.
Toys: 5/10
Not chock full of the latest toys, though probably for the best.
Audio: 9/10
The XFR-S gets a standard fitting of the Meridian's 380-watt, 12-speaker surround-sound system. An optional 825-watt, 18-speaker system — which includes Meridian's Trifield System — uses an algorithm to optimize surround signals for each occupant. That is, the driver and passengers each sit at the center of their own surround-sound sphere. It produces heavenly audio quality, even when cranked to compensate for the XFR-S's booming overrun pops.
Value: 6/10
The moment of truth arrives. Now what? Does the R warrant a near-$20,000 premium over the XFR? Does the chassis tuning, added power and extra content make the XFR-S feel 20 grand more special?
Let's consider expectations. The XFR-S is edgier and more alert than the XFR, but it could use a touch more pugnacity. As thrilling as it is to drive, it's not as distinctively lurid as it could be — despite the loud paint and big wing. This is no skull-and-crossbones tuning job, but again, that likely has to do with the existence of Jag's new, more hardcore GT class.
Still, while a five-figure price premium over its competitors — for no real performance gain — stings, without a raft of pricy options available the transaction prices could end up washing out. And, Jaguar says it's only building 200 XFR-S models, so owning one will be a rare privilege, which will undoubtedly add to its value.
And of course, there's a lot to love about the XFR-S. That engine, for one, and the last-10-percent chassis tuning that makes it a joy to drive hard on a racetrack, and dampers that won't blow out spines in their peak earning years. Consider well.
78/100
Engine: 5.0-liter supercharged V8
Power: 542 HP (550PS) at 6500 RPM/502 LB-FT at 2500-5500 RPM
Transmission: Eight-speed automatic
0-60 Time: 4.4 seconds
Top Speed: 186 mph
Drivetrain: Rear-Wheel Drive
Curb Weight: 4,381 lbs.
Seating: 4 people
MPG: 18 MPG (EPA average)
MSRP: $99,000
2014 Jaguar XFR-S
2014 Jaguar XF 4dr Sdn I4 T RWD Specs
Engine type
Intercooled Turbo Premium Unleaded I-4
Transmission/Drive
Automatic w/OD