This is the Morning Shift, our one-stop daily roundup of all the auto news that's actually important — all in one place at 9:00 AM. Or, you could spend all day waiting for other sites to parcel it out to you one story at a time. Isn't your time more important?
---
1st Gear: Santorum Spreads His Own Anti-Bailout Message On Michigan
Bloomberg reports that Republican presidential candidate Rick Santorum told a Michigan audience that he wouldn't have bailed out General Motors and Chrysler because the automakers would have recovered without federal assistance. GM and Chrysler would be "alive and equally as well, or better off, than they are now," Santorum told about 300 people at a Detroit Economic Club luncheon yesterday. "The markets would have reacted to restructure it to be more competitive." As he scoffed at the bailout, Santorum at least drew a distinction between his position and that of former Massachusetts Gov. Mitt Romney. It's just that he's doing it in the state that's the center of the U.S. auto industry. Could this campaign get any more weird?
---
G/O Media may get a commission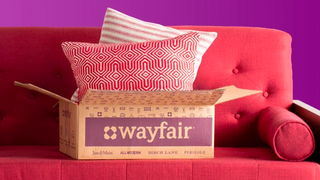 Big deals
Wayfair Surplus Sale
2nd Gear: Will The Barracuda Replace The Dodge Challenger?
With the Dodge Challenger's two key competitors, the Ford Mustang and Chevrolet Camaro, both due for major updates in the 2015 model year, Motor Trend's reporting that Chrysler design chief Ralph Gilles is designing a new Barracuda to replace it. Using the Dodge Charger/Chrysler 300's last-generation platform, the Challenger is by far the largest car in this segment, at 197.7 inches long on a 116.0-inch wheelbase, 4.2 inches shorter than the Charger's wheelbase. The Challenger is that long because it needed to mimic the 1970-'74 Dodge Challenger's proportions while using the Charger's tall front cowl. But a Barracuda replacement could be much more trim, though still on a RWD platform.
---
3rd Gear: 208 GTi Concept Preps Peugeot For Return To Hot Hatches...
Peugeot starts its preparation for an imminent return to the hot hatch market with this — the 208 GTi Concept, its star of next month's Geneva Motor Show and a preview of a forthcoming production GTi. The 208 GTi Concept might be proof that Peugeot is serious about augmenting its hatchback range with a range-topping performance model that harks back to the classic 205 GTi from the 1980s.
---
4th Gear: ...While The XY Concept Shows Off The 'Other' Side Of Small Cars
And, oh, wait, is that another Peugeot concept? Why yes, yes it is. This is the 208 XY Concept, and it's designed to show the flip side of the 208 GTi concept — premium and luxury in a small package. That means 16-layer 'Pulsion' paint, 18-inch wheels, a panoramic glass roof and chrome highlights on the outside. Inside there's stitched crimson leather on the steering wheel, dashboard, armrests, and the gear levels, plus purple leather highlights on the seats and floor mats, and black leather trimming around the edge of the panoramic glass roof. Other special luxury touches include pleated seats, crimson micro-stripes in the chrome section of steering wheel, and gunmetal highlights for the air vents and door handles.
---
5th Gear: Chrysler Joins GM, Turns Down Government Loans Taken By Ford
Chrysler said Thursday it withdrew its application for a $3.5 billion low-interest loan from the U.S. Department of Energy to be used to fund research and tooling for more fuel-efficient vehicles. Chrysler's withdrawal follows a similar move by General Motors. It withdrew its request for $14.4 billion in low-cost DOE loans after deciding it no longer needed the money. Ford was awarded $5.9 billion in 2009 under the program.
---
6th Gear: 2014 Ford Focus RS
Car has some details on the expected third-generation Ford Focus RS. Specifically, an all-new four-cylinder engine good for 350 hp, and with a redeployment of the RevoKnuckle front suspension, used (as Car notes — with limited success) to counter torque steer on the last Focus RS. But that engine — the 2.3-liter Ecoboost engine, under development in North America and supposedly to be found in the next Mustang. One Ford source said '300 to 350bhp is the range we should consider.' Rowr!
---
Reverse:
⏎ Tom Walsh: Can Romney remember what he believes? [Detroit Free Press]
⏎ Auto Recovery Defines Terms of Engagement for Michigan Primary. [Bloomberg]
⏎ UAW Bonuses on Record GM Profit May Lift Economy. [Bloomberg]
⏎ Six things to watch at GM in 2012. [Automotive News]
⏎ DOT issues guidelines to limit dashboard distractions. [Detroit News]
⏎ Advance Auto Parts 4Q profit jumps 38 percent. [AP via BusinessWeek]
⏎ Opel turnaround plan may take a 'couple' of months,' GM CEO Akerson says. [Automotive News]
⏎ Nevada Approves Rules for Self-Driving Cars. [PC Magazine]
---
Today in Automotive History:
On this day in 1972, the 15,007,034th Volkswagen Beetle comes off the assembly line, breaking a world car production record held for more than four decades by the Ford Motor Company's iconic Model T, which was in production from 1908 and 1927. [History]
Show us your tips!
Got tips for our editors? Want to anonymously dish some dirt on a competitor? Know something about a secret car? Email us at tips@jalopnik.com.
Lost in our new layout?
Click here for the Opposite Lock or Tips forums. Want a more "blog-like" look? Click the button up top next to "Top Stories."
Get more Jalopnik!
Want even more Jalopnik? Want to know which of your friends read us? "Like" us on Facebook and follow us on Twitter.