This is the Morning Shift, our one-stop daily roundup of all the auto news that's actually important — all in one place at 9:00 AM. Or, you could spend all day waiting for other sites to parcel it out to you one story at a time. Isn't your time more important?
---
1st Gear: 2013 SRT Viper Teases Itself From The Inside
Chrysler's SRT team's Facebook page has released a new teaser for the 2013 SRT Viper that'll be unveiled at next week's New York Auto Show. This time, what you see is the next Viper's interior with a shot taken from the steering wheel showing part of the center console, the red seats and the manual gearbox shifter. I want to go to there.
---
G/O Media may get a commission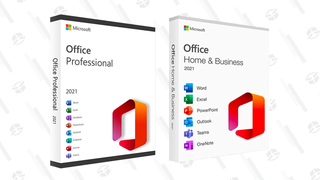 95% off
Cyber Monday - Lowest Price Ever - Microsoft Office Lifetime License
2nd Gear: My Name Is 2013 Ram 1500, My Tank Is Pretty
Chrysler is being such a tease today. First it was that interior shot of the SRT Viper, now it's the 2013 Ram 1500 pickup, also debuting next week at the New York Auto Show. The sly up-skirt of the new truck shows its new chromed grille along with an updated Ram logo. It screams "I am Ram, buy me because I'm pretty."
---
3rd Gear: Mercedes-Benz To Revive CLC Badge As New York Auto Show Concept
Micki Maynard at Forbes reports that along with Mercedes-Benz starting production at its new plant in Kecskemét, Hungary was an announcement by CEO Dieter Zetsche that it will soon start churning out small Mercedes models including a new four-door coupe. Why is that relevant this week? Well, because this new four-door coupe is expected to revive the CLC badge and will make its world debut in concept form at either next week's New York Auto Show or next month's Beijing Motor Show.
---
4th Gear: Fiat Planning 500X Crossover
Autocar reports this morning that Fiat is lining up a replacement for the Fiat Sedici. The new model will become the fourth variant of the Fiat 500 range, and is expected to be called 500X. But don't worry, we'll get it here, only it'll be a Jeep when it's launched here and in Europe.
---
5th Gear: You'll Want To Park Your BMW Outside Until You Get That Battery Cable Fixed
As an add-on to news earlier this week that hundreds of thousands of BMW 5- and 6-series cars would need to have a battery cable replaced, U.S. safety regulators and BMW now say owners should park them outside until that's taken care of. Obviously it's because if not fixed it could lead to fiery death! And who wants that?
---
6th Gear: Chrysler Extends 'Halftime In America' Ad Campaign
We swear, there's no more Chrysler news in today's Morning Shift. Honest. Well, except for that Jeep link down in 'Reverse' — and today's history link. Otherwise, last news. Pinkie swear! The Detroit Free Press reports that halftime isn't over for Chrysler, despite the ridiculous political flak it took for its Super Bowl commercial with Clint Eastwood. The company said yesterday that it has decided to turn the "It's Halftime in America" commercial that ran during the Super Bowl in February into a series of commercials for its four brands — Chrysler, Dodge, Jeep and Ram. Fiat, however, is not part of the "Halftime" celebration. Obviously. Because it's small and Italian and couldn't play a man formation if its life depended on it.
---
Reverse:
⏎ Death knell for the navi? [Automotive News]
⏎ Breaking down the 2012 All-Star race format. [From The Marbles]
⏎ Jeep to Boost Global Production. [MSN Autos]
⏎ What Car Would You Buy if You Won Mega Millions? [Kicking Tires]
⏎ Walking the Talk: Automakers' Employees Champion Energy Efficiency at Work and at Home. [New York Times]
⏎ 2012 Nissan Passenger Vans Now on Sale. [PickupTrucks.com]
⏎ The Ram gets put down. [Adelaide Now]
---
Today in Automotive History
On this day in 2009, U.S. President Barack Obama issues an ultimatum to struggling American automakers General Motors (GM) and Chrysler: In order to receive additional bailout loans from the government, he says, the companies need to make dramatic changes in the way they run their businesses. The president also announced a set of initiatives intended to assist the struggling U.S. auto industry and boost consumer confidence, including government backing of GM and Chrysler warranties, even if both automakers went out of business. In December 2008, GM (the world's largest automaker from the early 1930s to 2008) and Chrysler (then America's third-biggest car company) accepted $17.4 billion in federal aid in order to stay afloat. At that time, the two companies had been hit hard by the global economic crisis and slumping auto sales; however, critics charged that their problems had begun several decades earlier and included failures to innovate in the face of foreign competition and issues with labor unions, among other factors. [History]
Show us your tips!
Got tips for our editors? Want to anonymously dish some dirt on a competitor? Know something about a secret car? Email us at tips@jalopnik.com.
Lost in our new layout?
Click here for the Opposite Lock or Tips forums. Want a more "blog-like" look? Click the button up top next to "Top Stories."
Get more Jalopnik!
Want even more Jalopnik? Want to know which of your friends read us? "Like" us on Facebook and follow us on Twitter.