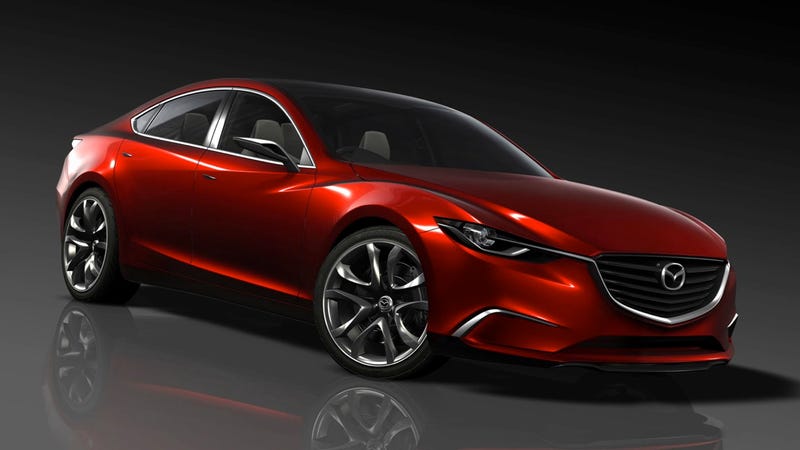 Mazda's vision for the next-generation 2013 Mazda 6 sedan will be first shown at next month's Tokyo Motor Show in the form of this — the new Takeri concept. It looks like it's laughing at us. That's good. That's very good.
The next Mazda 6, due on sale in around a year and a half, will benefit from the full array of the Japanese automaker's 'Sky Activ Technology'. That includes new, more efficient gas and diesel engines (obviously, and sadly, likely not available here in the U.S.), compact, lightweight automatic and manual transmissions, new suspension systems and a new modular steel platform.
The Takeri saloon sports the firm's new "Kodo" design language — which the carmaker claims means "Soul of Motion," also seen on the CX-5.
The result? As you can see — it's a much bolder, Jaguar XF-like look, than the current-generation 6 four-door. The bigger, happier, more LOL-like grille also looks much more pleasing on the front end of the sedan than it does on the crossover.
Frankly, I kind of like it — and it certainly gives the Kia Optima — my current reigning champ in the middling mid-size microwave category — a run for its money in the looks department.
Just as long as Mazda actually keeps the design looking like this when the car actually heads to production in just 18 months' time. Which, with concepts — even from Mazda — sometimes it's more hope than reality. I mean, just look at the Mazda Furai. The closest that came to reality was the Forza Motorsport franchise and Gran Turismo 5 — both video games.
As we said, we'll see it in person at the Tokyo Motor Show soon.