The last time I drove the F30 BMW 3-Series, it was the top dog 335i with the sport package. I didn't love it and thought that BMW might have lost some of that sport sedan special sauce. But the baby 320i is a different story, and it's superb.
(Ed Note: From time to time, we'll have the opportunity to drive cars that we've already driven or get behind the wheel of a different trim level. When that happens, we'll revisit reviews and give you updates. This time it's the BMW 320i, which I took to VIR and actually slept in at one point.)
We discovered earlier this year that you could get a 320i with two packages: ZSP and ZMT. That means it would be a basic Bimmer with a six speed manual and a sport package. No extra frills, just what you want in a driver's car.
This 320i is halfway there, as it had the ZSP package but no manual trans. And even though ZF's eight speed automatic is the zenith of modern gearbox tech, there's just something about a sports sedan with a manual box.
G/O Media may get a commission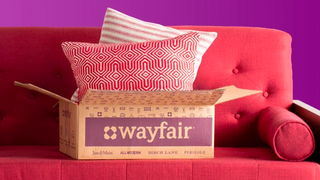 Big deals
Wayfair Surplus Sale
Under the hood, the 320i has BMW's turbo 2.0 four, but with just 180 horsepower. Guess what? You don't need 300 horsepower to go 75 on the highway or have fun on a back road. The 2.0 has a broad powerband and is a gutsy, punchy little motor. I did find it lacking a little oomph at lower revs which made it downshift on the highway quite a lot.
Fuel mileage was hugely impressive thanks to the little engine and the ZF eight speed box. In a mix of highway and city driving, the little Bimmer averaged nearly 33 MPG. That's pretty excellent.
Steering is direct and nicely weighted, with decent feel. It's not as magical as it once was, but I don't find it artificial or overboosted. On backroads it was plenty quick, and with just 18 inch wheels, it didn't have too much tire. I'm not a scientist, but lower limits on the road equals more fun.
This $35,000 3-series had basically no premium features. No nav. No satellite radio. No lane departure warnings. Manual seats without heat. It's the 3-series I imagine most of you would order: Stripped with no frills, just a sport package to make it drive better.
I also got exterior appearance wrong the first time I drove this car. Since then, the 3er has seriously grown on me, kind of like Zooey Deschanel. First time I saw her, I didn't get the appeal. Now I find her totally adorkable, and I'm not sorry that I just said that.
What that means is that the 3er is still the best premium sports sedan you can buy, and the 320i is the one I'd have in my driveway.
Well, until the M3 comes out.