The Volkswagen Golf GTI has had solid performance credentials for the past 35 years, but it's never been a full-fledged sports car. In 2004, VW decided enough was enough and gave the Golf all-wheel drive, a wider body, and a melodious 3.2 liter VR6. The limited production R32 was born.
After a second tour of duty in 2008, the R32 returned to America for 2012, but this time VW replaced the trademark VR6 with a 2.0-liter turbo four and called it the Golf R. Does the new four banger retain the torquey, mellifluous spirit of the original?
(Full Disclosure: VW wanted me to drive the Golf R so bad that they flew me to San Francisco. They also let me borrow one for a weekend. Oh, and they invited me to drive one on track at Summit Point Raceway last weekend. Apparently they like letting me drive this car.)
The first two generations of R32 got their character from the sonorous and torquey VR6. But included in that character was a front-end weight bias that made the cars go straight in almost anything that resembled a corner. And since the car was barely all-wheel drive — the Haldex differential only made the rear wheels spin occasionally — an odd mid-corner rotation of the rear was another characteristic.
But the R ditches the VR6 and, with it, some of the weight at the front. The turbo four has more power and is better for the environment, too. VW also promised improvements to the lackluster all-wheel drive system. That sure sounds like a recipe that can finally let the R take on the Mitsubishi Evo and Subaru Impreza STI. And it comes close... but not close enough.
G/O Media may get a commission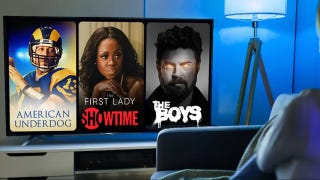 UNDER $1
99¢ Prime Video Channels
There is just something about the R that I love. VW didn't put big scoops, fender flares, and badges everywhere. Instead, you have some LED running lights, a different front air dam, tasteful 18-inch wheels, and dual center exit exhausts. It's mature, unlike the dining room table that Subaru feels makes a good wing on the STI. The R politely suggests that it's a performance car, it doesn't feel a need to shout it.
If you know what the R is, you know. If you don't, you just assume it's another Golf. It's a sleeper. I like that.
VW! The interior of the R is freaking amazing. Tight bucket seats, soft-touch materials, a beautiful flat-bottomed wheel, and piano-black accents are just some of the great features on board.
It feels like a car that's $20,000-$25,000 more expensive than it is. That also makes it feel like a car for a grownup, not a boy racer. My only gripe is that the European Golf Rs (which I also drove) have the option of some even better Recaro seats. Bring them here and it'll be nearly perfect.
Off the line, the VDubb is quick, as long as you keep the revs above 3,000. Unlike the R32 of old, you have to wait for the turbo to come on before the car starts producing power.
If you're in a higher gear and want to accelerate, you can either downshift twice or wait an excruciatingly long time for the turbo to spool up and give you the whoosh. It falls flat on its face low in the rev range, which is a real shame.
Now that I've really been able to test the brakes on the track, I have to say I liked what I found. The pedal is progressive with great feel and nice bite. The car stays planted; it's just the way I like it.
Fade is evident after a number of laps, but I never felt they were going to give out. ABS is also relatively unobtrusive and works when you need it. Well done VDubb!
It's not back-breaking, but it's also not Downy soft. VW struck a balance that has sporting pretensions but will be gentle on longer hauls. The ride quality feels more adult than than the boy-racing WRX and EVO.
But when you want to be a little sporty, the R is still a little too soft to to be driven super aggressively. Slightly stiffer settings from the factory would go a long way toward bridging that gap.
Engine: 2.0-liter Turbocharged I4
Power: 256 HP / 243 LB-FT
Transmission: 6-speed manual
0-60 Time: 5.8 seconds
Top Speed: 130 MPH
Drivetrain: All-Wheel Drive
Curb Weight: 3,325 lbs
Seating: 5
MPG: City 19 HWY 27 Combined 22
MSRP: Starts at $33,990
I had such high hopes that the lighter four cylinder and improved all-wheel drive system would make the new R a demon in the bends. Those hopes were dashed as soon as I threw the car into a couple bends. Understeer on entry is still a way of life in the R. And that's because 60 percent of the car's weight is still over the front axle. That's a heaping ton.
Get on the power too early, and you have the unpleasant sound of screaming tires begging you to let off the gas and take it a little easy. And the Haldex all-wheel drive system is up to its old tricks in the middle of the corner and starts rotating it when you might not expect it. Oy.
While the 2008 R32 was only available with the DSG double clutch gearbox, the new R only comes with a six-speed manual. Throws are longer than I'd like, but at least they're fairly direct. I never found myself missing gears, so that's a positive.
A shorter throw would work wonders.
The stereo is fantastic, but I'm deducting points for the uninspiring engine note. The VR6 was an orchestra of well-tuned cylindrical delights. The 2.0 turbo sounds like a Dustbuster, or possibly a very weak Dirt Devil.
The VR6 made the R32 special. With the R, it's like when MC Hammer decided to stop wearing parachute pants. He was still Hammer, but a trademark piece was missing.
The R isn't really about the toys, but it still comes fairly well equipped. The cars I drove had push-button start, navigation, satellite radio, touchscreen center stack, and the normal — and superb — VW crash safety features.
Not super techy, but it isn't lacking things you need either.
The R starts at $33,990 and goes up to just less than $37,000. That sounds like a lot for a Golf. But then you realize it's a performance car that, under normal conditions, can keep up with pretty much anything on the roads, and it becomes a better deal. Add in the fact that it has hatchback utility, and it's a great way for a young father to have a car that can take kids anywhere while still having something that can get you around quickly.
It needs some suspension work, adjustments to the all-wheel drive, and a more evocative engine note to truly grab an enthusiast's heart, but take solace that the stock car is a great choice for someone that wants something sporty that is also a mature choice.
69/100
EXTERIOR (8/10)
INTERIOR (8/10)
ACCELERATION (6/10)
BRAKING (8/10)
RIDE (7/10)
HANDLING (6/10)
GEARBOX (7/10)
AUDIO (6/10)
TOYS (6/10)
VALUE (7/10)
Photo Credit: APR/VW
2012 Volkswagen Golf 2dr HB Man Specs