This is the Morning Shift, our one-stop daily roundup of all the auto news that's actually important — all in one place at 9:00 AM. Or, you could spend all day waiting for other sites to parcel it out to you one story at a time. Isn't your time more important?
---
1st Gear: To Live And Die In L.A. It's the week before Thanksgiving so it must be time for the also-ran of car shows. Yup, the 2011 LA Auto Show is here. That means the strange merger of unveilings of high-end luxury cars and mass marketing green econoboxes. Why? Because this entire city is messed up, that's why. Anyway, follow along with us all day at the LA Auto Show tag page to see what we're seeing as we see it.
---
2nd Gear: 2012 Fiat 500 Abarth: Finally, we get the good one
G/O Media may get a commission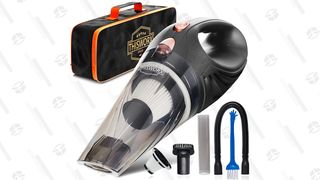 Save 50%
ThisWorx Car Vacuum Cleaner
Fiat's been promising a Fiat 500 Abarth for those of us who don't own capri pants, but we've wondered if it would be the wimpy 135-hp lame one or the Bunga Bunga 160-hp version. More »
---
3rd Gear: Chrysler Suspends Production Of Fiat 500 Engines On Weak Demand For J. Lo
And speaking of the Fiat 500, the Wall Street Journal reports that Chrysler says it suspended production of engines for the Fiat 500 subcompact car at its Dundee, Mich., plant in a move to bring the supply of engines more in line with demand. The company also said it temporarily laid off a couple dozen employees and moved 35 more to other parts of the plant. The company said it hasn't' decided yet when it will resume production. While the car maker said it is "very pleased with the progress we are making with the North American launch of the FIAT brand," it is clear by this move it hasn't made the immediate splash once expected. An early company estimate put expected annual sales in North America at about 50,000. But with sales of the 500 starting in March, the company has only sold 15,826 through the end of October.
---
4th Gear: 2013 Ford Escape: Your mom will love it
All those years spent pining for the Euro-only Ford Kuga crossover were not in vain for Ford has finely deigned us worthy with the Kuga-twin 2013 Ford Escape. More »
---
5th Gear: Jaguar XKR-S Convertible: This is it
The Los Angeles Auto Show's a great place to show a convertible because L.A. is a great place to drive a convertible roughly 357.4 days a year. And what better drop-top to unveil early than the Jaguar XKR-S convertible, the fastest, meanest Jaaaaaaag convertible ever?
Yes, while the rest of the... More »
---
6th Gear: Cadillac XTS: Lord Vader, your cool uncle's luxury sedan has arrived
With the 2013 Cadillac XTS, the General's luxury brand finally has a full-size sedan that fits in with its CTS-led future. Not only does it share the CTS' nouveau Art & Science exterior design language, but they manage to take things even further once you step inside. More »
---
Reverse:
⏎ This giant Boston mall is being built atop an old Ford auto plant. [Curbed Boston]
⏎ Peugeot, Fiat Lead European Car Sales Drop as Economy Stalls. [Bloomberg]
⏎ Exclusive look inside the Tuatara. [Wheels]
⏎ Chrysler plans to add 1,105 jobs at automaker's Toledo Assembly Complex. [Detroit Free Press]
⏎ AAA Auto Group Profit Rises 53% as Margins on Cars Advance. [Bloomberg]
⏎ Former CEO of parts supplier CSK Auto giving back $2.8 million in SEC settlement. [AP via Washington Post]
⏎ BMW CFO sees double-digit '12 U.S. sales growth. [Marketwatch]
⏎ Two non-anemic auto stocks. [The Globe And Mail]
---
Today in Automotive History:
On November 16, 1901, a spare, low-slung car called the "Torpedo Racer"-basically a square platform on bicycle wheels-breaks the world speed record for electric cars in Coney Island, New York. The car's builder and pilot, an engineer named Andrew Riker, managed to coax his machine one mile down the straight dirt track in just 63 seconds (that's about 57 mph; today, by contrast, the world speed record for an electric vehicle is about 245 mph). The battery-powered Torpedo Racer held onto its record for ten years. [History]
Show us your tips!
Got tips for our editors? Want to anonymously dish some dirt on a competitor? Know something about a secret car? Email us at tips@jalopnik.com.
Lost in our new layout?
Click here for the Opposite Lock or Tips forums. Want a more "blog-like" look? Click the button up top next to "Top Stories."
Get more Jalopnik!
Want even more Jalopnik? Want to know which of your friends read us? "Like" us on Facebook and follow us on Twitter.
---
You can keep up with Ray Wert, the author of this post, on Google+, Twitter or Facebook.