Chevy's been getting its ass kicked by Ford's Super Duty pickups. Now the 2011 Chevy Silverado Heavy Duty finally boxes the frame, adds triple rate springs and offers a stupefying 20,000lb towing capacity thanks to the new Duramax diesel.
When a company does a mid-cycle refresh, they have basically three bins to throw money into: Powertrain, chassis/ frame, and body/interior. Throwing money at all three would mean an all-new product, but two of three or one out of three is usually considered a refresh. The heavy truck market is a little different than most. Buyers are interested in increased capabilities rather than fancier duds, and as a result the new Silverado HD looks pretty much the same as it's predecessor. The only visual distinctions are more chrome on the front bumper, a slightly revised hood and "Duramax" hood badge, the end of 16" wheels at the bottom in favor or 17-inchers and the addition of 20" wheels at the top. It also gets hydraulic cabin mounts in the back, but that's it. If you want a pretty new face wait two years, that's probably when we'll be seeing it. What's under the skin is the important part here.

The most important change to the Silverado this year is the frame — going from a full-length C-channel design to a fully boxed frame with through-welded cross members. The frame is five times times stiffer in twisting, 92% stiffer in bending, 20% stiffer in beaming and the front subframe is 125% stiffer by itself. The rear suspension has also been upgraded, now with offset leaf springs that have more spring behind the axle than ahead of it, which works to reduce axle hop under loaded take off.
Up front the truck maintains the double wishbone suspension with an adjustable torsion bar spring to level truck height with a plow attached. It has been upgraded with a second jounce bumper and a anti-roll bar with a longer lever arm for better control with a front load. The front brakes have also been upgraded with a set of massive 14" vented rotors clamped down on by stiffer calipers over a bigger swept area.

There's also a significant upgrade under the hood with the fourth generation of the Duramax Diesel and Allison automatic transmission combination. The newest iteration of the Duramax shares about 40% of the parts with the last version with the remainder being slightly to significantly new. Compression ratio drops from 16.4:1 to 16.0:1, which in diesel world results in more power. The combustion chamber is fed by a new 30,000 PSI peizo-based fuel injector system. About 22 lbs was added to the block to improve block stiffness and improve NVH, and as a result the idle speed drops to about 900 RPM to reduce consumption. It's also B20 capable now, if you want to run diesel with a bit more bio-matter than the B5 the trucks are currently capable of. They've also significantly reduced the amount of EGR gasses injected back into the cylinder as part of a rework of their emissions strategy and added a bigger radiator to keep everything cool.
Emissions is a big part of the change to the new Silverado. In order to meet the EPA requirements for NOx and particulate emissions, GM's installed a huge catalyst system and urea injector under the truck, but it's not all bad. Previously, trucks with particulate filters injected engine gasses into the combustion chamber (reducing power) and dumped fuel into the exhaust stream to burn the collected particulate, but in this case both of those actions have been moved downstream, outside of the engine, which allows it to breath cleaner air and produce more power while reducing consumption. The 5.3 liter urea tank costs about $3 a gallon to refill.

G/O Media may get a commission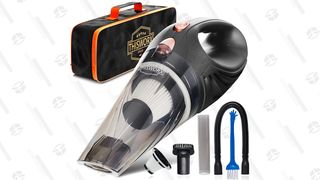 Save 50%
ThisWorx Car Vacuum Cleaner

The engine and transmission control systems have been significantly upgrade as well, which has allowed Chevy to more intelligently manage engine braking in normal operations. The turbo controller and transmission controller act in unison to create something akin to a sophisticated Jake brake for use in hilly terrain, and can be activated by a button on the center console. There's also a hill start system that holds the brake 1.5 seconds after a release (one of the few times it makes sense to have this system).
So what's the bottom line on this big brawler? It's probably going to best the long-time towing and hauling champ at Ford (if we're talking about the 2500 and 3500 pickups vs the F-250 and F-350 pickups — not the F-450) — at least until we find out the numbers on Ford's next-gen Super Duty pickup. Payload is now 6,300 lbs, which GM expects to beat Ford and Dodge's best numbers by 2,400 lbs. Hitch towing is a whopping 16,000 lbs on the 3500, bed-mounted hitch towing is a humongous 20,000 lbs, with an expected 1,200 lb advantage. The final point is one GM is allowed to dance around at this weight class. They're saying the truck's got a 36 gallon fuel tank and a range of 680 miles... gee, wonder if it gets 18.8 MPG on the highway. That's an 11% improvement over the current truck. Of course, nobody's showing their full hand yet. Both Ford and GM are playing some silly game-of-power-figure poker, and until either shows a hand we won't know who's got the bragging rights on horsepower and torque. GM's saying they'll lead on torque, Ford's saying nothing. We do know GM's got 'em on towing and hauling, at least for now. We'll have to see when PickupTrucks.com does their heavy duty shootout later this year who's really on top.