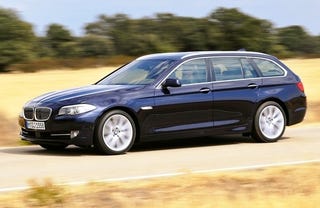 The new BMW 5 Series is built on the same platform as the 7 Series, which explains the variety of ever-larger backsides. The latest? The BMW 5 Series Touring. Attractive, right? Don't worry, we're probably not getting it here.
The new-for-2011 BMW 5 Series Touring is the 4th generation of the built-for-businessmen tourer. It's also the first to see so many versions of itself. In fact, the BMW 5 Series Sedan, the BMW 5 Series Gran Turismo, the BMW 7 Series and this new BMW 5 Series Touring were all jointly based on the same new F10/F11 vehicle architecture. That explains why the 5 Series been able to show so many more varieties of backside than ever before — it's on a bigger platform.
Regardless, the 5 Series Touring's filled with all the same design aesthetics, functionality, driver assistance systems and accouterments of the BMW 5 Series — albeit with a much larger, more well-defined ass than the sloping thing found on the back end of the 5 Series Gran Turis-oh-no-they-didn't.
Here, we'll show you. Well, we'll tell you — because we don't have any interior images yet. We're told the 5 Series Touring has a luggage compartment with a capacity of 560 litres. We'll let you convert that on your own. And If desired, an increase in capacity to a maximum of 1,670 litres can occur by way of a 40:20:40 split folding rear seat. And if you don't feel like folding it down, the backrest angle is variable by up to 11 degrees.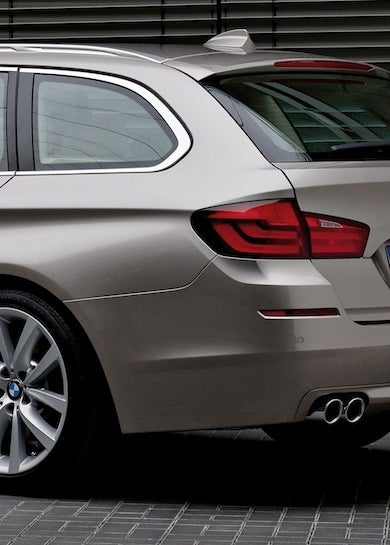 Under the hood, we're told the BMW 5 Series Touring gets a choice of two straight-six gas engines as well as a four-cylinder and a six-cylinder diesel. Obviously the later two will be available first in Europe and probably never here in the United States. But let's play along with BMW for a moment and talk about the BMW 520d Touring. It's powered by a 135 kW/184 bhp four-cylinder turbo diesel featuring an "aluminium" (whatever that is) crankcase and Common Rail direct injection. It is equipped with Auto Start Stop function as a standard feature, and with an average fuel consumption of 5.2 litres/100km (54.3 mpg) and a CO2 emission level of 137 g/km in an EU test cycle, it achieves the best efficiency in its segment.
The straight-six engine with BMW TwinPower Turbo under the bonnet of the BMW 535i Touring, with High Precision Injection and VALVETRONIC, develops a power output of 225 kW/306 bhp. Maximum power output of the straight-six engine featured in the BMW 523i Touring in lean operation is 150 kW/204 bhp. The BMW 530d Touring features a straight six-cylinder diesel with a 180 kW/245 bhp output. Again, you do the damn conversions. We stopped caring at about the same time we realized the GT is "our" wagon.
All versions of the 5 Series Booty Tourer are "optionally available with BMW's eight-speed automatic transmission." We're guessing that means the standard option's probably not a manual but a fewer-cogs-than-eight slushbox.
Also, it has night vision.
Also, also, we'd really like one here. Maybe an M-version. But we won't get it, no matter how many GTs we are willing to trade Europe for it.