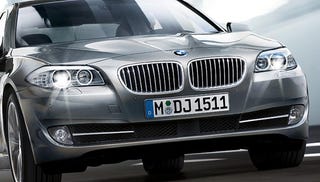 The 2011 BMW 3 Series will be facelifted, not overhauled, but amid the usual upgrades will be something we're excited about: a more potent Sub-M3 iS sport model similar to the Z4 sDrive35is.
All of this comes courtesy of the usually reliable Bimmerfile, who thinks BMW will make an official announcement in the next few months.
All models will get a series of newer bumpers, LED Lights and other visual tweaks as well as larger 19" wheels for 335i models with the sports package. Significantly, the new automatic transmissions are getting the "pull/pull" paddles instead of the current push/pull variety.
More significantly for the enthusiast is the promise of a US-exclusive iS sport model slotted above the M-Sport 335i and below the M3. Paired with either a dual-clutch transmission or Sport Automatic, the uniquely styled iS will likely come with lots of M badges backed up by a more potent version of the turbocharged inline-six putting out more than 300 HP.
Bimmerfile has more details. [Bimmerfile]