Shelby SuperCars revealed the new-for-2010 $740,000 Ultimate Aero hyper car in Dubai today. The new model accelerates from 0-to-62 in 2.78 seconds, tops out at a blistering 260 MPH and now gets one-piece all-carbon-fiber wheels. Seriously.
Shelby SuperCars launches '2010 Ultimate Aero' at 'Dubai International Motor Show 2009' featuring World's First One – Piece Carbon Fiber Wheel.

West Richland, WA (December 15, 2009)

Shelby SuperCars (SSC), an American supercar company and the creator of the 'Ultimate Aero', has launched today (December 15, 2009) the USD 740,000 '2010 Ultimate Aero' at the ' 2009 Dubai International Motor Show'. Acclaimed as the fastest production car in the world, the new supercar model can accelerate from 0 to 100 km/h in 2.78 seconds and is capable of a top speed of 260+ mph. Bringing this exceptional new offering from SSC to the region is Ultimate Motors, one of the leading distributors of exotic and luxury sports cars in the GCC.

The'2010 Ultimate Aero' runs on an exclusive SSC-designed, one-piece billet aluminum twin turbo V8 engine block designed to improve structural integrity and oiling capabilities while improving durability. Now armed with the more powerful new engine, the 2010 model produces 1287 hp, 15 per cent more horsepower than the 2007 model, and 1112 ft-lbs of torque. SSC also commissioned American company 'Aeromotive' to develop a flawless system to accommodate the unique fuel system requirements of the '2010 Ultimate Aero', which features upgrades including carbon ceramic brakes.
The '2010 Ultimate Aero' features the world's first one-piece carbon fiber wheel, which has been pioneered by Carbon Revolution through a 2-year relationship with SSC. The technology behind the one-piece carbon fiber wheel has been through a five-year development period. Boasting of a nine-spoke classic design, the carbon fiber wheels are half the weight of conventional wheels, which results in improved suspension performance, better grip, improved acceleration, braking, and a sharper steering feel. Carbon Revolution is the only producer of one-piece carbon fiber wheels. Built to the highest technical and safety specification, the Carbon Revolution one-piece carbon fiber wheel not only lowers unsprung mass but is stiffer than lightweight forged aluminium wheels.
The '2010 Ultimate Aero' is a mid-engine, rear wheel drive supercar with twin turbo chargers, dual-water to air intercoolers and custom Recaro seats. Further, the car features the trademarked AeroBrake system that deploys under braking situations, and which can be disabled at the push of a button for city driving or situations where sharp braking and downforce assistance are not necessary. Finished in carbon fibre, the rear spoilers actuate up an additional 8" when the brake pedal is depressed with the speed of the spoiler actuation determined by the amount of brake pedal pressure.

Combining the power plant of an engine with a lightweight, aerodynamic body and the best handling systems available, the '2010 Ultimate Aero' has an increased engine displacement of 387.2 cu. in., bore and stroke of 4.125 x 3.620", and electronic sequential port fuel injection. Packed with a revamped front fascia design and an array of important upgrades - including a navigation system, 10-speaker premium audio/CD/DVD system, 7.5" video/DVD screen and automatic rear view camera - SSC delivers a vehicle that eclipses all other cars in performance and aesthetics. In addition, the centre console incorporates a digital temperature control unit and tire pressure monitor.
Shelby SuperCars is an American supercar company founded in 1999 by automotive enthusiast Jerod Shelby. Headquartered in Tri-Cities, Washington, SSC is driven by its founder's strong passion for racing and automotive culture. Competing with the likes of Ferrari, Lamborghini, Bugatti, and Koenigsegg, SSC has and continues to exponentially accelerate in its development and production of world-class supercars. At present, the company is working on developing and implementing new projects to be announced in 2010.
G/O Media may get a commission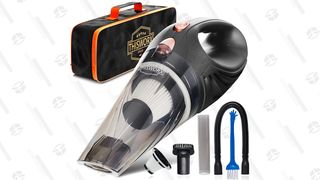 Save 50%
ThisWorx Car Vacuum Cleaner