Slotting just under the new 911 Turbo, Porsche's new track-ready yet street-legal 911 GT3 RS gets an added 15 HP over the non-RS GT3, bringing power up to 450 HP thanks to the larger 3.8-liter flat-six. Full gallery, details below.
The new 2010 911 GT3 RS goes on sale in the U.S. in early spring of 2010 and will be priced at $132,800. We'll see it in person at the Frankfurt Motor Show next month. For now, sate your German desires with the press release and gallery below.
PORSCHE READIES MOST DYNAMIC 911 TO DATE: 2010 911 GT3 RS Porsche rolls out the definitive track ready, street legal 911

Delivering even more engine power, lower weight and shorter transmission ratios, as well as upgraded body and suspension components than all previous GT3s, the new Porsche 911 GT3 RS sets the foundation for homologating the race version of the 911 GT3 and will be introduced at the Frankfurt Motor Show September 17-27, 2009.

The heart of the new, uncompromising GT3 RS is the power unit. Like the engine featured in the 911 GT3, the naturally-aspirated RS power unit now displaces 3.8 liters and delivers even more power, while revving up even faster to its 8500 rpm redline. It now delivers 450 horsepower, 15 more horsepower than its 911 GT3 counterpart. Even with a specific output of more than 118 hp per liter from the six-cylinder boxer engine, the power unit in the new GT3 RS remains fully suitable for everyday use.
The new 911 GT3 RS comes exclusively with a six-speed manual gearbox optimized for short gearshift travel, low weight and high efficiency. To enhance the level of performance throughout the entire range of engine and road speed, the transmission comes with shorter ratios than found in the 911 GT3, deliberately conceding an even higher potential top track speed.

Dynamic engine mounts are standard and serve to improve the car's handling to an even higher level. Depending on driving conditions, the mounts change in their stiffness and damping effect, improving the connection between the engine and the body when driving under very lively conditions, yet allow for more comfortable conditions during everyday street use.

Porsche is also introducing another new option in 2010 for the GT3 RS, a lithium-ion battery. Delivered with the car and, when replacing the conventional lead-acid battery, it reduces the weight by more than 10 kg or 22 lb and is mainly intended for the track.

To further improve its sporting behavior, the new 911 GT3 RS comes with a purpose-built and specially set up PASM suspension, a wider front and rear track and corresponding bodywork.

The front axle comes with nine-inch-wide wheels running on 245/35 ZR 19 sports tires while the rear axle features twelve-inch-wide wheels incorporating 325/30 ZR 19 sports tires.

The new 911 GT3 RS shows its close connection to motorsport through its dynamic looks, in particular by its low ride height, the new, extra large carbon-fiber rear wing and titanium exhaust system.
The 2010 911 GT3 RS goes on sale in the U.S. in early spring of 2010 and will be priced at $132,800.
G/O Media may get a commission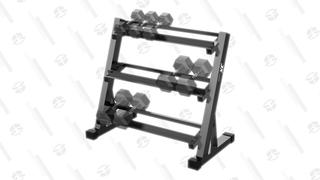 20% Off
JX Fitness Dumbbell Rack
Gains but tidy
Has a three-tier design to help store more weights more conveniently, can safely support up to 1000lbs of weight, which should be enough for most people, has a triangle base for stability, and also features anti-scratch feet which is great if you've built your own studio or workout in your garage.