Driving from Los Angeles to a wedding in San Diego is normally a two-hour/125-mile trip, but when you're driving a Porsche 911 Carrera S, detours are mandatory. In my case, it took five days and 1,404 miles.
The Ford Taurus Is Reborn — But Only For the Middle East
Operation Windmills
Most automotive travel writing is long, dull, and full of babbling prose aimed at tying what the writer ate and saw to what they drove. Was the Porsche 911 Carrera S that I drove in any way like the New Zealand osso bucco I ate in Carmel? Both were too rich for my taste, but otherwise, not really.
After logging 1404 miles up and down California with my wife over the course of a week, I found a lot of things I liked, I found a few things that irked me, and I had a lot of deep thoughts. Rather than bore you with an 8,000-word chronological narrative, I've broken the trip down into a few key experiences.
If you don't want to read all of that, here's a summary: A wedding. Highway 33. Big Sur. Highway 1. The Golden Gate Bridge. Mulholland Drive. John Steinbeck. Highway 154. The 101. Aziz Ansari. A quarry. The Goodyear Blimp. 1,404 miles. And last but not least, one of the greatest sports cars on the planet.
G/O Media may get a commission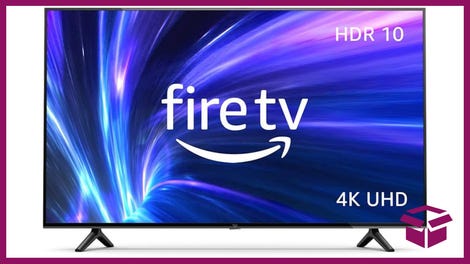 42% Off
Amazon Fire TV 50" 4K Smart TV
The text below also includes a brief mention of a stop in Salinas, California, the town famous for producing writer John Steinbeck and, judging by how desperately Salinas history has been crammed into the National Steinbeck Center Museum, not much else. Steinbeck's friends called his journey around America, chronicled in Travels With Charley, "quixotic." He therefore called the trip "Operation Windmills" and named his truck Rocinante, after Don Quixote's donkey.
My trip isn't quite that crazy — and I can't quite bring myself to name a Porsche after an ass — but it's close. And I did repeatedly have a hard time explaining why I was driving to a wedding in San Diego from Los Angeles via San Francisco in a car that I had never driven before. That's right: This is my first Porsche 911.
Why A Porsche Is Better Than A Prius
Palo Alto is home to Stanford University, nerds, and a lot of Toyota Prius hybrids. The Porsche brought all of these together.
While driving around campus in a detour on the way to a Venezuelan coffee shop, we noticed perhaps the scrawniest kid in history in the largest gray sweater ever made doing what I think was jogging. Just picture the kid McLovin could pick on.
As we pull up to a stop sign, the young man hears the thrum of the 3.8-liter horizontally opposed six-cylinder and looks up to appreciate it. Maybe he doesn't know what 385 hp feels like; maybe he doesn't understand what 310 lb-ft of torque can do. Is it possible that he's ever sprinted to 60 mph from a standstill in just 4.3 seconds?
This is what runs through my mind as a Toyota Prius slowly approaches our intersection. The jogger doesn't hear it, and the oblivious driver didn't see me or the kid. Before I could hit the horn, man runs into hybrid.
That's right — a Porsche caused a kid to jog into a moving car!
This Is Why People Think The Average Porsche Driver Matt Hardigree Is An Asshat
While setting up this shot, I didn't notice that I was blocking two handicapped signs. It's rubbing off on me!
Finding Peace At 1200 Feet And 7000 Rpm
The modern sports car cheats physics with sleight-of-hand technology. You don't cheat physics in a 911. You brawl with it.
Nowhere can you better test P.J. O'Rourke's famous "ass-engined Nazi slot car" claim than on Highway 33 outside Ojai. Hidden next to a town full of art galleries, Buddhist retreats, and Johnny Depp is the one of the best driving roads in the country.
No video game has a better track than Highway 33 because, like Adam and Eve in the Garden or humans in the perfect first world of The Matrix, no one would believe it. Once you clear the campgrounds and fire station, there's no looking back. It's a driver's paradise. It's a road lacking in everything you hate if you like enjoying fast cars. Highway 33 has no traffic, no driveways, no law enforcement, and often no guardrails. (OK, I sort of wish there were guardrails.) What it does have is curves. Lots of them. On a map, the road looks like Muhammad Ali's signature.
Turns banking in every direction, at every angle, uphill and down. I take it north and set the Porsche's many suspension and transmission settings for "Sport" mode, the greatest benefit being that the PDK dual-clutch transmission knows not to upshift when lifting off the throttle and that it downshifts without requiring me to knock one of the steering-wheel-mounted paddles (back for down, forward for up — don't ask me why).
Lacking the natural coolness of a Fangio or Zach Morris, my palms begin to sweat and my left foot twitches. The first set of turns are spaced out nicely, left following left into a straight with a few right-handers. Because I'm driving at a measured pace, the Porsche handles like most other sports cars, albeit with sharper steering. It leans towards oversteer but isn't dramatic.
Curves come faster in what can only be described as a Mortal Kombat fatality code: left, right, right, left, up, down, throttle, brake, throttle, more throttle, and then I behead a guy. It's fun, challenging, and exciting, but there's something missing. I stare down at the little "Sport Plus" button. Am I ready?
No, no I am not. Holy shit. Not even close.
If the "Sport" setting eventually comes around to the type of spirited performance that you'd expect from a $70,000 sports car, "Sport Plus" lives there. Shifts are imperceptibly quick and held until the last possible moment. I quickly slow down and point the car in the direction I just came from because I realize that I'm more likely to put it in the wall (survivable) than off a cliff (not survivable).
Staring down the mountain, I see no traffic, just a lot of chances for Stupid. Further down the road that big, beautiful ass starts to slide out on a wide corner where the pavement almost caves in on itself. Whatever level of subtle traction control that exists in the Porsche's attack mode knows enough to clamp down on the outside wheels before I rotate around far enough to see my own ears.
Here is what I've learned:
Driving a 911 fast is fun, but given the hefty price tag, not really overwhelming or special.
Driving the 911 really fast is exciting, exhausting, and borderline life-affirming. Frankly, I'm surprised that the rich old men that own them don't stroke out mid-drive.
California As Seen Through The Window Of A Carrera S
Most of California's coast highways are a collection of unbelievable natural beauty and weird man-made sights. A blimp. A mountain range. What appears to be a man being walked by a dog. Wildflowers. It all looks great over the nose of a Porsche.
Is the 911 a sports car or a grand tourer? With a backseat big enough for small luggage and a seventh gear that keeps revs low (70 mph works out to roughly 2000 rpm), it was as comfortable to drive as my Volvo 240 wagon and far more responsive. The suspension is firm and the ride becomes slightly choppy on rougher roads, but check out the shots my wife took through the window at speed. Smooth enough.
On Seeing Celebs And Being One
It's hard not to feel special in a Porsche, even in a city full of them. After 45 years with the same basic proportions, the car still looks the part. In La Jolla, a pair of teens driving what I assume is their parents' Dodge Grand Caravan nearly smash into a parked car while gawking. Another young woman at a state beach jokingly thanks me for bringing her car around.
Naturally, I saw an actual celebrity while in Los Angeles. At one point, the Aziz Ansari, a.k.a. Tom Haverford from the NBC comedy Parks & Recreation, ends up in the same hip Thai restaurant as us. I don't catch his eye when he walks in and assume that I won't get a chance to talk to him.
And then I do see him, walking out of the bathroom as I walk in. Because this will probably be my only opportunity to say something to him, I tell him that I'm a big fan and give him one of his own punchlines so he knows that I know him from something other than TV.
"I kill people for gay rights!" I yell.
Bad choice.
Five Inconsequential Things To Complain About While Driving A New Porsche 911
1. The new GPS system is still fairly wonky.
2. Not once could I get the car to take a full tank of gas before the nozzle shut off. I tried and tried, but I couldn't top 7/8ths of a tank.
3. The fold-flat rear seat backs serve almost no purpose, and neither do the back seats themselves.
4. The car I tested had a sticker price of $106,730.
5. I couldn't find a good place to put my sunglasses.
The Shell Station At The Top Of The World
Big Sur is just that: big. Even the Shell station, with just two pumps, is somehow bigger and greater. The area simply embodies Size.
Henry Miller described it this way:
"Big Sur is the California that men dreamed of years ago, this is the Pacific that Balboa looked at from the Peak of Darien, this is the face of the earth as the Creator intended it to look."
The Porsche is big, too, bigger than I realized. And if Big Sur is the face of the earth as the Creator intended it, then the 911, despite the addition of LED lighting and other modern bits, is still the car as Ferdinand Porsche intended.
2010 Porsche 911 2dr Cpe Carrera Specs
Engine type
Gas Flat 6-cyl
Transmission/Drive
Manual w/OD