The 2010 Mercury Milan Hybrid will join the Mariner as the second hybrid offering from Ford's brand for people who love Jill Wagner. The next-generation hybrid system, similar to the one found in the Mariner, will couple Ford's 2.5-liter four-cylinder engine with an electric motor backed by a new smaller, lighter nickel-metal hydride battery. The new hybrid should be capable of running on pure electric mode at speeds up to 47 MPH, meaning the car can operate in most city and neighborhood conditions without using the gas engine for direct power. This means one full tank of gas could theoretically propel the Milan 700 miles in city driving. There's no official number on the mileage of the Milan Hybrid, but we've been told to expect around five miles per gallon better than the Camry Hybrid's highway performance (34 mpg), which would put it between 38 and 40 mpg, an impressive number for sure. Additionally, the Milan will get Ford's futuristic Smartgauge LCD instrument panel. Full details in the press release below.

G/O Media may get a commission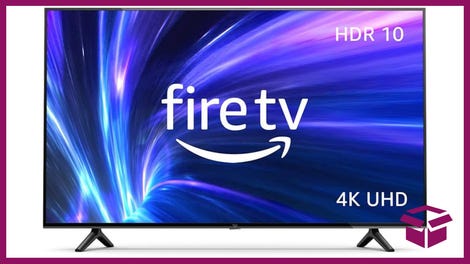 42% Off
Amazon Fire TV 50" 4K Smart TV
Check out more on the Mercury Milan from CarandDriver.com
2010 Mercury Milan Hybrid For the 2010 model year, the Mercury Milan adds an all-new hybrid model. The Fusion and Mercury Milan Hybrids join the Ford Escape and Mercury Mariner Hybrids, doubling both the size and volume of Ford's hybrid lineup. "Offering consumers more fuel-efficient vehicle choices, including improving and increasing our hybrid vehicle offerings, is part of Ford's broad plan to deliver technology solutions for affordable fuel economy for millions," said Derrick Kuzak, Ford's group vice president for Global Product Development. "With the new Ford Fusion and Mercury Milan hybrids, we are now able to offer even better range of travel on battery power at a greater speed, thanks to a more efficient, seamless transition between the battery-powered motor and gasoline-driven engine," he said. "These new hybrids will exceed expectations on all fronts – fuel efficiency, comfort, convenience and drivability." The Ford Hybrid team has developed a powertrain system that combines the best attributes of the gasoline engine and electric battery-driven motors to deliver the optimal experience for the customer in terms of driving performance and fuel economy. Additionally, the propulsion system for the Mercury Milan and Ford Fusion hybrids transitions between gas and electric power and back more efficiently and seamlessly. The overall system upgrade allows the Mercury Milan and Ford Fusion hybrids to operate longer at higher speeds in electric mode. The hybrid vehicles can operate up to 47 mph in pure electric mode, approximately twice as fast as some competitors. Plus, the city driving range on a single tank of gas is expected to be more than 700 miles. The next-generation hybrid system features: • New 2.5-liter 4-cylinder engine (155 horsepower/136 lb.-ft. of torque) running the proven Atkinson cycle mated to an electronically-controlled continuously variable transmission or e-CVT. • Intake Variable Cam Timing (iVCT), which allows the vehicle to more seamlessly transition from gas to electric mode and vice-versa. The spark and cam timing are varied according to the engine load to optimize efficiency and emissions. • Enhanced electronic throttle control reduces airflow on shutdowns, reducing fueling needs on restarts. • Wide-band lambda sensor analyzes the air-fuel ratio and adjusts the lean/rich mixture accordingly to keep the system in balance and to minimize emissions. • A new smaller, lighter nickel-metal hydride battery has been optimized to produce 20 percent more power. Improved chemistry allows the battery to be run at a higher temperature and it is cooled using cabin air. • An added variable voltage converter boosts the voltage to the traction battery to operate the motor and generator more efficiently. • A new high-efficiency converter provides 14 percent increased output to accommodate a wider array of vehicle features. • Smarter climate control system monitors cabin temperature and only runs the gas engine as needed to heat the cabin; it also includes an electric air conditioning compressor to further minimize engine use. • The regenerative brake system captures the energy normally lost through friction in braking and stores it. Nearly 94 percent energy recovery is achieved by first delivering full regenerative braking followed by friction brakes during city driving. • A simulator brake actuation system dictates brake actuation and delivers improved brake pedal feel compared to the previous generation braking system. "Because our hybrid can run at a much higher speed in electric mode, you can do so much more in city-driving situations," said Gil Portalatin, Hybrid Applications Manager. "Under the right conditions, you can drive in your neighborhood or mall parking lots without using a drop of gasoline." The Milan Hybrid also offers drivers a way to be more connected to the hybrid driving experience thanks to Ford's SmartGauge with EcoGuide, a unique instrument cluster execution that helps coach them on how to optimize performance of their hybrid. SmartGauge with EcoGuide features two, high-resolution, full-color liquid crystal display (LCD) screens on either side of the analog speedometer that can be configured to show different levels of information, including fuel and battery power levels, average and instant miles-per-gallon. Growing leaves and vines track and reward the driver's efficiency. EcoGuide uses a multi-layered approach to coach the driver to maximum fuel efficiency. A tutorial mode built into the display that helps the driver learn about the instrument cluster and the hybrid in a whimsical way that does not overpower. For instance, drivers can choose one of four data screens to choose the information level displayed during their drives. They are: • Inform: Fuel level and battery charge status • Enlighten: Adds electric vehicle mode indicator and tachometer • Engage: Adds engine output power and battery output power • Empower: Adds power to wheels, engine pull-up threshold and accessory power consumption All levels can show instant fuel economy, fuel economy history, odometer, engine coolant temperature, what gear the car is in and trip data (trip fuel economy, time-elapsed fuel economy and miles to empty). The engine coolant temperature indicator turns green when engine conditions are warm enough to allow engine pull-down. Several other elements help differentiate the Milan Hybrid from its gas-powered sibling, including unique hybrid "road and leaf" badging on both sides and the rear of the vehicle; unique 16-inch, eight-spoke wheels; eco-friendly seat fabric made from post-industrial 100 percent recycled materials; and a standard 110-volt power outlet.
[Source: Ford]