Conventional wisdom would have us believe American car companies can't compete with Japanese rivals on quality and economy for popular models like compact SUVs. The 2010 Chevy Equinox seeks to prove GM can.
G/O Media may get a commission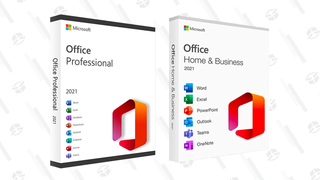 89% off
Microsoft Office Professional 2021 Lifetime License
For years it was enough to just have an entry in the compact SUV segment. It didn't matter how boring or poorly packaged it was. Most were just that and sold fine anyways. Now, with the current annual automotive market sales rate sitting just under 10 million cars a year and this segment eating up a solid 10 percent of that, there's no room to be just "okay." The competition is cutthroat in this bread-and-butter class, so in order to be anything but an also ran, you have to be outstanding.

The 2010 Equinox approaches this ruthless market with a giant banner tied to it shouting about its fuel economy. It beats out the main competition from Honda, Ford, and Toyota in all trim levels in both city and highway figures. The 188 HP, 2.4-liter direct injection four-cylinder in front wheel drive form claims a 22/32 MPG city/highway fuel economy figure, with the bigger, and mildly more satisfy 264 HP 3.0-liter V6 clocking in at 18/25 MPG. In comparison, the four-cylinder 2009 Toyota RAV4 returns just 21 MPG city/27 highway while making nine less HP.


Both engines get a six speed automatic transmission, optional all-wheel drive and are available with every trim level except the low-end LS, which is available with the four-cylinder only. For those looking for even more economy — and despite sensationalist reporting by our peers — we were given a strong "negatory" on the possibility of a hybrid in the near future and no possibility of dropping the platform-mate Saturn Vue's dual mode hybrid powertrain into the engine bay.

For the vast majority of buyers, the DI 2.4-liter with FWD will be totally adequate. It's responsive without protest, returns a workable 8.7-second 0-to-60 MPH time and, yes Virginia, it does get 32 MPG. With the "Eco" button pressed, the torque converter locks up sooner and shift points move down the revs, but it doesn't suck the life out of throttle response as on the Prius and Insight. As a trade off, it also only gives up an extra 1 MPG. With "ECO" lit up on our gauge cluster and under highway conditions, the on-board mileage computer spat out a respectable 32.1 MPG, certainly not scientific, but it means the figure is at least plausible. Everyday mixed use saw an average of about 28.2 MPG, even accounting for our leaden foot. The thirstier V6 with all-wheel-drive returned 21.8 under mixed use and the four-cylinder with all-wheel drive managed 23 MPG.


We're kind of wondering why GM even bothered with the Eco-mode button. Unless you're really leaning on the car, you'll never notice a difference with it on, and the one mile per gallon difference seems silly for the trouble of a button that'll probably always be in "on" mode.
Mileage stuff is boring though. The drive is what's important to us and here the Theta-platformed Equinox delivers like its Japanese competitors don't. Despite the Michelin low rolling resistance tires, road feel is actually not too bad, body control is excellent for the segment, pushing the vehicle further into the territory of car-like feel than its predecessor. Understeer comes on a bit abruptly, but let's be honest here, this rig ain't going to see an autocross course any time soon. Shifting isn't exactly a drama-filled experience, but it's not hunting for gears and getting in the way. As with most recent GM autoboxes, you can manually control it with a shifter-mounted rocker switch. If you're in a sporting (but not too sporting, this is a compact SUV) mood, running up to the 7,000 RPM rev limiter is pretty fun and far more exciting than mashing the gas and waiting for a downshift. Steering is electronically boosted, but not overly light.
That the powertrain is wrapped in an all-new body seems to be secondary to the competent performance, but we'd be remiss in failing to mention the looks. Along with the maximum fuel economy slathered across giant flashing billboards and proclaimed from the heavens in skywriting, GM will be touting the style. Inside and out the Equinox gets thoroughly updated everything, borrowing liberally from the precedent-setting Malibu which was a breath of fresh air in Chevy's previously stinky automotive stable. It's got a clean, modern look, which is simultaneously inoffensive and handsome.
Which brings us to the interior, a traditional GM weak point. Make that a really weak point. While the Equinox delivers in spades when it comes to interior style — and at all trim levels we might add — it still, in our mind, falls a bit short of where we wish it would be. We have to keep price point in mind when we're talking about this segment, and while we'd have loved soft-touch plastics, you get solidly constructed rubberized plastic — like all the competition. There's plenty of storage and it passes the knock test (Jalopnik patent pending) on everything but the gauge hood, which isn't something often interacted with. Ergonomically, everything works fairly well, though the driver's reach for some radio adjustments and the far corners of the touch screen nav system are excessively long. The centralized switch panel works nicely and consolidates everything for easy control.


Where the interior excels is with the seats. Here's the weird thing, the cloth option is way better than the leather. It's a sporty, airy neoprene-like material that's grippy and comfortable. Stretched over dual density foam, we sat in complete comfort for hours of driving. The back seats have the benefit of fore and aft adjustments to make way for legs or cargo, whichever is most pressing, and the seat backs recline to a comfortable angle, should you get bored of watching the optional flip-up DVD players.
What's missing from the cabin is noise. Acoustics engineers bent over backwards to make this thing insanely quiet, it's got acoustic glass surrounding the front passengers, spray-in-place sound deadening, triple door seals and active noise cancellation through the standard subwoofer; the end result is a remarkably quiet cabin. Not just for the segment, for the market. It's not quite at Lexus levels, but us even mentioning that in the same company of a mere Chevy says something.
The bottom line comes down to the bottom line. The Equinox in base LS trim with the 2.4-Liter and front-wheel drive starts at $23,185, a full $1,825 cheaper than the last model. A fully loaded LTZ with all the bells and whistles should top the charts at around $35k, but nobody will buy that car, because it's totally unnecessary. Buying the cheap model doesn't mean you have to suffer el-cheapo plastics, harsh NVH and hideous seats. With the Equinox, GM figures it's providing more interior room, more standard equipment, higher fuel economy and better design at competitive pricing. After this first look, we're inclined to agree. You'd have to put a gun to our heads to get us to buy an entry-level compact SUV, but if we had no choice, we'd go for the new Equinox.
2010 Chevrolet Equinox FWD 4dr LS Specs
Transmission/Drive
Automatic