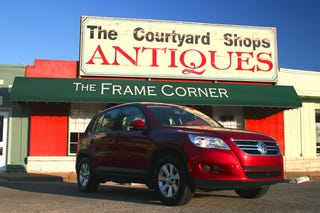 Jalopnik Reviews
All of our test drives in one convenient place.
Why you should buy the 2009 Volkswagen Tiguan S: Volkswagen has taken some flack for saying the Tiguan is like the GTI of crossover SUVs. It isn't. At best, it's the GTI of people who go antiquing on the weekend, don't drive particularly fast and live in a college town. If you don't want a wagon, won't drive a Ford and can't afford a Lexus then maybe you should look at the Tiguan.
Why you shouldn't buy this car: You don't think sitting up higher is a good thing. You think a crossover is Lil' Wayne trying to play a guitar. You like wagons. Wagons are cool. You'd totally drive a SportWagen. You wonder why you should buy the GTI of _____ when you could actually just buy a Volkswagen GTI.

Suitability Parameters: Speed Merchants: No Fashion Victims: No Treehuggers: No Mack Daddies: No Tuner Crowd: No Hairdressers: Yes Penny Pinchers: No Euro Snobs: Yes Working Stiffs: No Technogeeks: No Poseurs: No Soccer Moms: Yes Nascar Dads: No Golfing Grandparents: Yes Also Consider: • Ford Escape • Ford Edge • Nissan Rogue • Saturn Vue • Acura RDX • Infiniti EX35 • Four-Door Volkswagen GTI • Toyota RAV4 • Dude, just get a SportWagen Vitals: • Manufacturer: Volkswagen • Model year: 2009 • Base Price: $23,200 • Price as Tested: N/A • Engine type: 2.0-liter Turbo I4 • Horsepower: 200 @ 5,100 - 6,000 RPM • Torque: 206 @ 1,700 - 5,000 RPM • Transmission: 6-speed Tiptronic Automatic • Curb Weight: 3,433 lbs • LxWxH: 174.3" x 71.2" x 66.3" • Wheelbase: 102.5" • Tires: 215/65 R16 • 0 - 60 mph: 7.8 Seconds • EPA Fuel economy city/highway: 19/26 MPG • NHTSA crash test rating: N/A Also see: