My friends are well-educated young professionals who quote The Wire like Southern Baptists quote scripture — ideal Volkswagen buyers. Will they see the Routan as child carrier for Tristan & Zooey or just a rebadged Chrysler Town & Country?
The Routan is advertised as "the only minivan in America with German engineering." But the badge does not make the car, and the VW badge on the front of what is actually a Chrysler Town & Country doesn't make it a Volkswagen. Far from it.

Despite the slightly reworked interior and attractive new front fascia, there's not much to connect it to its German heritage. It lacks what Ze Germans call Wesentliches — the essential essence. Volkswagen fans are, above all else, dash-stroking snobs. It's one of the reasons why they get to make American customers eat the exchange rate.
The Routan has none of this. There are no blue/red gauges, Teutonic type faces nor above-par materials. The key doesn't fly out of the fob like a switchblade in a 1950s musical. Rather than a turbocharged engine, something diesel or a naturally-aspirated engine with an odd number of cylinders, there's an 18-year old 3.8-liter Chrysler V6 putting out an adequate but uninspiring 197 HP and 230 lb-ft of torque. With a 0-60 MPH time of 10.2 seconds and a wobbly top speed of 112 MPH, the Routan is about as suited for the Autobahn as you'd expect any other American minivan to be.
At 16 MPG city, 23 MPG highway, the Routan is crying out for a clean diesel engine.
G/O Media may get a commission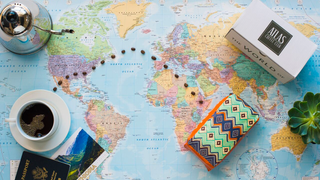 First Bag Free
Atlas Coffee Club - Free Coffee
Explore global coffee
With each bag, Atlas includes details on the coffee's tasting notes and a postcard about the region and its coffee history. And when you subscribe, you have options to tailor frequency, grind size, and roast preference of your beans, so you'll always be brewing the perfect cup.
My would-be hipster friends noticed and, even with the Dirty Projectors playing through the wimpy six-speaker stereo, could sense this wasn't a true VW.
So as a Volkswagen it sucks, but it's not awful as a minivan. There's great visibility all around. The seating position is typically commanding, with the driver towering over the road and the children. For the mom on the go there's dual remote-control sliding doors on both sides with power windows. The kids get 12-volt power chargers. There's stow'n'go rows for stellar storage.

Most of the Routan's shortcomings as a van are due to the perplexing mix of features offered in the SE trim. What's available falls into sort of a weird middle area where you get half of what you need. The front seat is an eight-way adjustable power system inside an uncomfortable cloth covering. You get the attractive 17-inch wheels but the smaller engine. Most noticeably, the entertainment system includes a DVD player but you get no screens.
All this could be forgivable if Honda, VW's Japanese nemesis, didn't already make a significantly better minivan. The Odyssey has a stout V6 churning out a superior 240 HP and 245 lb-ft of torque yet offering comparable mileage. It can swallow more cargo (147 cubic feet compared to 144 cubic feet for the VW), and an EX Odyssey with DVD Rear Seat Entertainment MSRP's for almost a grand less than a similarly-equipped Routan.
As buyers we expect innovation and quality from a German automobile, even if we don't always get it. The Routan lacks both. The quality is on par with its American counterparts from Dodge and Chrysler, while some of the most innovative features found in the Town & Country (the swivel chairs with fold-out table) are absent. What's left is a vehicle that's more expensive and offers fewer features. The giant badge is nice but it doesn't hide the truth.
At $30,735 there are vehicles that carry more passengers, drive better, offer more quality and are an overall better value. After spending a week with the Routan, the claim that this is "the only minivan in America with German engineering" just makes me feel bad for German engineers.
2009 Volkswagen Routan 4dr Wgn SE Specs
Transmission/Drive
Automatic