We just came back from the Mazda Miata MX-5 20th birthday party here at the Chicago Auto Show where they trotted out past concepts, race cars, and most importantly, beer and sushi.
We're inclined to say wonderful things about the Mazda Miata, perhaps even fail to point out the supposed refresh Mazda is touting isn't exactly... er, noticeable. It's a funny thing what beer and sushi will do. In any case, Mazda took a moment to celebrate all things Miata, pointing out it was twenty years ago here in Chicago where the first MX-5 was debuted to the world. Among the neat Miata's Mazda brought along that little blue one is actually the fourteenth to roll off the assembly line.

G/O Media may get a commission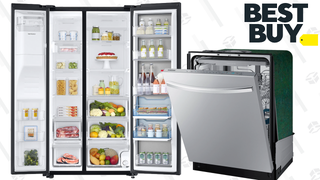 Up to 50% off
Best Buy - Samsung Major Appliance Sale
20 YEARS IN THE MAKING – MAZDA'S LEGENDARY MX-5 MIATA ROADSTER

February 9, 1989 marks a highly significant time in automobile history, and certainly in the life of Mazda. On that day, Mazda unveiled the MX-5 Miata to the world at the Chicago Auto Show. Since then, the MX-5 has become the world's best-selling two-seat sports car, and been listed in the Guinness Book of World Records as the most popular sports car ever built.
Mazda MX-5 offers roadster driving at its best. The MX-5's original concept has been so successful that Mazda has never changed it: affordable to buy and use, lightweight, Jinba Ittai ("rider and horse as one") handling, and classic roadster looks. The Mazda Miata is the jewel of "Kansei Engineering," a deeply held philosophy that every car and truck that Mazda makes should be designed and engineered to provide strong emotional as well as functional satisfaction to its driver. For a unique sports car like Miata, whose sole purpose is pure driving fun, this objective is very important. Thus the Mazda Miata project team scorned "packaging" and "off-the-shelf" componentry per se, and instead began with a pure, bright concept of "America's ideal sports car."
Miata has been heralded as saving the sports car world, has amassed nearly 900,000 global sales, and has won a total of 178 major automotive awards around the world. Two decades later, the MX-5 Miata is still a lightweight, balanced and responsive roadster that delivers the very best wind-in-the-hair driving at an affordable price.
And because Mazda's engineers never lost sight of that "soul of a sports car" positioning for which the entire brand has become known, the MX-5 Miata also is the world's most-raced nameplate.
The MX-5 is currently in its third generation. Below is a summary of each generation:

First Generation:
A 1990 model launched in 1989, the original Miata featured a starting price of $13,800 and first went on sale in May in the United States, and in September in Japan. The first-generation Miata featured a 1.6-liter four-cylinder engine with 116 horsepower and 100 lb.-ft. of torque. A five-speed manual transmission was standard and City/Hwy fuel economy was 25/30 mpg. Suspension was by independent double wishbone on all four wheels, and braking consisted of four wheel-disc brakes with the front ventilated. Wheels were 14x5.5" steel or 14x6" alloy, both with 185/60 R14 radial tires.
Important to convertibles is the roof operation. The Miata engineering team created a three-fold, easy-to-operate soft top, with one-hand operation, that was lightweight and offered superior weather protection.
The coefficient of drag was 0.38. All together, the Miata weighed a low 2,116 lbs. (curb weight) and could reach 60 mph in less than nine seconds. When it was launched, the car created such excitement among buyers that demand exceeded production and became an instant success.
The first change came in the 1994 model year. Miata was refreshed with a little more power through use of a 128-horsepower 1.8-liter engine. For the 1996 model year, horsepower was increased to 133 and a racing-themed R Package was also introduced with a Torsen® limited-slip rear differential, Bilstein shocks and front and rear spoilers.
Second Generation:
The second generation Miata was a 1999 model year vehicle. This new generation car offered a more powerful engine and new styling, including a new headlight design. For the first time the vehicle featured fixed headlights, which were lighter in mass in the dynamically critical front over hang, as opposed to the first generation's retractable headlights. In addition, the plastic window in the Miata's soft top was replaced with a glass window.
The engine remained at 1.8-liters and received several updates. Power output and torque were improved to 140 horsepower with 119 lb.-ft. torque through enhancements to the intake and exhaust systems, resulting in smooth engine revving from low to high speeds and responsive acceleration with EPA mileage of 24/29 mpg. Features such as a straight intake port, a variable-inertia exhaust system and a dual exhaust manifold were incorporated. Compression ratio was raised from 9.0:1 to 9.5:1 with a raised-crown piston design. The base model could reach 60 mph in 7.9 seconds, with a top speed of 122 mph. Total weight of the second generation Miata was 2,200 pounds.
A special limited edition model was introduced in 1999 to celebrate Miata's 10th anniversary. This model ramped up performance by use of a new six-speed manual transmission, Torsen® limited-slip differential and sport-tuned suspension with Bilstein® shock absorbers. A special Sapphire Blue Mica paint with blue soft top was also offered on the 10th Anniversary model.
In 2000, the face-lifted second-generation MX-5 was launched as a 2001 model. Mazda added more horsepower, variable valve timing, a more rigid chassis and larger brakes. Additionally, 16-inch alloy wheels, a six-speed manual transmission, more aggressive styling and a host of interior improvements were available. The 2001 Miata delivered 142 horsepower and 125 lb.-ft. of torque with 23/28 mpg City/Highway fuel economy, and the compression ratio was increased from 9.5:1 to 10.0:1. With the minimum amount of options, the 2001 model weighed 2,387 pounds.
In 2004, Mazda launched the turbocharged MAZDASPEED MX-5, with a 178 horsepower and 166 lb.-ft. of torque turbocharged and intercooled engine.

Third Generation:
The third generation MX-5 went on sale in late 2005 as a 2006 model year. Every single component on the car was either all new or extensively revised, and the new car looked it. The exterior styling was freshened, with the most noticeable change in the front fenders. Even though curb weight of the third generation Miata grew to over 2,400 pounds, the new car never forgot its roots and it was every bit as fun to drive as the original. And, regardless of the additional curb weight, fuel economy remained at 25/30.
A new 16-valve, 2.0-liter MZR I-4 engine was introduced, producing 170 horsepower and 140 lb.-ft. of torque, coupled to either a five-speed or a six-speed manual transmission or 166-horsepower with the optional six-speed automatic transmission, while the five-speed manual model achieved the same fuel economy as the first 1990 Miata. A limited-slip differential was available with the six-speed option.
The third generation Miata also produced a change in the suspension for the first time. A front wishbone/rear multilink suspension was used beginning with the 2006 MX-5 to increase ride quality and handling. Technologies like traction control and stability control were also added.

In 2007, Mazda offered, for the first time, a new Power Retractable Hard Top (PRHT). Opening and closing cycles last only 12 seconds, making this the fastest power-operated retractable hard top in the U.S., and the only retractable hardtop on the market that doesn't compromise trunk space. Additionally, the PRHT adds only 77 pounds to the total weight of the car.

Significant events over the past 20 years for the Mazda MX-5 Miata include:
1983
Mazda begins study of lightweight sports car production
1986
February: Starts project aimed at volume production
1987
September: Design finalized
1989
February: Mazda introduces the MX-5 Miata sports car as a 1990 model at the Chicago auto show
May: U.S. Sales begin
July: MX-5 Miata named as one of the five "World's Best Cars" by Road & Track
September: Sold as Eunos Roadster in Japan
October: Sales begin in Australia
1990
January: MX-5 Miata receives a "10Best" award from Car and Driver
January: MX-5 Miata receives "Automobile of the Year" award from Automobile Magazine
February: Sales begin in Europe (U.K. and Holland)
1991
January: MX-5 Miata receives a Car and Driver "10Best" award
January: Automobile Magazine names MX-5 Miata to its "All-Star" list
1992
January: MX-5 Miata receives a "10Best" award from Car and Driver
January: Automobile Magazine names MX-5 Miata to its "All-Star" list
1993
January: Automobile Magazine names MX-5 Miata to its "All-Star" list
July: undergoes minor change. 1.8-liter engine introduced.
1994
January: Automobile Magazine names MX-5 Miata to its "All-Star" list
1995
January: Automobile Magazine names MX-5 Miata to its "All-Star" list
1996
January: Automobile Magazine names MX-5 Miata to its "All-Star" list
J.D. Power and Associates Initial Quality Study rated the Miata among the top three vehicles in the sports car segment in initial quality
1997
January: Automobile Magazine names MX-5 Miata to its "All-Star" list
October: Second-generation Mazda MX-5 Miata unveiled at Tokyo Motor Show – the first redesign since its introduction in 1989
1998
December: Limited edition Miata released to commemorate ten years of production. Special limited edition car with world-class specifications: total of 7,500 units manufactured for worldwide sale (500 units for Japan, 7,000 units for the three markets comprised of North America, Europe and Australia)
The second-generation Miata goes on sales as a 1999 model.
1999
The MX-5 Miata receives numerous accolades, including:
January: Fifth "10Best" award from Car and Driver
January: Automobile Magazine names MX-5 to its "All Star Best Entry-Level Sports Car".
January: "Best Convertible" in MotorWeek's Driver's Choice Awards
April: Consumers Digest's "Best Buy"
December: One of Sport Compact Car's "Eight Great Rides"
2000
January: Automobile Magazine names MX-5 Miata to its "All-Star" list
May: Guinness Book of World Records recognizes the Miata as the best-selling two-seat convertible with sales of 531,890 units
July: Second-generation Mazda MX-5 Miata undergoes minor change for the 2001 model year. In addition to interior and exterior changes, the 1.8-liter engine gets a power boost, and body stiffness and other improvements add up to a greatly upgraded version.
2001
Mazda MX-5 Miata named Consumers Digest "Best Buys"
2002
The MX-5 Miata named to Automobile Magazine "All-Star" list for the 12th time
2005

March: Third-generation MX-5 unveiled at the Geneva International Motor Show and is later debuted in commemorative limited edition format (Mazda MX-5 3rd Generation Limited) at the New York International Auto Show.

April: The Guinness Book of World Records updated the number of units produced to 700,000

2006

Mazda launched the MX-5 Roadster Coupe featuring a Power Retractable Hard Top
MX-5 Miata receives a "10Best" award from Car and Driver

2007

MX-5 Miata receives a "10Best" award from Car and Driver

2008

MX-5 Miata receives a "10Best" award from Car and Driver

2009

Face-lifted MX-5 makes its North American debut at the Chicago Auto show

Headquartered in Irvine, Calif., Mazda North American Operations oversees the sales, marketing, parts and customer service support of Mazda vehicles in the United States, Canada and Mexico through nearly 900 dealers. Operations in Canada are managed by Mazda Canada, Inc., located in Ontario, Canada, and in Mexico by Mazda Motor de Mexico in Mexico City.
.