Tired of relentless Geneva Motor Show coverage? Us too! That's why we're here at the 2009 Detroit Autorama soaking up rad rods and cool customs. In an effort to be radically contrarian, it's custom vans!
G/O Media may get a commission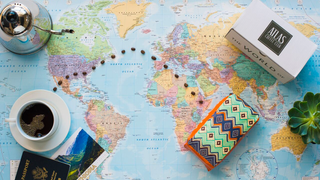 First Bag Free
Atlas Coffee Club - Free Coffee
Explore global coffee
With each bag, Atlas includes details on the coffee's tasting notes and a postcard about the region and its coffee history. And when you subscribe, you have options to tailor frequency, grind size, and roast preference of your beans, so you'll always be brewing the perfect cup.

The art and culture of Vannin' has of late been relegated to the trash heap of irrelevant artforms by the larger customization world. Screw that, vans are back ,and taking up quite a healthy section of floor space at this year's Autorama. We've got the Star Dreamer with the cool blue themes, built in TV's and a crushed velvet bed out back — not to mention a stylin' galactic themed mural down the side and gull wing side door. Down the row check out the plain-jane looking blue Chevy with the fender flares, yeah, that one has a supercharger magically wedged up under the hood — the intake is routed in from the cowl, how cool is that?
Down the way there's a nice white Dodge with a fully stylized interior and an exposed stroker 347 taking up space between the front seat passengers. There's Over the top paint? Yeah right next door on a wild, rainbow flamed GMC. Then there's a super clean Dodge with a 340 and a clever adaptation of the hockey stick stripe boasting it's cubic-inch credentials. You heard it here first, Vannin' is on the way back. Stay tuned for more unwavering awesomeness from the halls of Cobo.