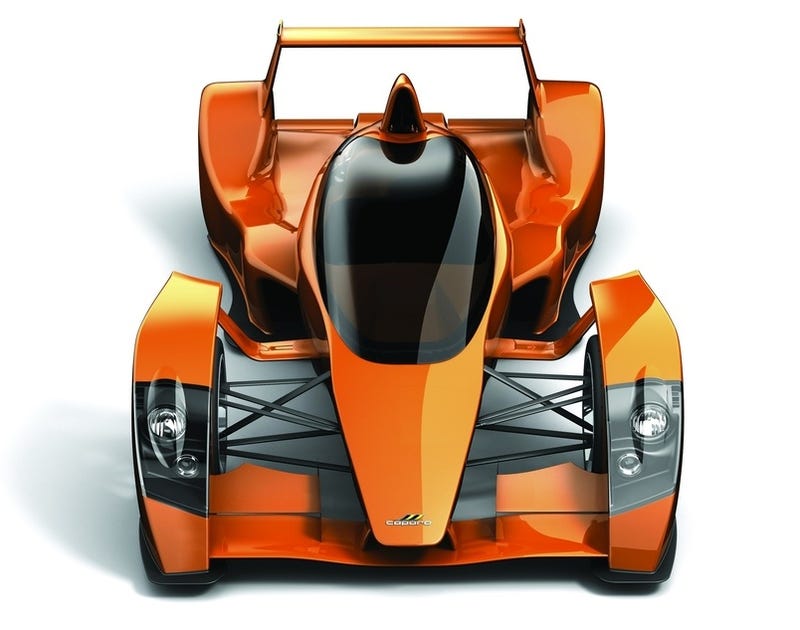 The latest version of everyone's favorite beastie-of-a-hypercar that tried to kill Jeremy Clarkson, the 2009 Caparo T1, is due to make an appearance today at London's favourite motoring party, Salon Privé. Gag.
Even the shear rabid awesomeness that is the Caparo T1 can easily be watered down into oblivion by an event they're calling "UK's ultimate Super Car Event and Concours d'Elégance." Salon Privé is an exercise in standing around on some rich guy's lawn and trying to look like you've got your pants wedged up your ass more than anyone else around you. It's a wedgie competition, that's it.

But we shan't allow a few crumpet-armed limeys to ruin the day as we're talking about a massive 575 HP strapped into an extremely lightweight chassis that's always threatening to be readily deadly. Though there doesn't seem to be a huge change from the 2008 Caparo T1 to the 2009 Caparo T1, it's still righteous. The press release in the comments below.
Caparo T1 2009 launch at Salon Privé

Caparo T1, the fastest performance super car available, is set to make its debut at Salon Privé on 12th February 2009 at London's Hurlingham Club. The prestigious event will also be used to announce the T1's 2009 programme.

True to form this year's Salon Privé, the UK's ultimate Super Car and Lifestyle Event, will once again attract a number of high profile guests with its promise of getting up, close and personal with the most exotic modern and vintage super cars in the world. Held in the luxurious and exclusive environment of the Hurlingham Club, the show is regarded by many as London's favourite motoring party because of its mixture of fashion, style, luxury and automotive haute couture.

Caparo T1, the two-seater performance car that recently took the racing world by storm, will occupy centre stage during the event and is expected to attract a high level of interest. Alongside the car's distinctive profile, information will also be available on its five new levels of specifications; stating from the most cost effective race track option, to its Race Extreme version, boasting the T1's most powerful engine, a upgraded electronics package, fully carbon brakes and the latest light weight magnesium wheels.

The Caparo team will shortly be unveiling the brand new partnership with one of the most reputed prestigious car dealerships in the country. The agreement will see Caparo concentrating on the continued development of the T1 and associated technologies, with the continued evolution of the car's driving experience and pushing further its track and on-the-road performance. The chosen Caparo partner is going to take control of the super car's sales, marketing and after sales service.

For more information regarding the Caparo T1 or its participation in Salon Privé, please contact Fiona Malan at Caparo Vehicle Products on 0121 224 2078 or at fiona.malan@caparovehicleproducts.com. Please visit www.caparo.com