As you may have noticed when we told you about the North American debut of the Alfa Romeo Bertone B.A.T. 11, we started off the day yesterday at the 2008 Meadow Brook Concours D'Elegance press breakfast. Actually, it was more of a press "stand-around-and-sweat". August 3rd will mark the 30th Concours held on the Meadow Brook Estate in Rochester Hills, Michigan, and they're planning on mixing things up a bit this year. Believe it or not, we're really looking forward to this one — there's going to be some really solid fantasy material on the grounds this year. Did someone say "Mormon Meteor?"
We were treated not only to the BAT concept reveal, but also to several other fabulous historic cars that were in attendance. Chief among them was a 1957 Mercedes Benz 300 SL, fresh from a 100-point concours-quality restoration at Legendary Motorcar Company, making its worldwide debut. If you watch Dream Car Garage this car will look familiar, as it's been their resto project for 13 episodes. The car is actually owned by Southfield-based BASF, so naturally it's wearing a fresh coat of color-correct BASF paint. Damn impressive car — we'd say it's probably better now than it ever was.

And lets not forget another car in the Jalopnik Fantasy Garage, the 1948 Tucker Torpedo. This one is owned by RM auctions, which will be holding a preview event on Friday at Meadow Brook and an auction on Saturdayi. There's a lot on the blocks at this event, including the entrance to the old Packard Plant here in Detroit.

Things actually get rolling on Thursday, with the Second Annual Hangar Party. An event held at the Oakland County Airport, the Hangar Party puts a dozen vintage planes and historical cars together with liquid lubrication and tasty edibles. If you want to get to that one, you better move fast, as we'd bet tickets for the 'oo-la-la' event are getting scarce.
G/O Media may get a commission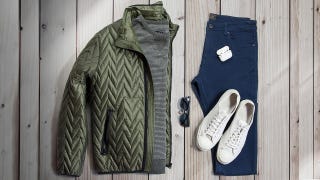 60% off
Jachs NY Fall Sale 60% Off
On the list of 'new and improved' for this year is the first-annual "Destination D'Elegance." The full-day event on Saturday before the Concours features free entry, a huge variety of modern supercars, demonstrations on restoration and collecting, a bevy of the worlds most heady modern superbikes and much more. Also notable: If you want to know how the Hyundai Genesis feels from the passenger or driver's seat, Hyundai will be having on-site ride-and-drives of the new kimchi-scented luxo-barge all day. This will be the one the plebes go to, as it's free, and the actual Concours has a steep $25 entry fee. We really want to get there and cover the Pabst-soaked yard-dart contests, but we'll see.
Oh yeah, then there's the actual Meadow Brook Concours D'Elegance set for Sunday. If you pay your ducats you can expect to see 225 of the finest motor cars in history. Like we mentioned, on hand will be the Mormon Meteor; a supercharged, inline-8-packing, Duesenberg Model SSJ (you'll see us licking it), a 1932 Helicron (give it a Google, it'll be fun), the only '56 Taylor Aerocar still in flying condition, 16 different V16 powered cars — with their engines displayed, and rarely seen Bill Mitchell styling concepts from GM's "Studio X" (sounds porny). Of course, that's far from everything. This year they've got a field of groundbreaking and historical Ferraris, so, you know, that should be pretty boring, as well as vintage motorcycles with sidecars. A little something for everybody.
Yes indeed folks, if you've never been out to the Meadow Brook Concours D'Elegance, this year wouldn't be a bad time to start coming. We'll be there as much as possible, bringing you fresh, wallpaper-quality images and car-induced, delirium-saturated prose. For details on events, times and locations, visit Meadow Brook Concours Online.