Exterior Design: ****
The 2008 Dodge Charger Police Edition benefits from the inherently aggressive looks of the standard Charger's angry headlamps and strong rear haunches. Of course, each car's style will be affected by the livery of its jurisdiction. Our car looks badass in black with the exposed steel wheels and a spot lamp mounted in the A-pillar, but we would've liked to have a push-bar in front to make it even more intimidating.

Interior Design: ***
Function rules over form inside the Police Edition. The center console and floor shifter have disappeared, making room for a large mounting surface for police equipment, relocating the autostick to the steering column. You would think a cop car might have some sort of donut holder molded into the dashboard, but there aren't even any cup holders. But the three stars come entirely from the rubber floors, making you free to spill beverages or bodily fluids without fear of a difficult cleanup, and the red night-light.


Acceleration: ****
On paper, 340 HP may not look as impressive today as it once did, but when you stomp on the go pedal and wake up the four Hemi V8 cylinders that were taking a nap to save gas, those horses feel plenty strong indeed. Maximum power from the 5.7-liter mill comes in at 5000 RPM, and 390 lb-ft of torque is cranked out at 4000 RPM. And while it may not be exceedingly loud, the Hemi does provide a snorting soundtrack.
Braking: ***
With ABS and vented discs on all four corners, stopping performance is adequate, especially considering the massive size and weight of the Charger. What's important is the car feels stable and controlled during emergency-stop situations.
Ride: ***
Benefiting from the Mercedes-derived four-wheel-independent suspension, the Police Charger certainly feels better than the softly sprung solid-axle boats of yesteryear. But the sheer size of the car may make you feel a bit like you're in an SUV that's been hunkered down a few inches, though overall the ride is comfortable enough for a day's worth of patrolling.
G/O Media may get a commission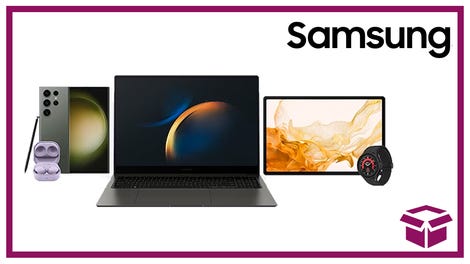 24 hour deals
Discover Samsung - Daily Deal
Handling: **
You don't expect a car like this to go around turns well, and it doesn't. Body roll isn't as bad as some cars, but there's lots of understeer. Even with the traction control off, the car is hard to coax into a powerslide. You'll be fine chasing down a murderer in an Iroc-Z on the expressway, but you'll need to call-in a roadblock to catch a Porsche on a winding back road.
Gearbox: *
There's just something so nostalgically right about a column-shifter in a big American car. The five-speed automatic works fine for normal driving. However, the autostick feature is nearly worthless. Even my small thumbs struggled to properly operate the tiny +/- button for manual shifting.
Audio: *
The bargain basement stereo isn't impressive, though if you're busy listening to your police radio, we imagine it's sufficient.
Toys: **
With no sirens, no radios, and no flashing lights installed, our Charger had nothing to play with. If you want to install all the cop goodies, the Charger's ready to go with an upgraded battery and alternator — and all that would have moved the star rating to the top. Still, the spotlight is fun for making punk teenage drivers squirm night driving on unlit country roads.
Value: ***
Though we hear it all depends on what kind of deal your municipality can strike up, a Hemi-powered Police Charger starts at just over $29,000. That's pretty good if you want a brand new muscle sedan. Though a Ford or Chevy will cost less if you just want a cruiser. That's not even mentioning the endless supply of pre-abused P71 Crown Vics that are practically given away at police auctions.
Overall: ***
The Dodge Charger Police Edition is a squad car with the attitude to intimidate bad guys, and the muscle to run them down. It takes old-school flavor and brings it up-to-date, while retaining the simple charm of a big V8-powered American cruiser. So what do you say? Is it the new Bluesmobile or what?

Also see:
• 2008 Dodge Charger Police Edition, Part One
• 2008 Dodge Charger Police Edition, Part Three