Michigan's M-1 is a state trunk road that starts at downtown Detroit's waterfront drive, Jefferson Avenue, then shoots north in a straight line for 21.4 miles, past some of the poorest and wealthiest neighborhoods of the metro region until it loops back down the other direction in the city of Pontiac. And really, nobody calls it "M-1." Everyone knows it as Woodward Avenue and it's the heart of the Midwestern metropolis dubbed the Motor City. But until this morning, I didn't realize how important this stretch of road was to me. Many of you may not know, but this past month I moved to New York. Until the start of last month, I'd lived my entire life in this corner of Michigan. But this week I'm back in Detroit for one reason, and one reason alone — an entire week of driving the 2008 Dodge Challenger SRT8. It's a car imbued with so much positive energy there's only thing I can think of to do it justice. I plan on running Dodge's muscular old-school revival up and down Woodward Avenue, stoplight-to-stoplight, from downtown Detroit to Pontiac until I pass out from exhaustion or the gas station declines my credit card.


I picked up the Challenger from Chrysler's fleet company in Madison Heights yesterday afternoon. Despite an itch to hit the road immediately, we first needed the obligatory glamour shots taken by Metro Detroit's star photographer Fabrizio Costantini and a quick bite to eat. So it wasn't until late yesterday night when I finally had the chance to take the new Mustang-killer out onto Woodward.
A few hours more doesn't bother someone that's waited three years since their first fleeting glimpse of the Challenger across a crowded Detroit Auto Show press introduction. Still, my excitement was obvious — if anyone had been looking that late at night — as I eased the muscle-bound two-door out on to the road and pointed the LX sedan-sans-two doors onto Northbound Woodward Avenue. I don't even know why I tried to contain my feelings. How can a person not be excited when they're driving a car with sheet metal so brilliantly retrospectively-inspired you're actually able to believe orange can work as a car color again?
G/O Media may get a commission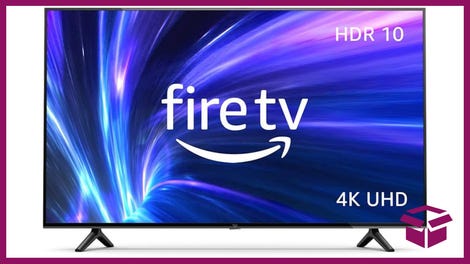 42% Off
Amazon Fire TV 50" 4K Smart TV
Plus there's that power. Despite the Challenger's hefty 4,100 lb. weight, the big 425 HP 6.1-liter Hemi the Challenger SRT8 shares with its bigger, four-doored brother allows it to blast away from stoplights. Each and every time, we were provided with the effortless gratification of squealing performance radials.
But I grew up on Woodward Avenue. I know at night the police lay in wait, watching the stoplights, pens at the ready in eager anticipation of tickets to be signed and handed to unsuspecting hoons careless enough to do burnouts. I had no desire to be stopped tonight. Tonight, the fun for me is cruising my past with a car that's more of a time machine than any DeLorean. I wanted to drive. So I drove.
I drove past the hospital where I was born. Past the Red Coat Tavern, where my mom had once been a bartender and where she'd met my father. Past Vinsetta Garage, Michigan's oldest palace of wrench-turning — and a lot where I'd spent many an evening in my teenage years peering through the chain-link fence, trying to discern the differences between muscle cars by shape under bulky car covers. Past Birmingham, where I'd taken my driver's training and first kissed a girl. Past Cranbrook, my high school arch-rivals. Past Long Lake, and the remnants of the Fox & Hounds grill and across from the Merrill Lynch office my father, now gone, worked at over a decade ago. I drove past old family homes, old restaurants and old memories.
It's a credit to how similarly roomy this new Challenger is to the old early-'70s muscle car that I hardly noticed when I'd pulled around Pontiac and was already heading back to Royal Oak. The strongly side-bolstered seats and comfortable-to-grip steering wheel helped me to pass where I'd begun my trip so effortlessly, I decided to keep going — down all the way to where Woodward Avenue ends at the Detroit River. Not having enough of that low rumbling exhaust, I turned the beast around, rear wheels competently holding on as I steered with my right foot and came right back up Woodward. I did this over and over again last night. Each time, emotions long thought dormant welled up inside of me at every red light and would quickly explode outward on every green.
Gone were any cares of the day. The photos? Meaningless. Writing the review? Means nothing to me. The price of gas and a rating of 18 MPG? Ha! These are little things for little people. I'm a man — a real man driving a brand new meaty Mopar muscle car — something Motor City denizens haven't done in decades. The only thing that matters is continuing to drive.
OK, so it turns out there's one thing that matters more. Exhaustion. I pulled into the garage in the wee hours of this morning feeling emotionally drained, but with a wan smile on my face. Why shouldn't I? I knew I'd get to take it out again this morning. And that's exactly what I did, four hours of sweet sleep later and after waking with that smile from the night before still firmly affixed to my face.