326 horsepower, 550 lb.ft. or torque, 0-62 mph in 6.4 seconds, top speed of 146 mph, acres of leather, panoramic sunroof, auto-manual six speed, multi-setting air suspension, power everything, parking assist... the Audi Q7 4.2 TDI practically bribes its occupants into loving it. It's hard to provide an objective review of a car which seems to do everything better than any other car in its class. Spending time with the Q7 oil burner, you get the distinct feeling we are getting the shaft with the gasoline versions.


Power. Absolute and unadulterated power. It extends into every facet of the vehicle; every button, every bolt, every joint and stitch. That sums up the character and content of the Audi Q7 4.2 TDI. It's almost like a throne from which one can exact his will upon the unknowing driving populace. The SUV is so infused with an unrelenting testosterone flush it's nearly impossible to avoid being consumed by its spell. You cannot drive this Q7 without driving it like you own the road.

Unending, unquestioned, at-the-ready torque. Ask and the twin turbocharged 4.2L V8 delivers in spades. With 550 lb.ft. of torque flowing through a well programmed automatic transmission, acceleration is sure, effortless, and intoxicating. Turbo lag is limited; each turbo dedicates its compression to its own bank of cylinders. The first half inch of pedal tip-in oddly provides little or no response, but beyond that, a crush of power is at your beck and call. If you didn't know you were driving a diesel, you would swear a well tuned gasoline V8 or even V10 was planted under the hood as the exhaust note is pure symphony.
With all that stump-pulling power, the all-wheel-drive system in concert with traction control provides sure footing in most driving situations. We will admit that at times the TC was a bit overzealous on icy grades, leaving us spinning tires where a lesser car would have done the job without hesitation. Granted we didn't change any of the settings, but still an annoyance. On the road, the system provides sure handling, especially when the lowest setting on the air suspension is selected. While it's certainly not carlike in its handling, it exhibited behavior much closer to a sedan then an SUV. Steering feedback is direct and precise with the smooth character we've come to expect of Audi's sedans.
G/O Media may get a commission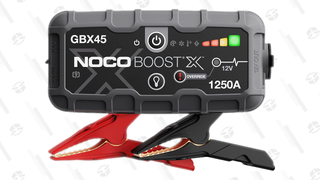 13% Off
Noco Boost X GBX75 Jump Starter
When it comes to the interior, there's little to complain about. Coming from owning an A4 as I do, the Q7 is a comfortable and familiar place. Audi maintains the dramatic red lighting of the past and extends it into the intuitive and fairly easy to use screen. A click and rotate knob provides interaction for most car functions, while secondary knobs do the work for heating systems and the radio volume. Unfortunately, our unit was outfitted with a European nav system, so it was rendered useless—unless we were aiming for Bratislava.
An odd feature is the keyless start function. While Audi maintains it's trademark switchblade key fob, you have the option of using it in the ignition switch, or leaving it in your pocket and hitting the "Engine Start" button. The panoramic sunroof is a welcomed option and provides a light and airy cabin, even though everything is swaddled in three shades of pitch black leather. Shift into reverse and the rearview camera displays what's behind you as well as a constantly updated vehicle path on the main screen. While skeptics of such fancy wizardry, this feature in conjunction with perimeter proximity sensors helped us get into parallel spots we would have normally passed on.
Our conclusion is going to look familiar. The 2007 Audi Q7 4.2 TDI does nothing poorly. In fact, we'd go so far as to say it does everything well. We'd go even further and say it excels at a great many things. A bit smitten? Perhaps. But it's been a lot of cars and an even longer line of SUVs since we've enjoyed a motoring experience as much as our time with the diesel Q7.
Photography by Chis Doane