These are the 20 most brilliant military images I found around these wonderful intertubes this week. Not only do they highlight the amazing things America and our allies' service people do on a regular basis, but also the photographers, both military and private, that work so hard to gives us a view we could never see with our civilian eyes.
Top shot: Ioannis Lekkas via RAF Lakenheath- A quartet of 493rd Fighter Squadron F-15Cs break formation high over UK.
Petty Officer 1st Class Jamie E. Parsons via U.S. Coast Guard- Instructors, crew and students of a Coast Guard National Motor Lifeboat School class train for heavy weather boat operations in the harsh environment of Cape Disappointment in the Pacific Northwest.
G/O Media may get a commission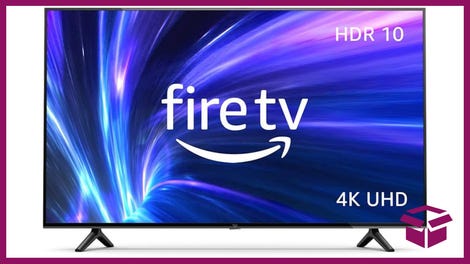 42% Off
Amazon Fire TV 50" 4K Smart TV
Tech. Sgt. Michael R. Holzworth via U.S. Air Force- U.S. Navy Lt.Nathan Clayville an electronic counter measures officer from the Tactical Electronic Warfare Squadron 139 from Whidbey Island, Wash. stands on top of a EA-6B Prowler during pre-flight checks on the Nellis, flight line while participating in Red Flag.
Spc. Joshua Leonard via U.S. Army Europe- Soldiers from Charlie Co. 2-104th Cavalry Regiment from the Pennsylvania National Guard pose for a group photo after a battle simulation for distinguished visitors during part of the field training exercise at Saber Strike 2014. Saber Strike 2014 is a joint, multi-national military exercise scheduled for June 9- 20. The exercise spans multiple locations in Lithuania, Latvia and Estonia, and involves approximately 4,700 personnel from 10 countries. The exercise is designed to promote regional stability, strengthen international military partnerships, enhance multinational interoperability and prepare participants for worldwide contingency operations.
Senior Airman James Richardson via U.S. Air Force photo- A B-1B Lancer takes off from Al Udeid Air Base, Qatar, to conduct combat operations April 8, 2015. Al Udeid is a strategic coalition air base in Qatar that supports over 90 combat and support aircraft and houses more than 5,000 military personnel.
Sgt. Steve H. Lopez via U.S. Marine Corps- Lance Cpl. Zachary Palacio engages his target with an M240B squad automatic weapon during machine gun sustainment training. Palacio is a motor transport operator with Combat Logistics Battalion 15, 15th Marine Expeditionary Unit. Elements of the 15th Marine Expeditionary Unit are ashore in Djibouti for sustainment training to maintain and enhance the skills they developed during their pre-deployment training period.
Lance Cpl. Brian Bekkala via U.S. Marine Corps- Lance Cpl. Chance Seckenger with 31st Marine Expeditionary Unit, rides in a Combat Rubber Raiding Craft during launch and recovery drills from the well deck of the USS Green Bay, at sea, July 9, 2015. Talisman Sabre is a major bilateral exercise that enhances the combat readiness and interoperability of U.S. and Australian forces across a range of military operations.
Etat-major des armées / armée de l'Air- French Mirage 2000s execute a section takeoff under a sparkling night sky while support anti-terror operations in Mali.
SSgt Matthew B. Fredericks via U.S. Air Force- U.S. Army Soldiers, assigned to the Michigan National Guard secure a landing zone during an infiltration/exfiltration mission, part of Exercise Northern Strike at the Joint Maneuver Training Center, Camp Grayling, Mich., July 23, 2015.
Sgt. Michael Needham via U.S. Army National Guard- An MV-22 Osprey lands during a personnel recovery training exercise in Southwest Asia, July 28, 2015. The 185th Theater Aviation Brigade conducts interoperability training missions to enhance mission capabilities between U.S. Army aviation and other U.S. military forces.
Staff Sgt. Bobby J. Yarbrough via U.S. Marine Corps- Marines from Amphibious Assault Platoon, Company E, Battalion Landing Team 2/6, conduct splash and recovery operations during a certification exercise off the East Coast of the United States. The 26th Marine Expeditionary Unit (26th MEU) and the Kearsarge Amphibious Ready Group are being certified by evaluators with the Expeditionary Operations Training Group in preparation for a deployment later this fall.
Senior Airman Nicole Sikorski via U.S. Air Force- Senior Airmen Giselle Toro and Tristen Geray, 37th Airlift Squadron loadmasters, prepare for a U.S. and Bulgarian air force formation flight over Plovdiv, Bulgaria, July 14, 2015. Loadmasters are responsible for the proper loading of cargo onto an aircraft and ensuring passengers are safe and comfortable during travel. In addition to securing cargo, Toro and Geray were both responsible for the safe departure of paratroopers from the aircraft during the flight.
Unknown photographer via U.S. Navy- An Osprey is bathed in the deck lights glow while operating from the stern flight deck of an Amphibious Assault Ship.
Sgt. Paul Peterson via U.S. Marine Corps- Lithuanian soldiers and U.S. Marines from the Black Sea Rotational Force engaged opposition forces in a partnered attack during Exercise Saber Strike at the Pabrade Training Area, Lithuania, June 15, 2015. Fifteen nations and more than 7,000 service members took part in Saber Strike to promote security and cooperation in the region.
Mass Communication Specialist 3rd Class Robert S. Price via U.S. Navy- Sailors participate in a low light small arms training exercise aboard the guided-missile destroyer USS Ross (DDG 71). Ross is conducting naval operations in the U.S. 6th Fleet area of operations in support of U.S. national security interests in Europe.
Staff Sgt. Jarad A. Denton via U.S. Air Force- A U-2 from Beale Air Force Base, Calif., prepares to land at Royal Air Force Fairford, England, June 9, 2015. U-2 pilots have a small margin of space to effectively land the plane without causing damage to the aircraft.
Petty Officer 3rd Class Ryan Kellogg via U.S. Coast Guard- A 25-foot Response Boat-Small crew from Coast Guard Station Seattle conducts an early morning escort of a Washington State Ferry Dec. 22, 2014. Station personnel routinely escort ferries in Puget Sound as part of the service's Ports, Waterways and Coastal Security mission to ensure the safety of more than 22 million passengers traveling on the system annually.
Cpl. Andre Dakis via U.S. Marine Corps- Marines assigned to Force Reconnaissance Platoon, Maritime Raid Force, 26th Marine Expeditionary Unit, prepare to conduct a high altitude high opening (HAHO) jump from a CH-53 Super Stallion during category 3 sustainment training in Louisburg, North Carolina, June 6, 2015. The training allowed the Marines to practice proper techniques and procedures while in preparation for deployment to the 5th and 6th Fleet areas of responsibility later this year.
Cpl. Ricky S. Gomez via U.S. Marine Corps- A U.S. Marine attached to Weapons Company, 1st Battalion, 3rd Marine Regiment - "The Lava Dogs" fires a Javelin at a simulated enemy tank during Lava Viper aboard Pohakuloa Training Area, Hawaii, May 29, 2015. Marines of Weapons Company train and conduct anti-armor procedures while at Lava Viper.
Senior Airman Colton Elliott via U.S. Air National Guard- A KC-135R Stratotanker rests on the flightline at Roland R. Wright Air National Guard Base, Utah, June 25, 2015. The aircraft's principal mission is air refueling, which enhances the Air Force's capability to accomplish its primary missions of global reach and global power.
---
Contact the author at Tyler@jalopnik.com.