The most official way to make your interests, hobbies and quirks known to the world is through a license plate. As these twenty hilarious vanity plates show, Americans are really messed up.
And when you're done enjoying the twenty hilarious vanity plates here, head over to the 50 Plates That Slipped By The DMV, and then go to the Michigan Plate It Your Way site and try your own, which we invite you to add to the comments below.
Car: Bentley Continental GTC
State: Arizona
Statement: FMADOFF
Meaning: Seriously, we hate that Madoff guy. We were going to buy a Bugatti but were forced to settle for this.
G/O Media may get a commission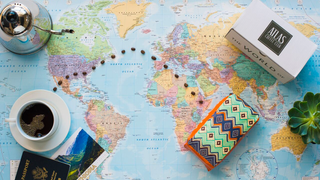 First Bag Free
Atlas Coffee Club - Free Coffee
Explore global coffee
With each bag, Atlas includes details on the coffee's tasting notes and a postcard about the region and its coffee history. And when you subscribe, you have options to tailor frequency, grind size, and roast preference of your beans, so you'll always be brewing the perfect cup.
Car: Uncertain
State: Virginia
Statement: TIMMAY
Meaning: Someone really likes South Park...
Photo Credit: DirtGetsWet
Car: M3 Convertible
State: Uncertain
Statement: MMMOVIT
Meaning: I love my M3. You should also check out my Audi A6: AAAAAA.
Car: Chrysler Sebring
State: Uncertain
Statement: 693-WAY
Meaning: Someone is double-jointed
Car: Jeep XJ
State: New York
Statement: MMMBACON
Meaning: Either he thinks he has an M3, or he loves bacon.
Photo Credit: Topcultured
Car: Datsun B210
State: California
Statement: SLO POS
Meaning: Since this was taken from Craigslist it's clear this seller is being completely honest about the slow nature of the car.
Car: Lincoln Town Car
State: California
Statement: 420LIMO
Meaning: "No, Mr. Officer, we always light incense in the car."
Car: Scion xB
State: Virginia
Statement: RIAASUX
Meaning: Who knew the Swedish Pirate Party had a base in Virginia?
Car: Mercedes AMG S63
State: New Jersey
Statement: WAS87K
Meaning: U R TCKY
Car: Mercedes E-Class
State: New York
Statement: GMAIL
Meaning: The rest of the license plate was supposed to read "Franklin@."
(Hat tip to Ivan!)
Car: Unknown
State: Virginia
Statement: JK MEOFF
Meaning: "This is Moe's Tavern. Hold on. Is there a Mr. Meoff here? A Mr. Jack Meoff?"
Photo Credit JK MEOFF
Car: Honda CRV
State: California
Statement: Foreign Organization: 420
Meaning: So there's the official vehicle of the L.A. branch of the Jamaican Growers Association.
(Hat tip to drew!)
Car: Ferrari 360 Spyder
State: Ohio
Statement: UNWED
Meaning: WE KNOW WHY
(Hat tip to James!)
Car: Toyota Prius
State: Tennessee
Statement: N2ANIME
Meaning: We think you and UNWED guy should hang out.
(Hat tip to Doug!)
Car: Ford Edge
State: Unclear
Statement: OHSHIT
Meaning: We think the meaning is pretty clear — this person does not like Ohio.
Car: Porsche 911 Turbo
State: Washington
Statement: TRB0N8R
Meaning: I'm in the middle of a midlife crisis. Help!
(Hat tip to HammSammich!)
Car: Honda Accord
State: Connecticut
Statement: POOP
Meaning: This person sells Port-a-Johns.
(Hat tip to the Comedian!)
Car: Corvette LT1
State: Massachusetts
Statement: BLOGGR
Meaning: Alone.
Photo Credit: NetworkWorld</em.
Car: Hyundai Tiburon
State: Virginia
Statement:2PWN JOO
Meaning: Oh no, he's going to PWN us in his FWD crapbox!
Car: Lexus ES350
State: Florida
Statement: FNGRS EM
Meaning: This guy washes his hands, a lot.
It's Jalopnik! Include your hilarious vanity plate below using the Plate It Your Way site.