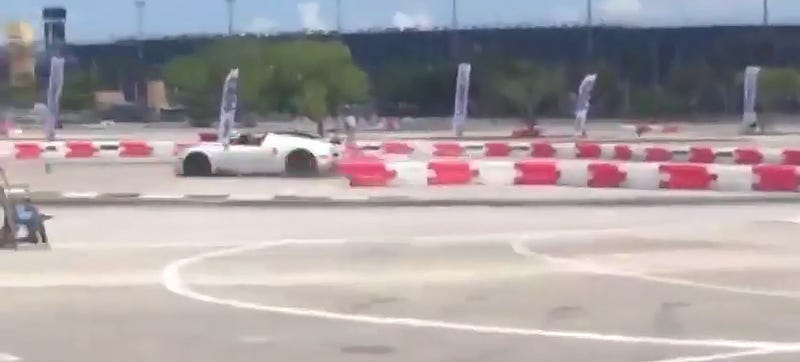 "It's funny I can drive a 6k kart through that corner and this fool can't drive a 2 million dollar car through it."
That's how one kart driver describes what you're seeing here — the driver of a one-of-one Bugatti Grand Sport Blanc Noir (you can see its last $1.99m listing right here) plowing through some plastic barriers as he performs pace car duties for a kart race down in Florida.
We got the tip from prototype driver Gustavo Yacaman, who confirmed on Twitter that the Bugatti was acting as a pace car.
One of the organizers for the kart race gave an explanation on Facebook for the crash, blaming it on rubber on the course.
I would like to say thank you for Andy in allowing such a great experience. He picked up too much marbles from the kart tires. I don't think even the great Senna could of predicted that. Those who were there were treated to a once in a life time experience.
It's easy to laugh at this Bugatti driver. Sure he missed a turn in a car that has tires larger than a football field. Sure he banged up some quite-expensive body panels.
But he took his $2 million Bugatti out on track, and that's a hell of a lot better than letting it sit in some air conditioned garage, locked up and rotting away.