During his campaign, Barack Obama promised change you can believe in. Today, Nice Price or Crack Pipe has a Ford that's had a change we can definitely get behind.
Okay, you can put away your pitchforks and torches, the Omega convertible is gone. A surprisingly modest 69% of you went Crack Pipallistic on the sad little Olds from our neighbor to the north. That car's $2,000 price tag seemed woefully egregious to you, despite the open aridness the custom roof afforded. Today we have another heavily modified candidate with an asking price of twenty Benjamins - a Ford Fairmont racing truck.
Yeah, you heard that right.
It's been a good week for Ford wagons her on NPOCP - what with the stock '66 a few days ago - which was universally feted for its wonderful wagonocity. And now we have a Fairmont wagon which has been turned into a 289-powered, one of a kind race truck. And the seller - who is sadly out of work due to broken hand - is seemingly willing to unload this remarkable machine for a mere two grand.
G/O Media may get a commission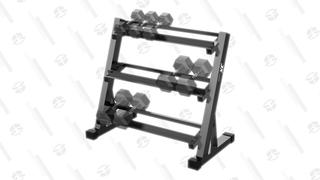 20% Off
JX Fitness Dumbbell Rack
Gains but tidy
Has a three-tier design to help store more weights more conveniently, can safely support up to 1000lbs of weight, which should be enough for most people, has a triangle base for stability, and also features anti-scratch feet which is great if you've built your own studio or workout in your garage.
There's so much good going on in this car that it's hard to know where to start. The beefcake appearance of the brawny 289 in the hood-less engine bay? The shortened roofline and Ranchero-esque open bed? Maybe it's just the whole idea of a Fairmont race truck? There's a lot to take in.
So, what's your take on the two grand asking price for this dragster Fairmont-in-drag? Does that price set your spidey sense a tingling? Or has this Fairmont strayed too far down the modded path to warrant such a premium?
You decide!
WKRP Craigslist, or go here if the disappears. Hat tip to patocaster!
Help me out with NPOCP. Click here to send a me a tip, and remember to include your commenter handle.