The Environmental Protection Agency are certainly an unlikely owners for one of the ultimate muscle cars ever made, but that is exactly who purchased this 1970 Plymouth Superbird in 1972. The EPA decided they needed a car for emissions testing and purchased this car—then an Alpine White example with a 440 and automatic transmission.
The Superbird comes across as a strange choice until you take a look at the people involved with the decision. John Moran, a former Dow Chemicals executive, took a job at the EPA as the head of their emission research program in North Carolina in 1972. During Moran's time at Dow the company sponsored the purple #99 Dodge Daytona that was built by the famous Ray Nichols.
It seemed only natural then that when the EPA needed a car for emissions testing, Moran decided on a winged Chrysler, already familiar with the cars and their unique aerodynamic qualities. Luckily for Moran, Ray Nichols was recently out of a job in 1972 as Chrysler had dropped out of Nascar when the winged cars were banned that year.
Moran got Nichols on the task of finding him a Superbird and modifying it for their purposes. A four speed manual transmission was added, as well as a second alternator, two more batteries, a roll bar, a fuel cell and air shocks. Finally Nichols sprayed the car in Ice Blue Poly before handing it over to the EPA.
For a year the car was used for various emissions testing by the EPA, a job which have led some to blame this car for "the downfall of muscle cars". By the fall of 1973 the EPA was done with the car after racking up less than 10,000 miles. They stripped the car of it's emission testing equipment and parked it in a surplus yard where it sat until 1979. That year some unspeakably fortunate human being purchased the car at auction for the grand sum of $500.
G/O Media may get a commission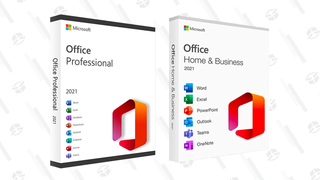 89% off
Microsoft Office Professional 2021 Lifetime License
Over a three year period starting in 2006, this Superbird was expertly restored to the condition it was in while the EPA owned the car. Since it's restoration it's been advertised for $3 million dollars, so far without any buyers. We're not sure if it will sell when it crosses the auction block February 25 in Atlantic City, but it will certainly be interesting to see where the bidding goes on this very unique Superbird.
[Hemmings]